How To Keep Outdoor Rug From Blowing Away On Concrete?
We may earn affiliate fees for purchases using our links (at no additional cost to you).
Your patio may get a dose of both design and comfort when you add an outdoor rug to the pleasant outdoor seating area that you have.
But the problem that every homeowner faces is that the rug is too prone to blow away by wind. 
To add to your misery, if the rug is on concrete, you might want to know how to keep the outdoor rug from blowing away on concrete. Let's stop it from blowing away!
How To Keep Outdoor Rug From Blowing Away On Concrete?
When it comes to keeping the outdoor carpet in place, you have a few different choices.
Even for the area rug, you have a few options, such as using washers, potted plants, etc. Let's talk about some easy ways to secure your outdoor carpeting, shall we?
Ways To Keep Outdoor Rug From Blowing Away On Concrete:
The lightweight weight of most area rugs makes them vulnerable to being blown away by the wind.
Therefore, choosing a rug with a thicker weave may help prevent this. 
What should you do, though, if you already own a rug? No issue.
Fasten The Edges Using Washers:
If you're worried about your rug, you could be tempted to start piling heavy objects on top of it and crossing your fingers.
Pulling Heavy Weight On The Rug Is Not Good: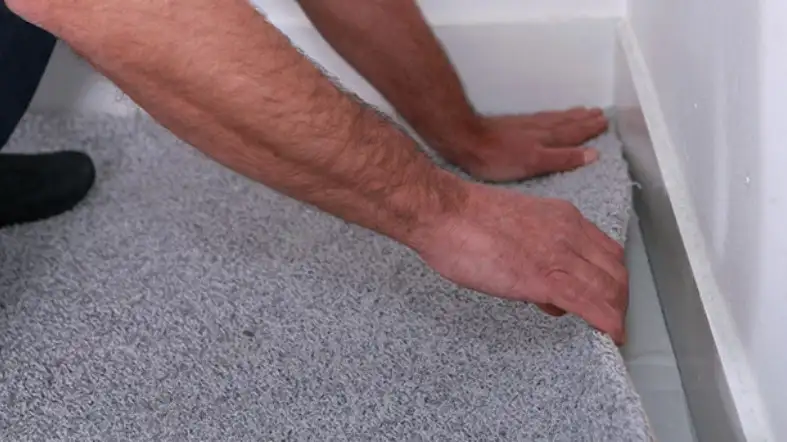 This strategy may be successful when dealing with mild wind. But difficulties may still arise as the wind speed increases.
You will still find your rug blown away after hours if the wind hits a corner at exactly the right angle.
Permanent Solution With Washers:
So, we are talking about a permanent solution here. Washers provide you with such a solution.
Washers might be used to securely hold the patio rug down and put an end to the rug's movement.
Easy Solution:
Make holes in the rug every several feet. The corners shall have four of those holes. 
The next step is to insert screws into those slots, cover them with washers, and then tighten everything together.
Consider The Downsides:
Hold on a second there. There is a significant factor that suggests you should reconsider taking this method.
In order to accomplish this, you are drilling on the rug and making holes!
It goes without saying that you won't be able to do this if the rug you want to clean is either holds sentimental value, expensive or rare. 
The holes themselves don't only cause harm to the rug, but they might also enhance the risk that the rug will experience further deterioration.
Take Your Decision:
Having said that, the solution shown here is the one with the longest-lasting effects.
Should these washers be secured in place, this should prevent your rug from blowing away, unless your rug is torn down by the hurricane-force wind.
Use Carpet Tapes:
Begin with using double-sided carpet tape designed for outdoor usage. This is the first step in maintaining the corners of your outdoor carpeting.
This is an inexpensive, nonpermanent solution to stray rugs. Albeit this tape can be made to persist longer with a few simple tricks.
Clean and prepare the installation site.
At a time, deal with only one corner. Elevate a corner, and place the adhesive on the floor below it. Maintain a 90-degree angle.
Then do the same for the other corners.
The paper backing of the tape may be removed by cutting it with a utility knife.
Place the rug face down and firmly press down on it after removing the paper backing.
When working with bigger rugs, the trick is a bit different. You may want to try taping the borders of the rug along the sides and strips across the center of the rug.
Outdoor Rugs May Be Secured To The Patio With Caulk:
Caulk is yet another simple method that you might use to attach outdoor carpeting to your patio.
Caulk made of transparent latex acrylic should be used to create a thin bead. The bead should be run down the border of the rug's underside. 
Give It Time To Dry:
Caulk needs to be given sufficient time to dry before any foot movement may be allowed on the surface after it has been applied. So, please keep this in mind.
It should be dry enough to use after two hours have passed since applying the caulk.
Consider The Downsides:
Although the rug will suffer some damage as a result of this. But there will be no immediate noticeable deterioration in its appearance. 
However, you need to use extreme caution when taking the rug up, since there is a possibility that you will harm it in the process.
Potted Plants Can Secure The Rug On Concrete: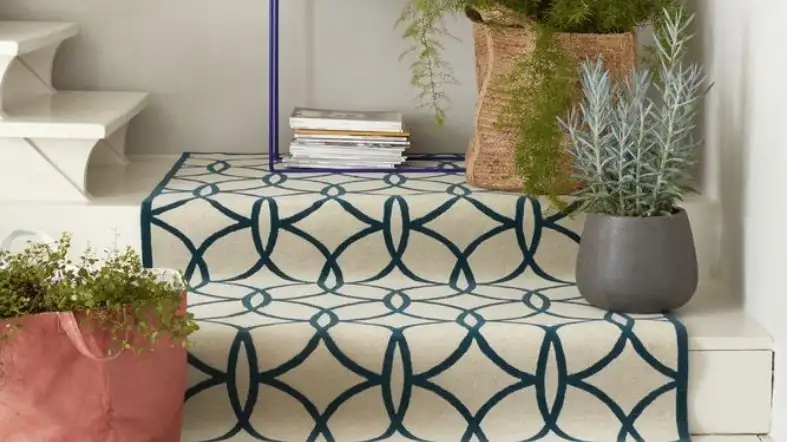 Some planters could look nice on the rug, so why not try that?
If you want to go through the trouble of freshening up the appearance of your outside space with plants, you may as well get some use out of the investment.
Using Plants Is A Good Idea:
The fact that both plants and planters are by their very nature transitory is one of the greatest advantages of using either.
Unlike hammering holes and bolts into your patio rug, there is no irreversible consequence in using plotted plants.
Actually, if you put a planter on your rug today and decide you don't like it in that spot, you can move it before nightfall and have your rug back in its original location.
All of this is possible without leaving any lasting stains or marks on your carpeting!
There Are Downsides:
Having said that, this doesn't negate the fact that planters can in certain cases cause harm to patio rugs.
In particular, you should safeguard your textiles by keeping soil and other organic matter of the plants contained within the planters.
Be sure you're only utilizing heavy-duty pots for your plants.
Towels Can Help With The Plotted Trees:
You could attempt to drape towels underneath them, but then you'd have to make sure the towels remain in place as well, or else you'd end up with everything flapping around in the wind.
Precautions:
The planters and pots you place on your rugs have to be in place without any movement. It is risky to put a planter on top that has a large weight.
If you do this, you just make it more likely that it will topple over at some point in the future.  It will then crush plants and spill soil all over the fabric.
Just Use The Outdoor Furniture You Already Have: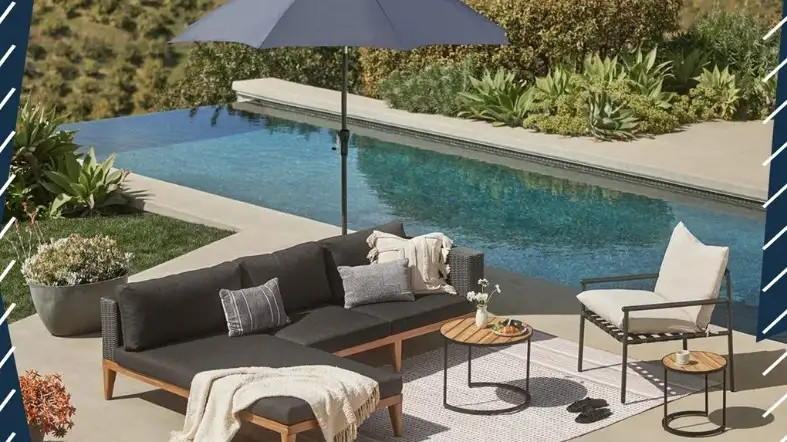 Perhaps you prefer to host parties in the great outdoors and you're not a fan of potted plants.
If this describes you, perhaps you could just use the outdoor furniture you currently have.
The Upsides:
On the positive side, you may relax knowing that your patio rug will remain in place. But, stop there! 
Actually, there shouldn't be any problem unless the furniture you have on the rug is too lightweight that a heavy gust of wind can blow them, you are good to go.
Actually, most of the furniture made out of metal or wood is heavy enough. They are too heavy for the wind to blow them away.
The furniture gives you all of these benefits along with contributing some wonderful aesthetic flourishes to your outdoor décor.
Consider The Downsides:
The fact that furniture might be pricey is the primary disadvantage of using this technique.
There is an abundance of inexpensive to medium-priced outdoor furniture.
Yet, it could be too much money to invest only to make sure your outdoor carpeting stays in place.
Moreover, if the weight is not enough, the wind will still blow away your carpet.
FAQs about how to keep outdoor rug from blowing away on concrete
DskPZvMjWGctfqWhscPrRKTYXS6rfeCxaMQ
Yes, like the tapes for concrete, the command stripes also work on concrete. It can be an alternative to tapes.
Can I Put Heavy Weight On The Rugs To Keep Them From Blowing Away?
It is not an ideal thing to do to your rug. Excessively heavy things will harm the rug irreversibly. So, begin with the needed weight or use other methods like tape, and washers.
Can I Permanently Stop My Rug From Blowing Away?
Yes, you can by using the tapes or a combination of tapes and washers.
Final Words:
Actually, how to keep outdoor rugs from blowing away on concrete isn't a matter of concern now.
You know what to do. So, we will conclude by advising you to buy a heavy rug in the first place.
This will save you a lot of trouble and deterioration of the carpet later.