Persian rugs are known for their intricate designs and high quality. But how much do Persian rugs cost?
In this article, we will look closer at determining the cost of a Persian rug.
And offer some tips for finding the best deals on these beautiful pieces. We'll also look closely at what makes a Persian rug so unique.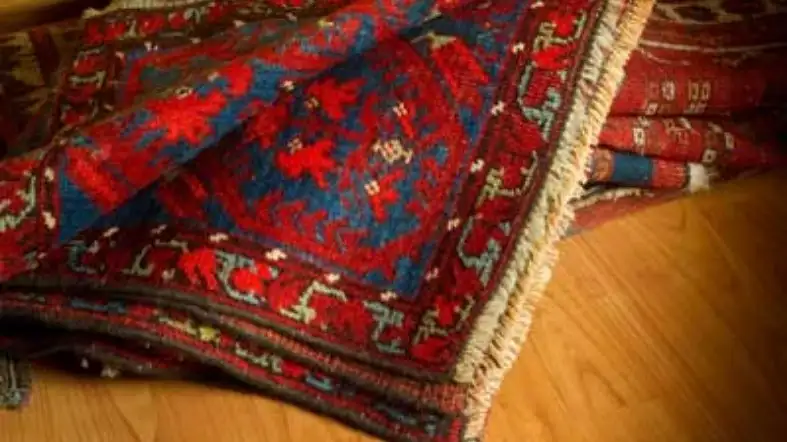 How Much Does A Persian Rug Cost?
New hand-knotted Persian rugs often start around $1,000 for a 5′ x 8′, but antique collectible rugs can cost over $100,000 at high-end auctions and galleries. Persian rugs can range dramatically in price depending on factors like size, quality, age, knots per inch, dyes, and design intricacy.
Persian Rug Price Chart:
| Rug Size | Cost Range |
| --- | --- |
| Small (2'x3' to 4'x6') | $500 to $5,000 |
| Medium (5'x7' to 8'x10') | $2,000 to $15,000 |
| Large (9'x12' to 12'x15') | $8,000 to $50,000 |
| Antique (over 100 years old) | $10,000 to $200,000+ |
Where to buy Persian rugs?
The best place to buy a Persian rug depends on personal preferences, budget, and the type of rug being purchased.
However, there are some options where you can find Persian rugs.
Local rug stores
Local rug stores can be a great option for purchasing Persian rugs.
These stores typically have a wide selection of rugs available, and customers can view and inspect the rugs in person before making a purchase.
Local rug stores may have knowledgeable staff who can provide information about the materials used, knot density, and design complexity of the rugs.
Some local rug stores may also offer cleaning and repair services for Persian rugs.
Online rug stores
Online rug stores offer the convenience of shopping from home and can provide access to a large selection of Persian rugs.
These stores may offer detailed information about the materials, knot density, and design of the rugs, as well as high-resolution photos to allow customers to see the details of the rugs.
Online rug stores may offer competitive pricing and free shipping options.
Customers cannot inspect the rug in person before purchase, which can be a downside.
Auction houses
Auction houses can be a good option for those looking for antique or rare Persian rugs.
These houses may have a curated selection of high-quality rugs available for bidding, and customers can view the rugs in person before placing a bid.
The bidding process can be competitive, and prices may go higher than expected.
Auction houses may charge additional fees, such as buyer's premiums, which can increase the overall cost of the rug.
>> Can 100 wool rug have shedding?
What To Consider When Buying A Persian Rug?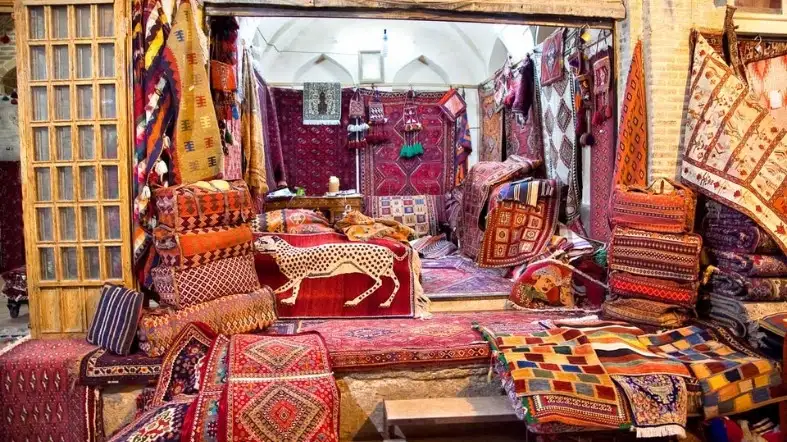 When you are ready to purchase a Persian rug, you should keep a few things in mind. Below, we will discuss some of the most important factors to consider.
Quality Of Materials
As we mentioned above, the quality of the materials used in a Persian rug will affect its overall cost. Wool is the most common material used in Persian carpets.
Persian rugs made of wool and silk blend have a more lustrous look and feel softer than those made with only wool.
Make sure to inspect the carpet closely to ensure that you are happy with the materials used.
Weavers' Expertise
Another critical factor to consider is the weaver's expertise. The more experienced and skilled the weaver, the more expensive the rug.
However, an experienced weaver will usually produce a higher-quality rug.
So, if you are looking for a well-made carpet that will last for many years, it is worth investing in a more expensive one.
>> can you use the same area rug in different rooms?
Knot Count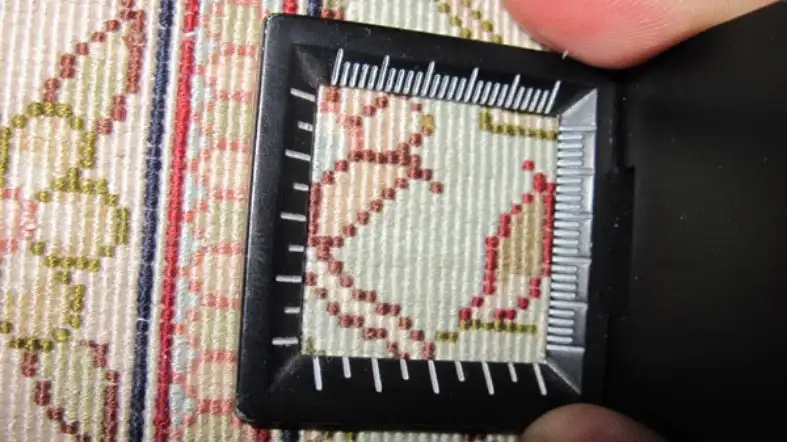 The knot count measures the density of the knots in the rug. The higher the knot count, the denser the pile, and the better the quality of the rug.
It's worth noting that a higher knot count isn't always indicative of better quality.
In fact, rugs with fewer knots often require less production time and have more straightforward designs.
Hand-Knotted Feature
Handmade Persian carpets are of the highest quality. These rugs are made with great care and attention to detail. 
If you want a runner rug that will last, make sure it's hand-knotted. Some stores try to sell cheaper machine-made rugs at an inflated price.
Hand-knotted Persian carpets have a distinctive color and thick texture. Alternatively, look at the rug's reverse side.
If a rug is hand-knotted, knots should be visible on its backside.
>> Other than rug under dining table?
Design
The design of a Persian rug is another crucial factor to consider. Some designs are more intricate and can take much longer to weave. 
Persian rugs are frequently made with classic patterns and familiar designs since they are created in one of the planet's oldest countries.
In addition, Iran hasn't had very many friendly interactions with the Western world. 
As a result, their style has not been influenced by foreign consumer demands. Keep in mind that more complex designs tend to be more expensive.
If you are looking for a rug with a specific design, be prepared to pay more.
>> What kind of wool rug doesn't shed?
Dyes Used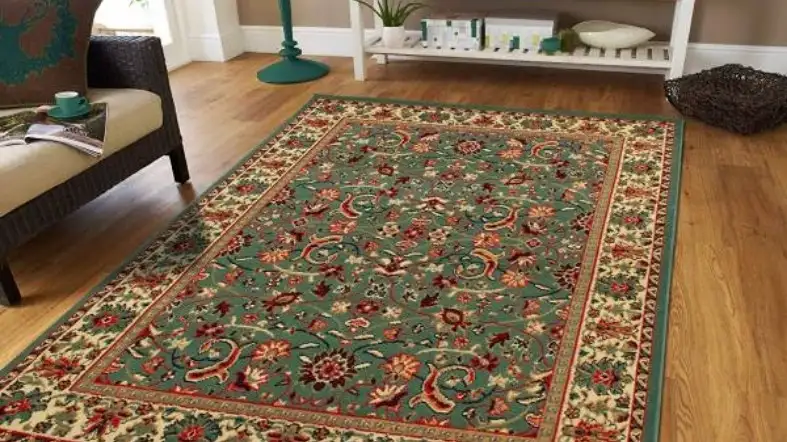 Before buying a Persian rug, find out which dyes were used to color it. Most Persian rugs are either dyed using natural or chemical substances. 
Natural dyes are usually higher quality and more traditional than chemical ones.
The colors used to manufacture your rug will also determine the cleaning chemicals you can use, especially during a thorough cleaning.
>> is polypropylene rug safe for young children?
Size Of The Rug
The size of the rug is another essential factor to consider. If you need a large rug, it will cost more than a smaller one.
When considering the size of the rug, don't forget to consider the dimensions of your room. You don't want to purchase a rug that is too small or too big for the space.
Price
Of course, price is always a consideration when making any purchase. If you are working with a limited budget, Persian rugs are still available to fit your needs.
With so many rugs on the market, it isn't easy to know which one is right for you.
But if you keep your budget in mind and check other determiners like we have listed above, buying an overpriced Persian rug will be a thing of the past.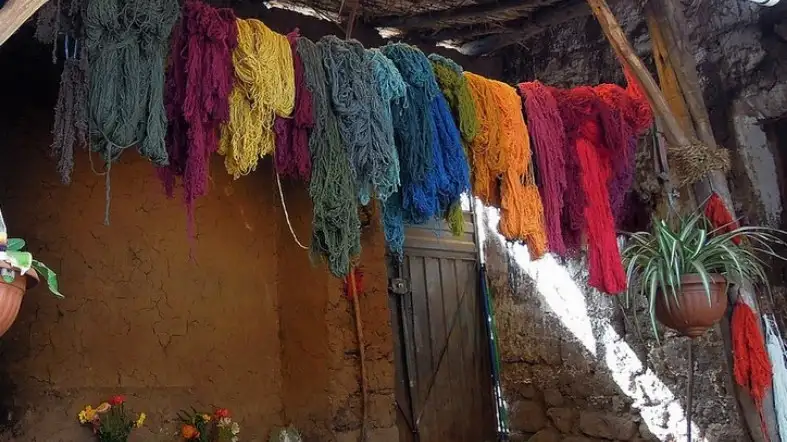 Tips for Purchasing a Persian Rug
If you're considering purchasing a Persian rug, here are some tips to help ensure you make a wise investment: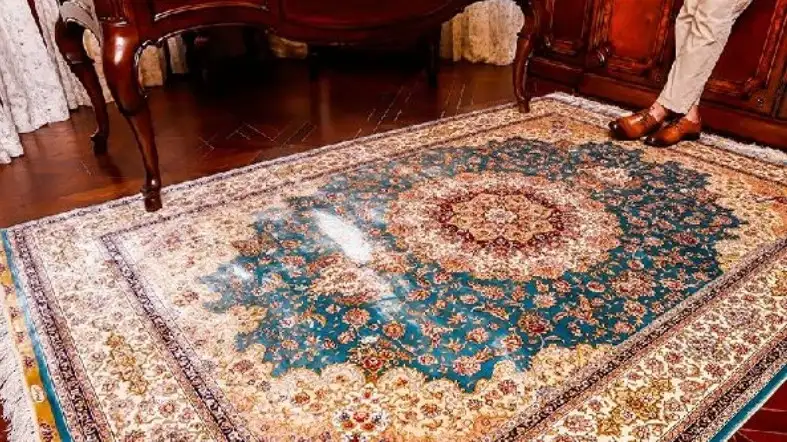 Understand the value of the rug before purchasing
Do your research on the different types of Persian rugs and their characteristics, as well as their market value.
This will help you make an informed decision and avoid overpaying for a rug.
Choose a reputable dealer
It's important to purchase your rug from a dealer with a good reputation and a history of selling high-quality rugs.
Look for reviews and ratings, and ask for references or recommendations from friends or family.
Inspect the rug for quality and condition
Before making a purchase, thoroughly inspect the rug for any signs of wear or damage.
Look for evenness in the weave, consistency in the color and pattern, and any signs of fading or stains.
Ask the dealer about the rug's age, origin, and materials used.
Negotiate the price
Don't be afraid to negotiate the price of the rug. Dealers may be willing to lower the price, especially if you're paying in cash or are repeat customers.
Be respectful and realistic in your negotiations, and don't try to lowball the dealer.
>> What size rug for 48 inch round table?
FAQs on How Much A Persian Rug Cost
What is the average cost of a Persian rug?
The cost of a Persian rug can vary greatly depending on factors such as size, materials used, and design complexity.
On average, a good-quality Persian rug can cost anywhere from a few hundred dollars to several thousand dollars.
Are all Persian rugs expensive?
While Persian rugs can be expensive, not all of them are.
The cost of a Persian rug depends on several factors, including its size, quality, and materials used.
It's possible to find smaller Persian rugs made with less expensive materials at a lower cost.
Is it better to buy a Persian rug online or in-store?
Both online and in-store options have their advantages and disadvantages.
In-store, you can see and feel the rug in person, which can help you make a more informed decision.
Online, you may have a larger selection to choose from and can shop from the comfort of your own home.
Can I negotiate the price of a Persian rug?
Yes, you can often negotiate the price of a Persian rug, especially if you're purchasing from a dealer.
Be respectful and reasonable in your negotiations, and don't be afraid to walk away if the price isn't right for you.
Final Thoughts
The cost of a Persian rug can vary depending on several factors, including materials used, size, knot density, design complexity, and age and condition.
On average, a high-quality Persian rug can cost anywhere from a few hundred to several thousand dollars, making it an investment worth considering for those who value craftsmanship and timeless beauty.