How To Make A Rug With Yarn?
We may earn affiliate fees for purchases using our links (at no additional cost to you).
Are you looking for a fun and creative way to spruce up your home decor?
Making your own rug with yarn is a great way to add a unique touch to any room.
In this blog post, we'll walk you through the basics of creating a beautiful, one-of-a-kind rug with yarn.
From selecting the right materials and colors to tying the perfect knots, this blog will provide all the tips and tricks you need to make the perfect rug.
How To Make A Rug With Yarn?
To make a simple and easy rug, you will need the following supplies: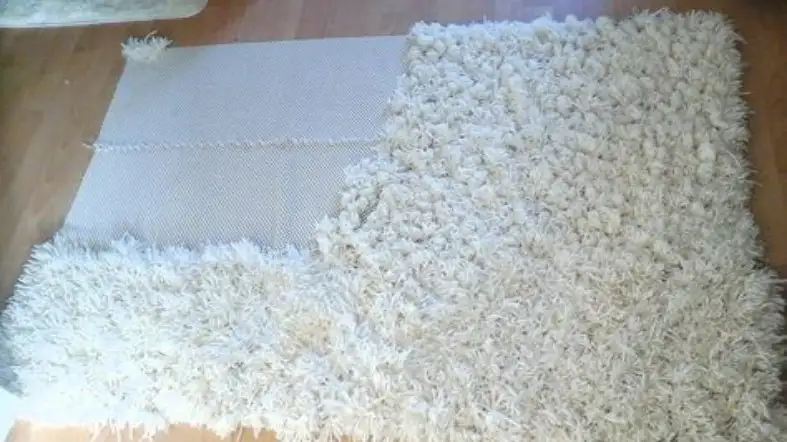 Brushable rug backing, glue stick, glue gun, or rug pad (Optional for Non-Slip ) 
Once you have all of these supplies, you need to follow the below steps to make a rug:
Step 1: Mark The Design
Take your marker pen and design the shape of your Rug on the mat. This will be your guide as you crochet or knit your Rug.
If you want to make a rug in any shape other than square or rectangle. Simply draw the desired shape on the canvas.
Pro Tip: Use a stencil if you want to achieve other shapes. First, draw the body on a piece of cardboard.
Cut it out and use it as a guide when drawing the new shape onto the canvas. 
Whenever you are using a pen on canvas, make sure to put paper underneath as the ink may come through, and mark whatever is below.
>> How to clean fake fur rug tutorial?
Step 2: Hook The Yarn
There are two distinct methods to Hook the yarn to the canvas, as we'll see in this creative project. We'll refer to them as:
It would be best to decide which method to use before beginning.
It is much easier to change your mind after you've started working if you know which way you are using.
>> What is the price of bear skin rugs?
Yarn Before Hook
This is the traditional way to hook yarn onto a canvas. Start by holding the end of the yarn in your dominant hand.
While holding the yarn's edges in place. Slowly slide the hook under one of the square grids on the canvas.
Pull the hook toward you until the yarn reaches the bottom of the bar, but not so far that it closes or locks the hook.
Gently guide the yarn's edges to the left or right while holding it until the yarn wraps around the latch and goes inside the hook's eye.
Slowly pull the hook toward you, closing the loop around the yarn. Continue pulling until the yarn creates a knot and your hook is wholly removed from the canvas.
To tighten the knot you just made, hold the yarn's edges with your thumb and pointer finger.
Please make sure the ends are even or close to them by adjusting them as necessary.
>> do area rugs make a room warmer?
Hook Before Yarn
Place the hook and slowly fish it under the bar, keeping one side of the handle facing one side. For better systemization, we recommend starting at the top square.
Take one length of yarn and fold it in half, making a loop. With your thumb and pointer finger, grasp the edges of the folded fabric.
Place the folded strand's circle in the eye of the latch hook, with the ends facing away from you.
Gently tug the loop hook towards you and slip it beneath the canvas fibers until a small part of the hoop is visible.
Keep tension on the fabric, so the hoop doesn't slide down too far.
Now using your hands, loop the yarn around and through the eye at both ends. Wrap the yarn around and into the eye several times until it's nice and tight.
Gently pull the hook through the yarn loop until you reach the end. The latch on the hook will keep the yarn in place, so there's no need to worry about slipping out of place.
Remove your hook from the yarn and pull on the ends to tighten the knot you just made. Check to see if the lots are at an equal height or at least close enough.
Step 3: Cut The Extra Yarn And Canvas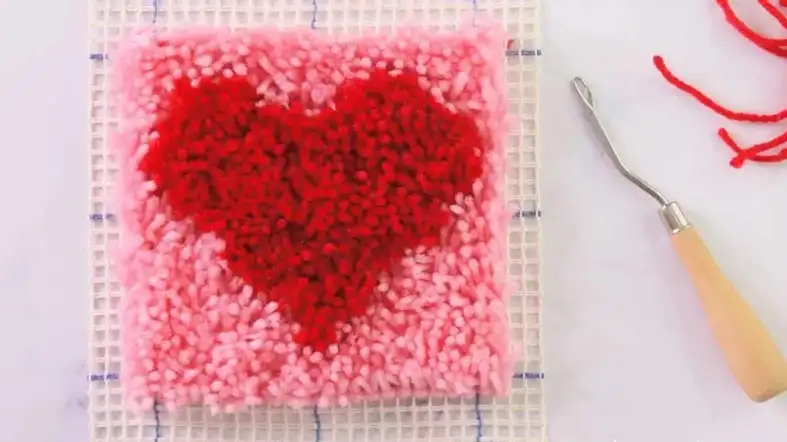 Once you have finished hooking the yarn onto the canvas. You will need to cut the excess rope and canvas. 
Use a pair of scissors to cut the yarn and canvas as close to the edge of the Rug as possible. Be careful not to cut the loops of yarn holding the Rug together.
Pro Tip: After you've finished inserting all of the yarn, trim the canvas. Only if you made a square, rectangle, circle, or any other rug form. 
While a large canvas can be cumbersome, it guarantees precision and allows adequate space for adjustment or finalizing.
Step 4: Finish It Up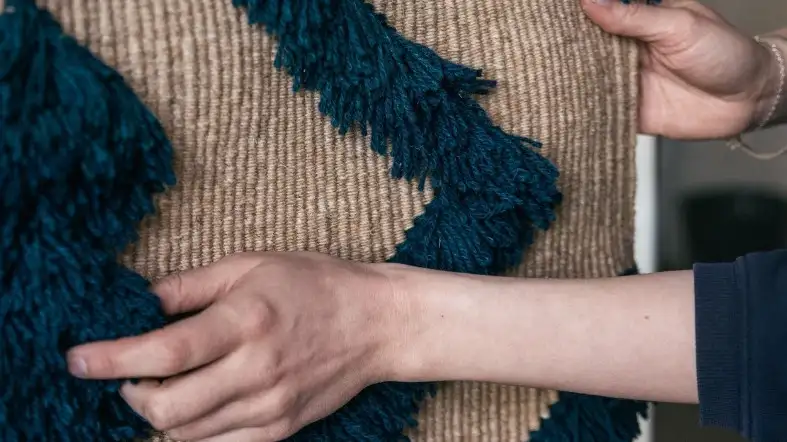 If you want to complete the Rug, you can do so by crocheting or sewing around the edge of the Rug. This will help secure all of the yarn in place and give the Rug a finished look. Follow the below steps to complete your DIY rug project:
Make a square knot in the thread and clip it off.
Turn the Rug you just made over so the underside is facing up.
Fold the extra canvas in one of the edges where the yarn started as a guide. It might seem like the fabric will break, but it won't.
Sew along the folded edge with a needle and thread, making sure to go through every other hole.
After you're done sewing, cut off any excess fabric that's sticking out. Turn the Rug over, so the right side faces up and admires your work!
After you reach the corner, cut away any excess until the flap is triangular.
Fold the next edge or flap over the one you just sewed. Give it an angle by trimming the edge.
Trim the seams and any loose threads, then stitch them together.
Repeat steps 6 and 7 for any other excess fabric or edges.
>> is it acceptable to use the same rug in different rooms?
Step 5: Make It Non-Slip (Optional)
If you want to use your Rug on a slippery surface, you'll need to make it non-slip. To do this, you will need to purchase a non-slip rug pad.
Place the rug pad underneath the Rug and cut it to size. Make sure the pad is smaller than the Rug, so it doesn't show.
You can also use glue or double-sided tape to keep the Rug in place. Simply apply the glue or tape to the underside of the carpet and press it onto the floor.
Let it dry for 24 hours before using the carpet.
A brush with rug backing also works excellently for this purpose. Apply the support to the Rug's underside with a brush and let it dry for 24 hours before using it.
There you have it—a beautiful and unique rug you made yourself!
Now that you know how to make a rug with yarn, there's no limit to the possibilities. So get creative and have fun!
what factors should consider for Making A Rug With Yarn?
Making a rug with yarn can be a fun and rewarding craft project, but there are several factors to consider to ensure the best results.
Here are some important factors to keep in mind:
Yarn type:
The type of yarn you choose will play a significant role in the final appearance and durability of your rug.
Choose a yarn that is strong enough to withstand foot traffic and easy to clean. Wool, cotton, and acrylic yarns are popular choices for making rugs.
Yarn weight:
The weight of the yarn will determine how thick and heavy the rug will be. A heavier yarn will produce a thicker, more substantial rug.
A lighter weight yarn may be more suitable for a smaller or more delicate rug.
Rug size:
Consider the size of the rug you want to make and plan your yarn requirements accordingly.
Larger rugs will require more yarn, so be sure to purchase enough to complete your project.
>> replacement for rug under dining table?
Rug backing:
You will need a sturdy rug backing to keep your rug in place and prevent slipping.
There are various types of rug backing available, including non-slip rug pads, latex backing, and fabric backing.
Color and design:
Choose yarn colors and designs that complement the decor of the room where the rug will be placed.
You can use a single color or create a pattern by combining different colors and textures of yarn.
Techniques:
There are various techniques for making a rug with yarn, such as crocheting, knitting, and latch hooking.
Choose a technique that suits your skill level and preferences.
Maintenance:
Consider how easy the rug will be to clean and maintain.
Yarns that are machine washable or easy to spot clean may be more practical for a high-traffic area.
>>can you have a fire pit on an outdoor rug
tips for Making A Rug With Yarn
Making a rug with yarn can be a fun and rewarding craft project. Here are some tips to help you get started:
Choose the right yarn:
When making a rug, it is important to choose a yarn that is durable and can withstand foot traffic.
Look for a bulky or super bulky weight yarn made from natural fibers such as wool or cotton.
Select the right hook or needles:
Depending on the type of rug you want to make, you may need a crochet hook or knitting needles.
Make sure you choose the right size for the thickness of your yarn.
Plan your design:
Before you begin, decide on the design and color scheme of your rug.
You can choose a simple pattern, such as stripes or a solid color, or a more intricate design.
>> Which type of wool rug doesn't shed?
Start with a foundation chain:
To begin your rug, create a foundation chain that is the desired length of your rug.
You can then work rows of single crochet or knitting stitches into the chain.
Keep your stitches tight:
When working with yarn to create a rug, it is important to keep your stitches tight to prevent gaps in the fabric.
This will make your rug more durable and prevent it from stretching out over time.
Use a non-slip backing:
To prevent your rug from sliding around on smooth floors, consider adding a non-slip backing.
You can purchase non-slip rug pads or use a spray-on non-slip coating.
Finish your rug:
Once you have completed your rug, you can finish the edges with a simple border or fringe.
You can also add any embellishments, such as tassels or pom-poms, to personalize your rug.
>> is polypropylene rug safe for toddlers?
FAQs on How To Make A Rug With Yarn
Can You Make A Rug Out Of Yarn?
You will be able to make a rug out of yarn if you have the supplies and follow the steps mentioned in this guide.
Also, you can make the Rug non-slip by using a rug pad, glue, double-sided tape, or a brush with rug backing.
What Kind Of Yarn Is Best For Rug?
The best type of yarn for a rug would be durable and thick yarn.
This is because the Rug will need to withstand a lot of foot traffic and will also need to be able to hold up its shape. 
Use coarse wools, cotton cords, or specialist linen warp yarn for the Rug.
How Do You Make A Rug With Crochet?
If you want to crochet a rug, you must first create a foundation chain. Once you have completed the foundation chain. 
You will single crochet into each stitch until the Rug is the desired size.
To make a non-slip rug, you can use a rug pad, glue, double-sided tape, or a brush with rug backing.
How Hard Is It To Make A Rug?
The difficulty level will depend on the type of Rug you want to make.
For example, a crochet rug will be easier to make than a woven rug. 
Both types of rugs can be made easier if you have the supplies and follow the steps in this guide.
Overall, creating a rug is not too difficult.
Final Thoughts
Making a rug with yarn is a fun and creative craft project that can add a personal touch to your home decor.
Choosing the right yarn, selecting the appropriate hook or needles, planning your design, starting with a foundation chain, keeping your stitches tight, and adding a non-slip backing are all important steps in creating a durable and beautiful rug.
With a little patience and creativity, you can make a rug that is both functional and stylish, and that will be a unique addition to your home.
So, grab your yarn and get started on creating your own handmade rug!