A neat and clean faux fur rug brings decorative value to your room. Here you may ask, how to clean a faux fur rug?
A properly cleaned faux fur rug is not only important for beautifying your interior, but it is also crucial for the hygiene and long-term usability of those rugs.
So, you must know how to clean it without hampering the materials. In this article, we will describe the full process.
How To Clean Faux Fur Rug?
To avoid ruining your rug while cleaning, it helps to have some idea of what methods work best.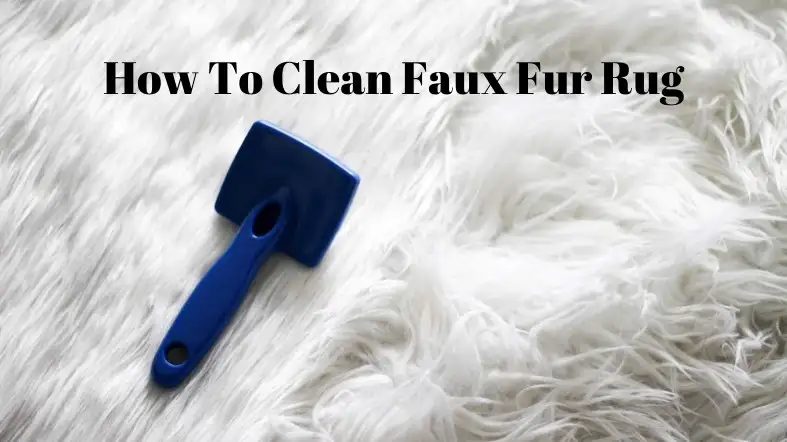 To find the most effective technique of cleaning, we conducted an extensive analysis.
Cleaning your faux fur rug will need a few particular procedures according to the specifics of the rug's composition, care instructions, and condition.
Keep reading for a general procedure that can be used to clean your faux fur rug.
Many synthetic-fur rugs are best taken to the dry cleaners instead of being washed in the washing machine or by hand to prevent knotting and matting.
Look at the care label first before attempting to clean your faux fur rug with any of the methods described below.
Things you need,
Sweeper, either handheld or attached to an upright vacuum via a hose
Detergent for delicate fabrics or shampoo for sheepskin
Step by Step procedure:
Give The Rug A Good Shake, Or Vacuum It
Any dust or debris that may be lodged in the rug's fibers should be vacuumed off before any cleaning solutions are applied.
 Using a handheld vacuum or an upright vacuum connected to a hose is a great option for this.
Running the vacuum along the direction of the grain will help keep the rug from becoming tangled.
If the dirt is light enough, you can shake the rug outside to get rid of it.
Get Some Soapy Water And A Tub
To begin, fill your sink or bathtub with lukewarm water and add a spoonful of mild laundry detergent.
>> can rug pad damage hardwood floors?
Submerge The Rug In The Water
Simply drop the rug into the bath and give it a good swishing with your hands to help release the grime and debris embedded in its fibers. 
Never rub or wipe the rug, as this could cause it to the mat and create knots.
After agitating the rug, soak it for 10–30 minutes in the solution, depending on the level of dirtiness. Warm water should be used to rinse the rug.
Once you've finished cleaning the rug and are satisfied with the results, empty the tub or basin.
After emptying the tub, refill it with tepid water and gently agitate the rug to rinse away the soap and residue.
When cleaning the rug, avoid squeezing or wringing it out. In its place, you can roll the rug up tightly to assist squeeze out the moisture.
>> Which rug pad thickness is best
Wash The Rug And Let It Dry
After the rug has been washed, it should be unrolled and laid flat to dry.
Don't overstretch the rug as you're putting it down. You can even dry it outside on a clothesline if the weather is nice.
Depending on how dirty your faux fur rug is, you may need to give it a light or thorough cleaning.
See below for a handful of additional suggestions on how to quickly clean your carpets.
>> How to mitigate wool rug shedding?
For A Gentle Cleaning
If your faux fur rug is somewhat soiled and requires a mild cleaning, follow these steps:
Begin by removing any ingrained dirt and dust from the rug by shaking it outside.
Afterward, pass a vacuum across the rug in the direction of the fibers. Be sure to use the hose attachment when vacuuming an upright rug.
Pour one-fourth of a cup of gentle detergent into a bowl of lukewarm water.
Before applying it to the carpeting, soak a soft sponge in water and rinse it out thoroughly.
With the sponge, lightly dab the rug, paying specific attention to extremely stained or darker spots.
Rinse the sponge with lukewarm water and repeat the process on the rug to remove any soap residue.
Utilize a cat brush to go over the entire carpeting and detangle any matted regions.
If the weather permits, hang the rug outside or set it on a flat surface to dry. When hanging it outside, avoid placing it in direct sunlight, since this could cause it to shrink.
>> How to prevent outdoor rug from blowing away on concrete?
For Deep Cleaning
If you machine-wash your fake fur rug, it is recommended to use a front-loading washer, as the agitator in a top-loading washer is less prone to cause matting. 
An excessive amount of agitation might cause the rug to become frizzed and tangled.
Here are the methods to use a washing machine to thoroughly clean your faux fur rug:
Start by using a cat brush to remove any tangles or knots from the rug.
Next, insert the rug inside the washing machine and ensure that it is totally flattened and evenly dispersed around the washing machine (you want its weight to be evenly distributed).
Add one spoonful of mild laundry detergent to the washer.
Set the washing machine to its lowest setting (such as wool, delicate, or mild) and adjust the water temperature to cold or warm.
After the rug has completed its wash cycle, put it on a clothesline away from direct sunlight or lay it flat to air dry. Do not dry the rug, since this could damage the fibers and cause them to harden.
How To Spot-Clean Synthetic-Fur Rugs?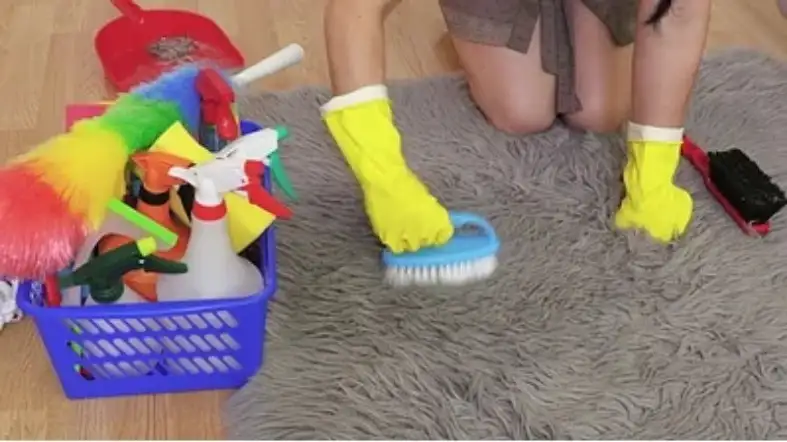 As with most rugs, synthetic fur rugs may likely become stained at some point; however, this does not necessitate replacement.
There are methods for properly removing stains from rugs, which can save you money on the cost of dry cleaning. Let's examine a few of them.
Identify the stain
Determine the type of stain you are dealing with. Different stains require different cleaning methods.
Common stains include food and beverage spills, pet stains, and dirt marks.
Blot the stain
Using a clean white cloth or paper towel, blot the stain gently. Do not rub or scrub the stain, as this can push the stain further into the fibers.
Apply a cleaning solution
Depending on the type of stain, apply a cleaning solution to the affected area.
You can use a mixture of water and mild detergent, white vinegar and water, or a specialized stain remover for synthetic-fur rugs.
Be sure to test the cleaning solution on a small, inconspicuous area of the rug first to ensure that it does not damage the fibers.
>> is it okay to use the same rug in different rooms?
Blot the stain again
After applying the cleaning solution, blot the stain gently again with a clean cloth or paper towel.
Continue blotting until the stain is removed or until no more of the stain is being transferred onto the cloth.
Rinse the area
Using a clean cloth or sponge, rinse the area with clean water to remove any remaining cleaning solution.
Blot the area with a dry cloth to remove excess water.
Brush the fibers
Once the area is dry, brush the fibers gently with a soft-bristled brush to restore the fur's fluffiness and texture.
>> What is the cost of a bear skin rug?
Using Washing Machines To Clean Faux Fur Rugs
It is generally not recommended to use a washing machine to clean faux fur rugs, as the machine's agitation can damage the fibers and cause the rug to lose its texture and shape.
If you do decide to use a washing machine, here are some steps to follow:
Check the care label
Before washing the rug, check the care label to ensure that it is safe to wash in a machine.
If the label recommends dry cleaning or hand washing only, do not attempt to wash the rug in a machine.
Place the rug in a laundry bag
To protect the rug from damage during the wash cycle, place it in a large laundry bag or pillowcase.
Use a gentle cycle
Set the washing machine to a gentle or delicate cycle and use cold water.
Avoid using hot water, as it can cause the fibers to melt or become misshapen.
>> alternatives to rug under dining table?
Add a mild detergent
Add a small amount of mild detergent to the wash cycle.
Do not use fabric softeners, bleach, or other harsh chemicals, as they can damage the fibers.
Dry the rug
After the wash cycle is complete, remove the rug from the laundry bag and gently shake it to remove excess water.
Hang the rug to dry or lay it flat on a towel. Avoid using a dryer, as the heat can damage the fibers.
>> does a rug make a room warmer?
How to Maintain Your Faux Fur Rug's Appearance After Cleaning
Proper Storage
After your faux fur rug is fresh and clean, storing it the right way is key to keeping it that way! First, find a cool, dry spot away from any dampness to avoid mold.
Never just throw it in a closet! Instead, gently fold the rug and place it in a cotton or canvas bag which lets the fur breathe. Remember, plastic bags are a no-go because they can trap moisture and cause damage.
Use and Placement
Where you place your rug can make a huge difference. It's not just about how it looks, but how long it stays looking good! Keep your rug in a spot where it won't catch spills from food or drinks.
This means avoiding the dining room or under little kids' play areas. Also, laying your rug flat on the floor without any wrinkles ensures it doesn't turn into a tripping hazard and stays smooth and fluffy!
Protection from Direct Sunlight
Sunlight is great for plants but not so much for faux fur rugs. Too much direct sun can make the color of your rug fade, and nobody wants that! Make sure to place your rug away from strong sunlight.
If that's tricky because of your room, using curtains or blinds during the sunniest times of the day works wonders. This small step helps keep your rug's color bright and beautiful!
Managing Foot Traffic
Lots of feet walking back and forth can squash the fluffiness of your rug over time. Try to put your rug in a place where fewer people walk, like the side of your bed or in a cozy reading nook. If it's in a busy spot, rotate the rug every few weeks.
This way, it wears evenly, and not just one area gets flattened. And remember, a gentle brush every now and then keeps the fur fluffy and fabulous!
FAQs
If The Tag On My Faux Fur Rug Reads "Wash Using Fur Method," can I Wash It In The Washing Machine?
Yes, you can wash it in the washing machine while using a soft cycle.
How Do I Clean My Extremely Large Faux-Fur Rug At Home?
The best method for cleaning large synthetic rugs is spot cleaning.
Clean the stained parts with water and a light detergent, and then dry them with a hairdryer.
Is Using A Vacuum Cleaner To Clean Faux Fur Rugs Safe?
Yes, so long as the edges are retained in place.
They may be permanently pulled into the carpeting, ruining its appearance.
How Can I Remove Animal Waste From A Faux Fur Rug?
Apply a tiny amount of baking soda to the urine.
You will observe that it absorbs dirt immediately, and you can then use spot cleaning to eliminate the discoloration.
Final Thoughts
Now you know how to clean faux fur rugs well.
We hope that this article has given you all of the information you need to safely and properly clean your faux fur rugs and clothes. 
Remember to read the care tag directions before deciding on the best cleaning procedure.