How To Clean Faux Fur Rug? Step By Step Guide (Easy)
We may earn affiliate fees for purchases using our links (at no additional cost to you).
A neat and clean faux fur rug brings decorative value to your room. Here you may ask, how to clean a faux fur rug?
A properly cleaned faux fur rug is not only important for beautifying your interior, but it is also crucial for the hygiene and long-term usability of those rugs.
So, you must know how to clean it without hampering the materials. In this article, we will describe the full process.
How To Clean Faux Fur Rug
To avoid ruining your rug while cleaning it, it helps to have some idea of what methods work best.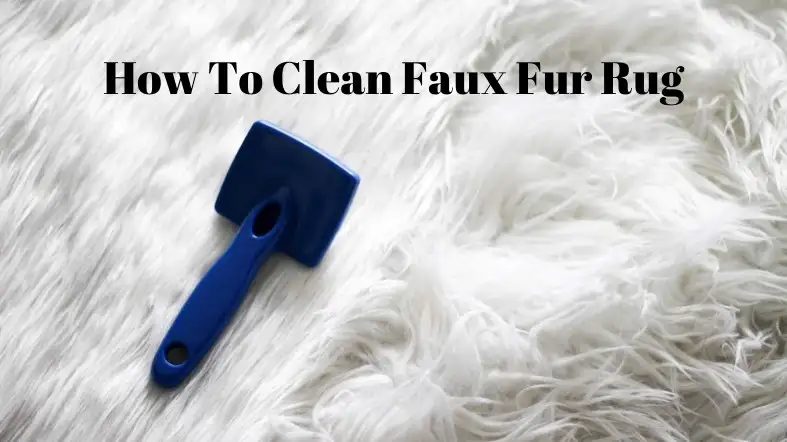 To find the most effective technique of cleaning, we conducted an extensive analysis.
Cleaning your faux fur rug will need a few particular procedures according to the specifics of the rug's composition, care instructions, and condition.
Keep reading for a general procedure that can be used to clean your faux fur rug.
Many synthetic-fur rugs are best taken to the dry cleaners instead of being washed in the washing machine or by hand to prevent knotting and matting.
Look at the care label first before attempting to clean your faux fur rug with any of the methods described below.
Things you need,
Sweeper, either handheld or attached to an upright vacuum via a hose
Detergent for delicate fabrics or shampoo for sheepskin
Brush 
Baby shampoo
Salicylic acid
Sponge
The White Cleaning Cloth
Step by Step procedure:
Give The Rug A Good Shake, Or Vacuum It
Any dust or debris that may be lodged in the rug's fibers should be vacuumed off before any cleaning solutions are applied.
 Using a handheld vacuum or an upright vacuum connected to a hose is a great option for this.
Running the vacuum along the direction of the grain will help keep the rug from becoming tangled.
If the dirt is light enough, you can shake the rug outside to get rid of it.
Get Some Soapy Water And A Tub
To begin, fill your sink or bathtub with lukewarm water and add a spoonful of mild laundry detergent.
Submerge The Rug In The Water
Simply drop the rug into the bath and give it a good swishing with your hands to help release the grime and debris embedded in its fibers. 
Never rub or wipe the rug, as this could cause it to the mat and create knots.
After agitating the rug, soak it for 10–30 minutes in the solution, depending on the level of dirtiness. Warm water should be used to rinse the rug.
Once you've finished cleaning the rug and are satisfied with the results, empty the tub or basin.
After emptying the tub, refill it with tepid water and gently agitate the rug to rinse away the soap and residue.
When cleaning the rug, avoid squeezing or wringing it out. In its place, you can roll the rug up tightly to assist squeeze out the moisture.
Wash The Rug And Let It Dry
After the rug has been washed, it should be unrolled and laid flat to dry.
Don't overstretch the rug as you're putting it down. You can even dry it outside on a clothesline if the weather is nice.
Depending on how dirty your faux fur rug is, you may need to give it a light or thorough cleaning.
See below for a handful of additional suggestions on how to quickly clean your carpets.
For A Gentle Cleaning
If your faux fur rug is somewhat soiled and requires a mild cleaning, follow these steps:
Begin by removing any ingrained dirt and dust from the rug by shaking it outside.
Afterward, pass a vacuum across the rug in the direction of the fibers. Be sure to use the hose attachment when vacuuming an upright rug.
Pour one-fourth of a cup of gentle detergent into a bowl of lukewarm water.
Before applying it to the carpeting, soak a soft sponge in water and rinse it out thoroughly.
With the sponge, lightly dab the rug, paying specific attention to extremely stained or darker spots.
Rinse the sponge with lukewarm water and repeat the process on the rug to remove any soap residue.
Utilize a cat brush to go over the entire carpeting and detangle any matted regions.
If the weather permits, hang the rug outside or set it on a flat surface to dry. When hanging it outside, avoid placing it in direct sunlight, since this could cause it to shrink.
For Deep Cleaning
If you machine-wash your fake fur rug, it is recommended to use a front-loading washer, as the agitator in a top-loading washer is less prone to cause matting. 
An excessive amount of agitation might cause the rug to become frizzed and tangled. Here are the methods to use a washing machine to thoroughly clean your faux fur rug:
Start by using a cat brush to remove any tangles or knots from the rug.
Next, insert the rug inside the washing machine and ensure that it is totally flattened and evenly dispersed around the washing machine (you want its weight to be evenly distributed).
Add one spoonful of mild laundry detergent to the washer.
Set the washing machine to its lowest setting (such as wool, delicate, or mild) and adjust the water temperature to cold or warm.
After the rug has completed its wash cycle, put it on a clothesline away from direct sunlight or lay it flat to air dry. Do not dry the rug, since this could damage the fibers and cause them to harden.
How To Spot-Clean Synthetic-Fur Rugs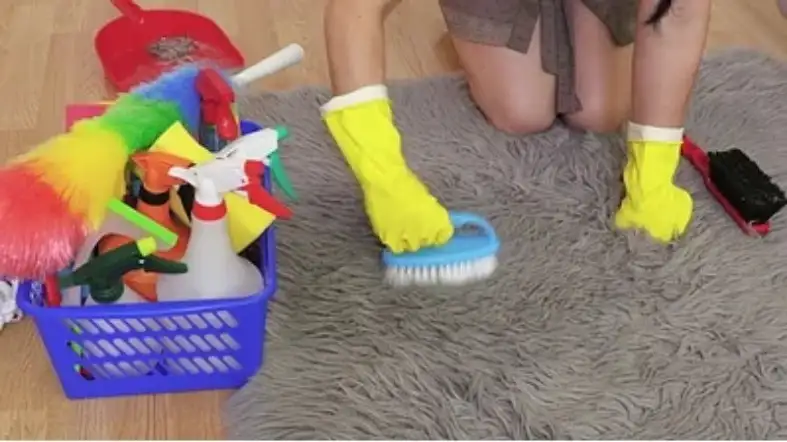 As with most rugs, synthetic fur rugs may likely become stained at some point; however, this does not necessitate replacement.
There are methods for properly removing stains from rugs, which can save you money on the cost of dry cleaning. Let's examine a few of them.
Firstly, use a towel or paper towel to remove the stain as soon as possible. Try to extract as much of the liquid as possible from the rug.
Next, apply a half tablespoon of mild laundry detergent to a white towel.
Using the towel, rub the stained area in a circular manner from the outside to the center of the stain. 
Add a small amount of OxiClean to the cloth and rub it into the stain if the discoloration continues. Before applying OxiClean, it is essential to conduct a spot test on a rug corner.
Rinse the towel with warm water and rub the area gently to remove any lingering soap residue once the stain has been entirely removed.
Allow the rug to dry naturally on a level surface.
Using Washing Machines To Clean Faux Fur Rugs
If you carefully follow the instructions, you should have no trouble using the washing machine.
But keep in mind that there are certain exceptions, and some of these fuzzy carpets cannot be machine washed.
You may be thinking, "How can I know if my faux fur rug is machine washable?"
Examine the tag, as most fur rugs have particular tags with washing instructions and precautions.
Written instructions may look something like this:
It should not be washed with colored rugs or fluffy carpets.
When washing, use warm water.
Hand washing only There may be standard signs or tags that instruct you exactly what to do.
If you can't discover any, chances are your faux fur rug can be washed in the washing machine.
How to use the washing machine for faux fur rugs
Put the rug in the washing machine with no other clothing and use cold water.
Adjust the washing machine settings to the lowest spin setting feasible.
For delicate rug washing, use a moderate detergent and fabric softener.
Only one complete wash cycle is required, and you should not use quick washing cycles again.
Remove the rug from the machine after one wash cycle.
Shake vigorously to eliminate superfluous water while keeping its natural flow.
You can also absorb the residual water with a towel or sponges.
Make sure to follow all of the instructions precisely to preserve the original form and texture.
FAQs
If The Tag On My Faux Fur Rug Reads "Wash Using Fur Method," Can I Wash It In The Washing Machine?
Yes, you can wash it in the washing machine while using a soft cycle.
How Do I Clean My Extremely Large Faux-Fur Rug At Home?
The best method for cleaning large synthetic rugs is spot cleaning. Clean the stained parts with water and a light detergent, and then dry them with a hairdryer.
Is Using A Vacuum Cleaner To Clean Faux Fur Rugs Safe?
Yes, so long as the edges are retained in place. Otherwise, they may be permanently pulled into the carpeting, ruining its appearance.
How Can I Remove Animal Waste From A Faux Fur Rug?
Apply a tiny amount of baking soda to the urine. You will observe that it absorbs dirt immediately, and you can then use spot cleaning to eliminate the discoloration.
Final Thoughts
Now you know how to clean faux fur rugs well.
We hope that this article has given you all of the information you need to safely and properly clean your faux fur rugs and clothes. 
Remember to read the care tag directions before deciding on the best cleaning procedure.