A gas-powered generator is sometimes our go-to option to power electronics like a microwave oven in the event of a power outage. 
But to have the optimal efficiency using a generator, we have to first answer what size generator to run a microwave we need.
It's important to get the generator's sizing right before hooking up the microwave to it.
Otherwise, the microwave won't be able to run at peak efficiency and even damage both the microwave and the generator.
Click Here To Check Recommended Generators
What Size Generator To Run A Microwave?
A typical microwave comes with a heating capacity of 850 to 1100 watts.  Accordingly, power consumption ranges from roughly 1300 to 1500 watts.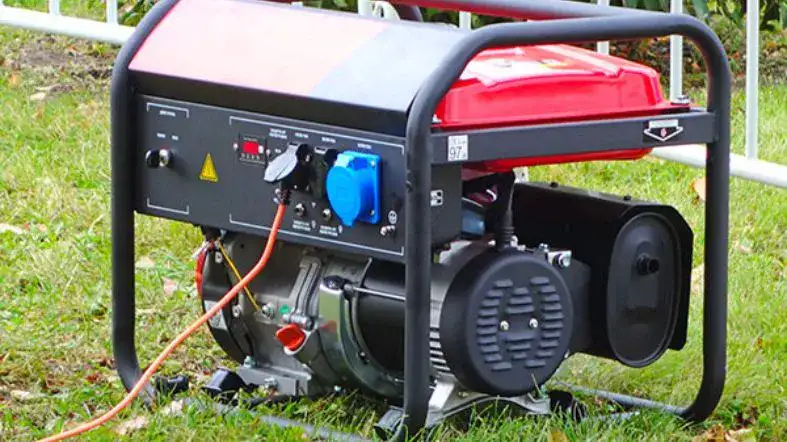 So, a generator that can produce between 1500 and 2000 watts will do the job.
However, considering the capacitive loads, a higher capacity of the generator is ideal, such as 1800-2000 watts.
Available Options For Generator Sizes:
| Microwave Wattage | Generator Sizes |
| --- | --- |
| Up to 900 watts | 1000-1400 watts |
| Up to 1100 watts | 1200-1600 watts |
| Up to 1200 watts | 1300-1700 watts |
| Considering the capacitive loads (For over 1000 watts) | 1800-2000 watts (safest) |
Is It Safe To Use A Generator To Run A Microwave?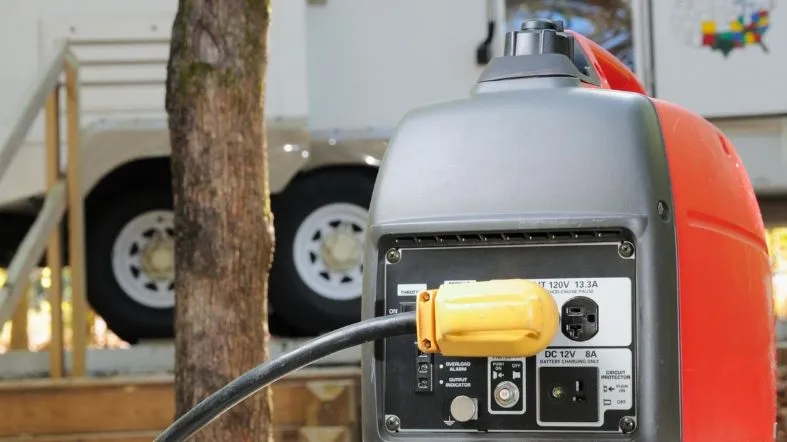 You can, of course, if you feel the need. Furthermore, it's not as if they'll use up all of your generator's power in a short period. Rather, it offers considerable upsides.
A microwave oven that is 1000 watts uses around 1500 watts of power. If you are going to be doing a lot of traveling, this will help you the most.
In this case, you want to get the most out of your generator and a microwave will help you do that.
We assure you, using a microwave on a generator will not do any harm. Instead, you will benefit the most.
Saves Energy:
In a microwave, you can cook food in a fraction of the time it takes in a conventional oven. These ovens are very energy efficient.
The meal is heated directly in a microwave oven, which results in an efficiency of up to 80%.
When it comes to stoves and other electric ovens, you only save 20% of the energy.
So, considering all the facets, it is a very good option to use a generator in the event of power cuts.
You Have To Run It For A Short Period: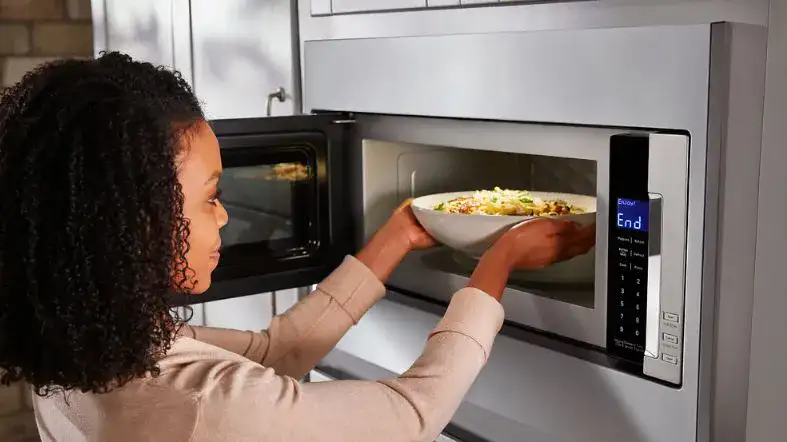 In addition, microwave ovens do not remain operational 24 hours a day. Cooking or warming up food takes a very short amount of time.
Therefore, the overconsumption of energy only occurs for a short period. So, this results in a less significant influence on the monthly electricity cost.
So, the stress on the generator is not anything significant.
Verdict:
In light of all of these considerations, it is clear that microwave ovens are indeed very good at conserving energy.
So, they should be on the shopping list of everyone, especially those who frequently go out of town.
And using a generator to power the microwave will be the savior for you anywhere and anytime.
How To Pick The Right Size Microwave: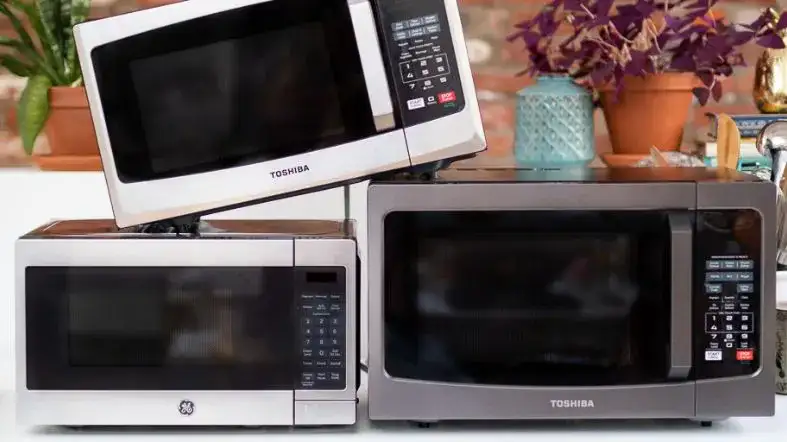 Well, now comes the toughest of the questions. But it is not much of a trouble as you are here.
It should not be any more challenging than cooking a pie if you follow the steps below.
For a microwave, the steps are too simple:
Find out the microwave power information.
If the power calculation is not in watts, convert it to watts
Consider the minimum required power of the generator.
>> What size generator for hurricane?
Microwave Power Information: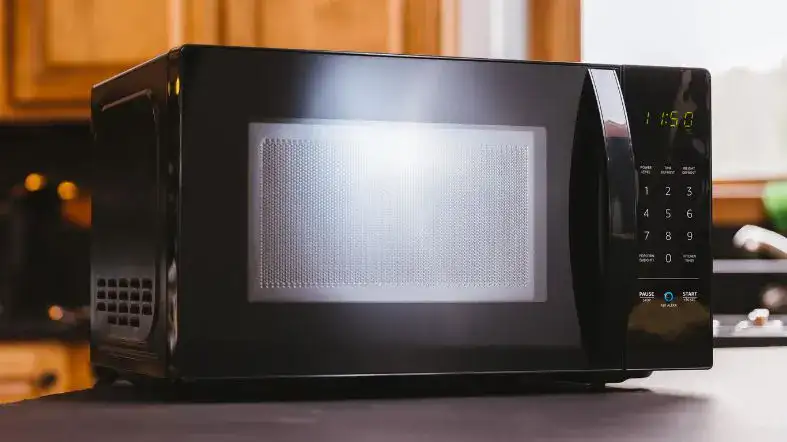 When we talk about the microwave or any appliances' power consumption information, we talk about the starting and running power.
However, the starting power and running power are sometimes the same.
For instance, for laptops, TVs, lights, and some other appliances, the power wattage is the same. But, for a microwave, this is not possible.
The starting period is the peak period. So, it consumes the highest energy at this event.
Then, when it gets going, the continuous energy consumption is less. A typical microwave uses heating elements of electric motors.
So, the peak consumption is three, and even four times higher than the continuous consumption.
Enough of the theoretical discussions, right? Let's find out the wattage. Look at the product description on the box or manual.
This is it; you will get the relevant information here.
For instance, if the continuous wattage of a microwave is 250, the peak is very likely to be in the range of 750-950 watts. 
However, the good thing is that you will get the peak watts in the descriptions.
If it shows that the wattage is 900 watts, the continuous consumption will be less than 400 watts. 
If you still have any issues regarding this, you should always contact the manufacturer to be sure of it.
Remember, if the generator cannot match the peak consumption watts, it cannot run the microwave. No compromise here.
>> What size generator to run a 3 ton AC?
The Consumption Rate Shall Be In Watts: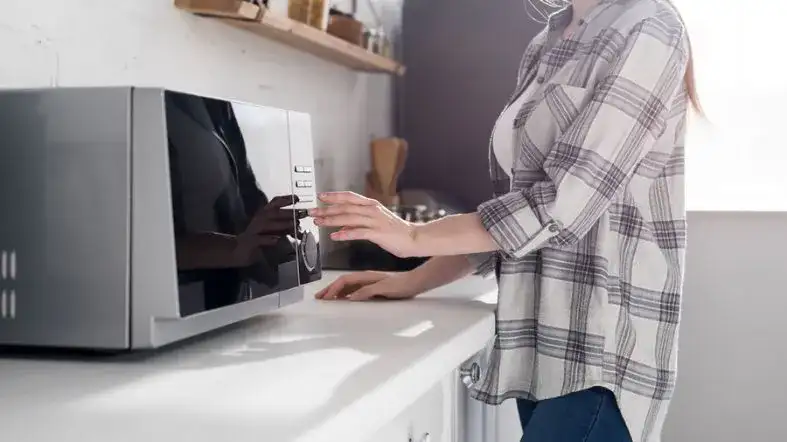 You will get the generator power in watts. So, you should know how much power the microwave consumes in watts.
Sometimes, the power consumption rate is not given in watts. It may use many other methods of power rating.
For instance, amps, HP, KW, etc. Don't worry; it is easy-peasy to convert these into watts.
Convert from amps:
If the power rating is in amps, the equation is to multiply the amps by the volts. Doing so will give you the watts rating.
Let's say the microwave shows it consumes 1 amp and it rates 120 volts.
Watts = amps  (x) volts = 1 (x) 120 = 120 watts
So, for 2 amps with 240 volts, the watts rating will be (2×240) 480.
>> Which generator size for lincoln 225 welder?
Convert from HP:
HP means horsepower. It refers to mechanical horsepower. Here, 1 HP = 745.7 watts. Well, now you can do the math, can't you?
Your microwave is 1.3 HP.
The watts rating will be: 1.3 (x) 745.7 = 969.41 watts.
Convert from kW:
Simply multiply the kW by 1000, and you will get the ratings in watts. Yes, it is as simple as this.
Convert from kVA:
To convert kVA to watts, simply multiply the kVA value by 1000 and the power factor.
P(W) = PF x 1000 x S(kVA) 
In this equation:
P(W): Represents the actual power in watts.
S(kVA): Reported Power that is given in kVA
To simplify, let's convert 1.2 kVA into watts, for instance. Also, the power factor that the box information reveals is 0.95. Make use of our algorithm to understand.
P(W) = PF x 1000 x S(kVA) = 0.95 x 1000 x 1.2 = 1140
>> What generator size to run hot water heater?
The minimum required power rating: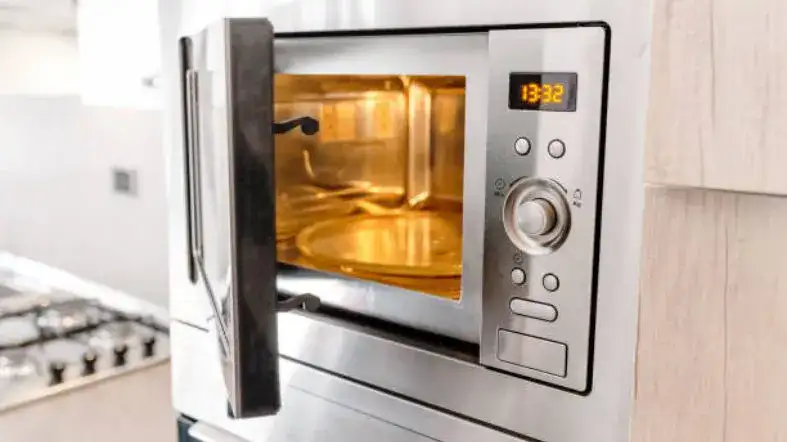 A little higher power rating than the reading of the microwave consumption rating is enough.
But, this is not anything ideal. The power rating may fluctuate and damage the equipment. 
So, for safety concerns, the minimum requirement of power rating is 500 watts higher than the consumption rating of the microwave.
Let us show you how that works.
Solve the math:
Let's say, you buy a microwave with the power rating given in HP, 1.4 HP. Now, what size of a generator can run the microwave?
The wattage rating of the microwave is (1.4 x 745.7) 1043.9 or 1044 watts.
So, the minimum standard of watts for the generator needs to be: watts of the microwave + 500 watts more.
1044 + 500 = 1544 watts is the go-to option for you.
Now, if you can afford it, the more extra wattage you have, the safer you are. So, you can even pick a generator with a power rating of 1800-2000 watts.
So, even if the power production fluctuates, there will be no damage to the equipment.
Is It Possible To Run A Microwave On An Inverter Generator?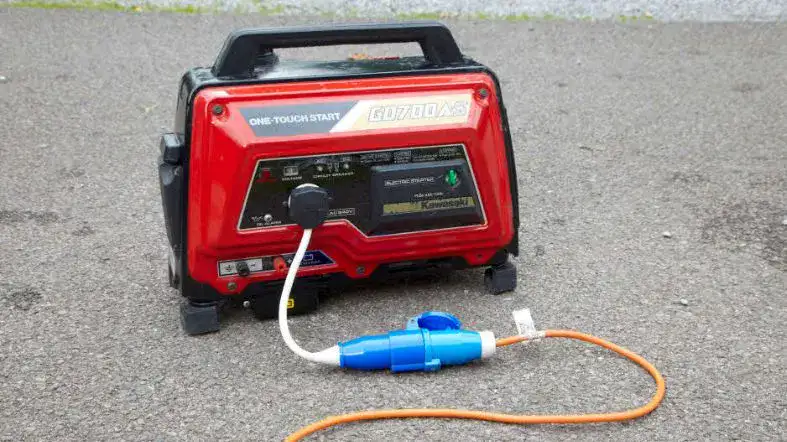 To answer your question, inverter generators are able to power microwaves.
Inverters come in a variety of power ratings, ranging from 1000 watts to 3000 watts, for example. 
A generator with 800 to 1000 watts of inverter power may reliably power a microwave of a smaller size. 
However, how each microwave is utilized is not the same. The items are manufactured by a variety of companies and brands.
So, the manner in which each brand goes about its business is likewise distinct from that of the others.
Let's consider an example. Let's say your microwave's function processing needs are dependent on 600.
You should probably go with a tried-and-true option rather than anything fixed. Do not make a purchase that is both predetermined and evident.
Instead, go for an inverter with between 800 and 1200 watts of power. Why? The varying levels of power consumption won't prevent you from using the microwave.
The power generation may fluctuate, so, you will be safe with a high-power generator.
Instructions For Running A Microwave On A Generator: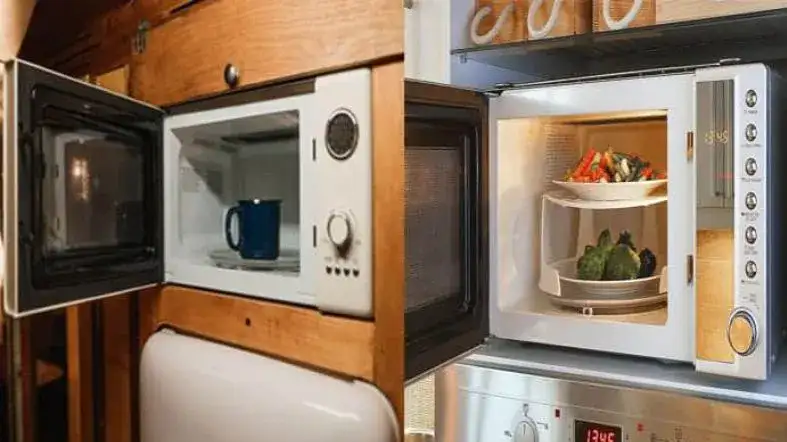 Using a generator to power a microwave isn't the most complicated task on the face of the earth.
However, if you've never done it before, you're going to want some pointers. The following steps need to be taken to use a generator to power a microwave:
The first step is to determine the microwave's wattage:
This step comes first for reasons that should be evident. A wattage that is too low will not allow the microwave to function properly.
On the other hand, a wattage that is too high has the potential to cause the circuits inside the microwave to catch fire.
As stated earlier, you can simply determine the wattage of your microwave by looking at the device's body or consulting the instruction manual.
Verify that the generator equips the appropriate outlets:
You won't be able to link your microwave to the generator in a straight line. In order to do that, you are going to require an extension cord.
All the generators out there don't have these outlets.
So, you need to check before purchasing to ensure that the generator you intend to buy has the appropriate channels for plugging the microwave.
Join The Wires And Cables: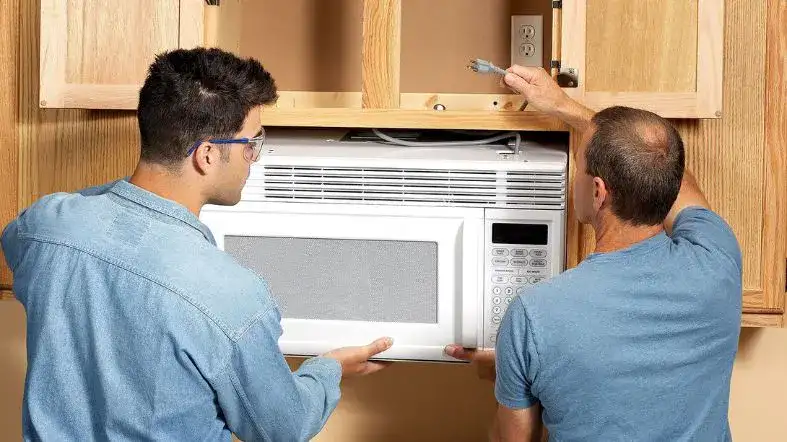 Start by putting the generator on level ground. The microwave shall rest not less than 10 feet away from the generator. 
Start the generator and let it run for around two to three minutes so that it can warm up. Obtain a heavy-duty male-to-female extension cord with a 14-gauge gauge.
Establish the connection between the generator outlet and the male end of the cable.
At last, the power cord of the microwave shall be plugged into the extension cord's female end.
Issues that can trouble you to run a microwave by a generator:
Though these issues aren't particularly critical, they nonetheless have to be dealt with daily.
The most typical problem that you can expect when using a generator is an imbalance in the power supply. If the generator's wattage is too high, it will melt everything. Once again, the generator won't function if its output is below the minimum required.
Intricate wiring is required to link a microwave to an electric power source. Multiple cables are utilized here. Be careful to invest in a quality item. If you neglect to double-check everything, your money might as well be wasted.
Newer models of generators do include standard outlets, but it never hurts to double-check.
FAQs about the generator sizes to run a microwave:
Will A 2000w Generator Run A Microwave?
A 2000 watts generator can run also any microwave in the world. There is rarely any microwave that consumes more than 1500 watts.
Will A 1000 Watts Generator Run A Microwave?
Yes, it can run small-size microwaves ranging from 500-800 watts. It is not wise to run a microwave of more than 800 watts by this generator.
Can A Microwave Be Damaged By A Generator?
No, not ordinarily. But it is also possible to cause harm to both if you use an inadequately sized generator to power the microwave.
Final Words:
To sum up, what size generator to run a microwave depends on the power rating of the microwave and relevant factors.
Always take notice of the stated heating capacity of the microwave and generator. Microwaves often have capacitive loads.
So, end of the day, it's recommended to use a generator that can produce 500 watts more than the microwave power rating. 
Also, for microwaves with a power rating of more than 1000 watts, use generators between 1800-2000 watts power rating.