What Size Generator To Run A Sump Pump? Avoid This Mistake!
We may earn affiliate fees for purchases using our links (at no additional cost to you).
A generator is a live saver for cleaning the flooding basement even during the storm when the power outage happened most.
But connecting the sump pump to the right size generator is the only way to run the pump efficiently till cleaning the last drop of water.
So you must learn what size generator to run a sump pump if you are planning to be prepared for the extreme situation and still enjoy the light in the house and keep running other electric appliances.
What Size Generator To Run A Sump Pump?
To run a sump pump you will need at least 2000 watt generator. But it is better to choose a 3,500-watt generator or even higher.
Using a mid-size generator that has 3,000-5,000 watts will be a good option to run a sump pump, refrigerator, and other electric appliance at a time even without causing overloading.
A large generator with 6,000-9,000 watts on the other hand can deliver enough power to the multiple sump pump and other key appliances efficiently.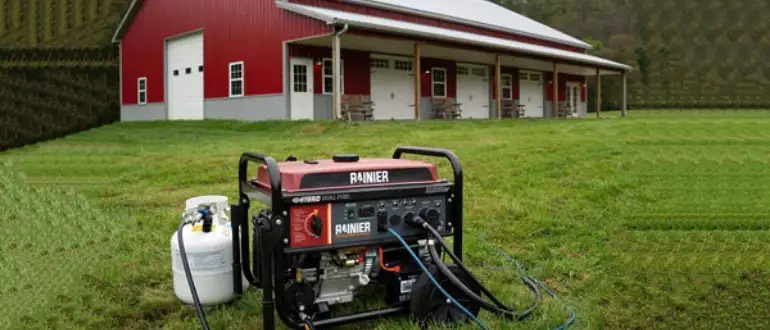 Determining The Right Size Generator To Run A Sump Pump
The size of a generator for running a sump pump depends on plenty of factors.
Even considering these factors will lead you to get a powerful, reliable, and easy maintenance generator.
Power rating
Following the power rating of the sump pump, you can determine the right capacity generator.
The sump pump comes with an electric rating tag where you will find the rating data for horsepower, voltage, amperage, and frequency.
Read More: What Size Generator For Living Quarter Horse Trailer?
After getting the data, you have to multiply the voltage by amperage and the result will be the required power supply.
Apart from that, you have to consider the start-up watts and running watts of the generator, where the first one requires more than the second.
Generator Applications
Many people run a sump pump consistently, and it's the only appliance that connects with the generator.
Read More: What Size Generator For Travel Trailer?
So, if you have a plan to connect multiple electric appliances with the generator, then determine the number of appliances and find out the total amount of power that will need to be drawn from the generator.
This way, you will find the best size generator not only for the sump pump but also for the whole house.
Number of sump pumps to run
Likewise, with a variety of appliances, many people want to run multiple sump pumps at a time.
If you have several sump pumps, then take every model's power rating separately. It is especially true if you have various types of sump pumps.
Read More: What Size Generator For 30 Amp RV?
So, What Size Generator to Run Sump Pump?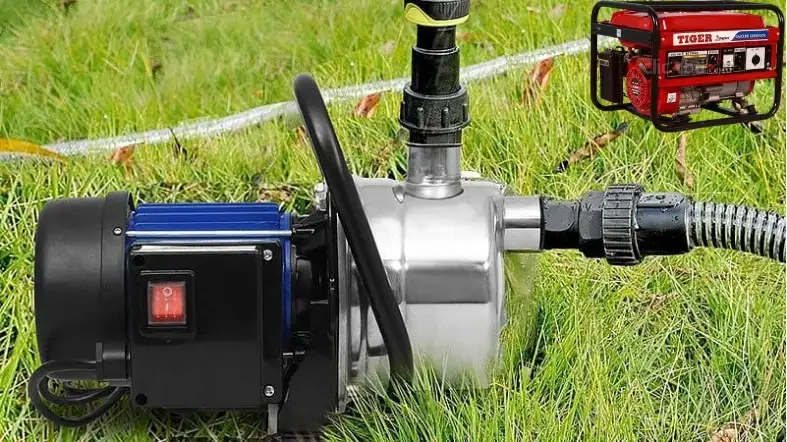 Once you have found all the required data, determining the right size generator to run your sump pump won't be a tricky task.
Remember, if your sump pump has the higher horsepower, you will require a more significant generator.
For example, if you have a 0.75-horsepower sump pump, then you will require a generator that can deliver at least 1300 starting watts and 800 running watts.
Conversely, for a 0.5-horsepower sump pump, the generator should have 2150-starting watts and 1050 running watts.
Considering those two wattage rate numbers, you will require a large portable generator.
Another important thing is while choosing a generator, make sure it leaves a slight wiggle room of a few extra wattages available along with supplying enough power to start and keep the appliance running.
Read More: What Size Generator Do I Need For 200 Amp Service?
The reason is that such a generator won't run at maximum power continually and prevent causing wear and damage.
1 HP is preferred as 750 watts of power and you should choose a generator that has 1.5 or double the power of the requirement due to the wattage allowance and load characteristics.
So if you have a 1 HP sump pump, you will require at least 1500 running watts.
A larger generator is also essential for plenty of reasons, including lighting, making a cup of soup or tea, and most importantly, if the extension cord is larger and connected with heavy conductors.
When it comes to extension cords, you should remember that a 16-gauge extension cord that is shorter than 50 feet can power a 1625 watt appliance.
But if the cord is longer than 50 feet, it won't power a device that requires more than 1250W.
So the wire-gauge of the generator is also among the vital considerations for choosing the right size generator for the sump pump.
Read More: What Size Generator For 50 Amp RV?
Best Generator For Sump Pump
1. WEN 2000-Watt Gas Powered Portable Inverter Generator
WEN 56200i 2000-Watt Gas Powered Portable Inverter Generator, CARB Compliant
Dimensions: 18″ x 11″ x 18″ | Weight: 48 lbs
Noise Level: 53 dB operation
EPA III and CARB Compliant 79.7 cc 4-stroke OHV engine produces 2000 surge watts and 1600 rated watts
Great for campgrounds, construction sites, tailgates and power outages
Produces clean power to safely operate and prevent damage to sensitive electronics such as phones, tablets, televisions and computers
Includes two three-prong 120V receptacles, one 12V DC receptacle and one 5V USB port
Check Latest Price On Amazon
2. Generac IQ3500-3500 Watt Portable Inverter Generator
Generac 7127 iQ3500-3500 Watt Portable Inverter Generator Quieter Than Honda, Orange/Black
ULTRA-QUIET – 40% Quieter than Honda* Advanced inverter technology and enclosure design provide optimal quiet performance (* Over 5 dB(A) quieter than the EU3000is, based on independent third-party testing)
Ideal for work or play – durable steel enclosure, clean inverter power and easy portability make this the ideal generator for jobsites or recreational activities
16% more power than Honda, Featuring power rush advanced technology.Rated AC Frequency:60 Hz
Digital smart lcd – digital wattage meter, run time remaining display, generator status, hour meter and fuel level
USB ports – charge mobile devices including smartphones and tablets
Electric start with power dial start/run/stop – three operation settings integrated into one simple-to-use dial (battery included)
Check Latest Price On Amazon
3. Westinghouse Outdoor Power Equipment WGen7500 Portable Generator
Westinghouse Outdoor Power Equipment WGen7500 Portable Generator with Remote Electric Start 7500 Rated Watts & 9500 Peak Watts, Gas Powered, CARB Compliant, Transfer Switch Ready
7500 Running Watts and 9500 Peak Watts; Remote Start With Included Key Fob, Electric and Recoil Start; Up to 11 Hours of Run Time on a 6.6 Gallon Fuel Tank With Fuel Gauge
Features Two GFCI (Ground Fault Circuit Interrupter) 5-20R 120V Household Duplex Receptacle and One L14-30R 120/240V Twist-Lock Receptacle; All Outlets Have Rubber Covers for Added Safety
Plug-and-Play: Comes with a Remote Start Key Fob, 12V Battery Charger, Oil, an Oil Funnel, a Tool Kit, and a User's Manual to Get You Started Right Out of the Box (Minimal Assembly Required)
Powered by a 420cc Westinghouse 4-Stroke OHV Engine Featuring a Long-Lasting Cast Iron Sleeve with Automatic Low Oil Shutdown and Digital Hour Meter. Output Ready Indicator : No.
All Westinghouse Portable Generators are Functionally Tested in the Factory and May Contain Minimum Residual Oil and/or Fuel Odor; EPA and CARB Compliant; Backed by 3-Year Limited Service, Labor, and Parts Coverage with Nationwide Customer Service Network
Check Latest Price On Amazon
FAQs About Generator To Run A Sump Pump
Can A 2000 Watt Generator Run A Sump Pump?
A 2000 watt generator can run a sump pump even during a storm. After running the sump pump and once it starts drawing 800 watts, you can connect a 1000 watt water well pump to the same generator.
What Is The Right Size Generator To Run A 1/3 HP Sump Pump?
A 1/3 HP sump pump generally needs 1300 starting watts and 800 running watts.
So you have to use a generator that is powerful enough to handle such a demand and keep the 1/3 HP sump pump running conveniently.
How To Connect A Generator To A Sump Pump?
Firstly, fill the generator with fuel, and then plug the extension cord into the generator.
After that, start the generator. Keep the generator running and connect the sump pump to the extension cord. Continuously check the water level to ensure proper runtime.
Final words
When choosing the right size generator for your sump pump, make sure the generator is advertised as peak wattage rather than running watts.
The reason is that peak wattage is preferred because it is the maximum power limit of the generator that it can sustain for a shorter time, which is especially handy for starting the sump pump.
Except for this, hopefully, you already know what size generator to run a sump pump and its determining factors.