What Size Generator To Run 5 Ton AC Unit In 2023?
We may earn affiliate fees for purchases using our links (at no additional cost to you).
A generator should be large and powerful enough to handle a 5 ton air conditioner for producing consistent cool air on summer days.
So before planning for a generator you must learn what size generator to run 5 ton ac unit for steady power.
Along with the appropriate answer, the guide will deliver you vast information on determining the size of the generator for certain ac and other important factors to consider.
What Size Generator To Run 5 Ton AC Unit?
A generator with 8000 wattage power will be good enough for most of the 5-ton air conditioners that are between 16 to 34 Amps (240V circuit). However, if your 5 ton ac has 50-Amp and 60,000 BTUs you will require a generator with least a 20 KW wattage.
How many watts does a 5-ton air conditioner take to run?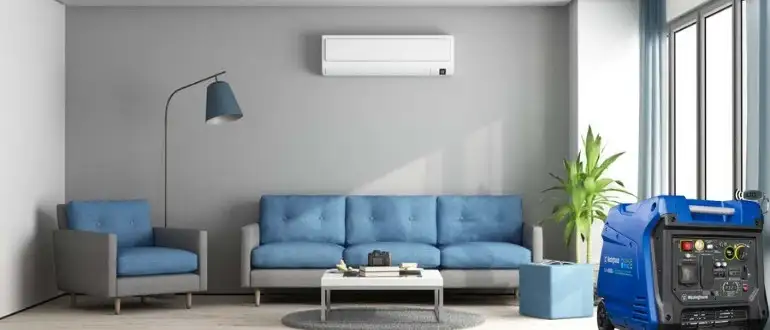 In general, 5 ton AC takes around 4,000W to 8,000W and 16 to 34 Amps to run. But determining the right size generator for a 5 ton AC unit is a quite tricky task.
However, finding the overall wattage of the air conditioner can let you pick the appropriate generator pretty suitably.
You can handle the task following these simple ways:
Firstly read the specification sheet for power which is measured in watts and the EER rating.
Then divide the BTUs with EER rating to find out the wattage. For example, if the BTU is 60,000 and the EER rating is 10 then the wattage will be 6,000W. 
Another way you can follow is to find out the current and the voltage of the certain AC from the specification sheet.
Then multiply the voltage and current and the result will be the required wattage. Generally, an AC with a 10 EER rating needs 6000 wattages to run efficiently.
Typical Generator Sizes 
You will need a generator with 7kW to 20 kW power output to run a large AC while the average range is 13-18kW.
But the fact is most people want to run multiple appliances along with the AC during a power outage.
Therefore it's vital to consider a generator that can deliver enough power to the whole house. Following the chart will give you a basic idea: 
How AC Units are sized?
People are most familiar with a smaller or room-size air conditioner that sits on the floor or fits in a window.
The cooling capacity of these AC is around 5000 to 18,000 BTU.
The largest air conditioner can cool almost 1000sqt of the living room but can cool the separate room efficiently. 
The larger AC is mainly used for a small business or a whole house where a smaller air conditioner is unable to serve.
Read More: What Size Generator Do I Need For A 3 Bedroom House?
Some air conditioners come rated in tons instead of BTU where 1 Ton is the same as 12000 BTU and 1.5 Tons is equal to 18000 BTU.
Plus a 2 Tons AC is same as 24000 BTU and 60000 BTU is 5 Ton. 
Electrical Power is needed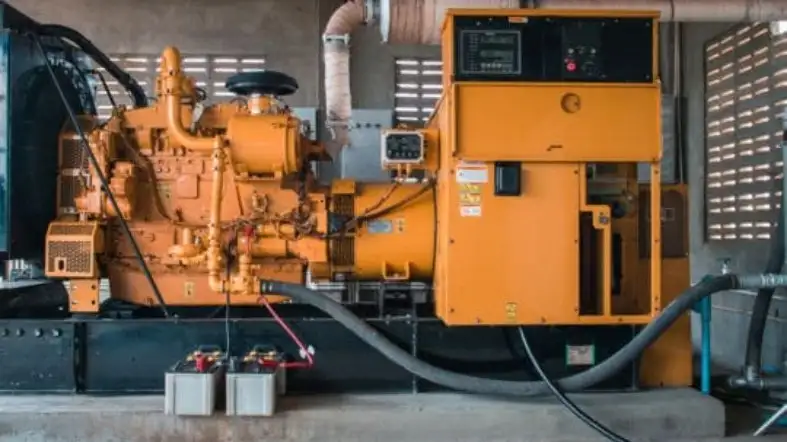 All the air conditioner gets power through electricity which comes from the grid where the business or home is connected.
But sometimes a supplemental generator supplies the required power to run the air conditioner and other electrical appliances.
Read More: What Size Generator Do I Need For My House (Chart Added)
Electrical power is refer to watts whereas a standard light bulb requires 60 to 100 watts.
But a large electric appliance like AC requires at least thousands of watts and 1000 watts equal to 1kW. 
Portable vs Whole House Generators
Though a portable generator is powerful enough to supply the required amount of power for a house or small business, a whole house generator connected directly to the electrical panel is a better choice.
Having a large permanently installed generator means you don't need to be aside from the generator to connect it with the main breaker panel whenever the power goes down. 
Some modern generators start and switch off automatically within a minute from the main power off.
Even the whole house generators are fueled by natural gas or propane. So you won't have to prepare a can of gasoline to ensure the consistent run of the generator.
Read More: What Size Generator Do I Need For My House Calculator
Best Generator For 5 Ton AC
1. Westinghouse 5300 Rated 6600 Peak Watts Gas Powered Portable Generator
2. Generac 7676 GP8000E Portable Generator
Generac 7676 GP8000E Portable Generator, Orange, Black
Featuring power Rush advanced technology – delivers over 30% more starting capacity allowing you to do more with less
Dimensions: 27.2″ W x 27″ D x 26.5 H | Weight: 198 lb
10000 Starting Watts. 8000 Running Watts
Electric start Model for easy operation (Battery included)
Generac durable OHV engine with splash lubrication provides a long engine life
Large-capacity steel fuel tank with incorporated fuel gauge provides durability and up to an 11 hour run-time at 50% load
Check Latest Price On Amazon
3. DuroMax Gas Powered 10000 Watt Electric Start Portable Generator
DuroMax XP10000E Gas Powered Portable Generator-10000 Watt Electric Start-Home Back Up & RV Ready, 50 State Approved, Blue/Black
Powerful DuroMax Engine: the XP10000E is powered by a 439cc OHV DuroMax Engine
Gas powered technology: run your generator with gasoline For long lasting power.
Plenty of power: with 10,000 starting watts and 8,000 running watts, This unit can handle heavy loads from lights, refrigerators, home conditioners and high amperage power tools.
Maximum power: with DuroMax MX2 technology, get the maximum power from each of the 120 volt receptacle. Choose between operating the generator at both 120 V and 240 V Simultaneously, or at 120 only with full power.
Powering everyone anywhere: like all DuroMax generators, the XP10000E is EPA and CARB approved For use in all 50 States.
Check Latest Price On Amazon
FAQs
How Many Watts Require Running A 5 Ton AC?
Generally, a 5 ton air conditioner with a 10 EER rating needs at least 6,000 W. this type of air conditioner use 25 Amps at 240V.
Can I place a generator close to the living room?
All the generator produce noise however some make it unbearable. Apart from it, some housing areas and municipalities allow a certain amount of noise. So while choosing a generator check the local regulations and go for the quietest generator to maintain a calm environment around your living room and the area.
What is the best generator for 3 ton AC?
You will require a minimum 11kW generator however generators don't come in this size. so you have to consider the nearest size of a 14kW generator to run a 3-ton air conditioner.
Final words
A 5 ton air conditioner is a standard size that needs lots of energy.
So learning what size generator for 5 ton ac unit will not only ensure consistent run time but also maintain longevity operating the appliance properly.
Apart from this make sure you have enough fuel to keep the 5 ton ac running for desired time.