What Size Crate For French Bulldog In 2023? (Solved)
We may earn affiliate fees for purchases using our links (at no additional cost to you).
The French bulldog needs a cozy corner for resting and letting the parent travel them easily and a right size crate only can make it happen.
Knowing what size crate for French bulldogs is even more important for their secure feeling and easier crate training purpose.
So if you are a cautious parent read the guide completely to learn the right size crate for a French bulldog and other criteria for a worthwhile investment.
What size crate for French bulldog?
In general, an adult French bulldog requires a 30-inch dog crate for comfortable movement avoiding unsecured feelings. But the actual size of the crate for a French dog depends on the size of the dog.
So, measure your dog properly and then choose the right size crate accordingly. French bulldog crates size chart based on weight:
How to Measure the Pooch to Determine the Right Size Crate for French bulldogs?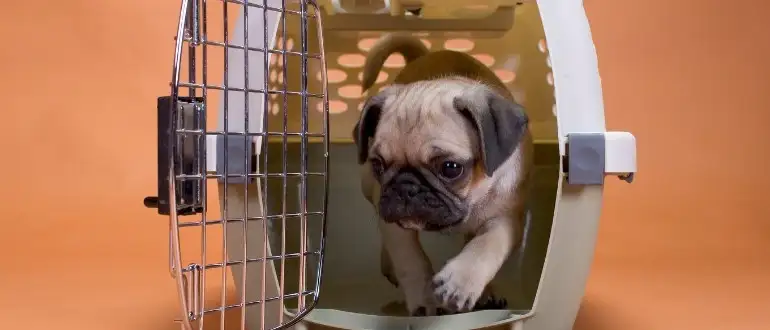 Firstly, measure your pet so you can estimate the proper size of the crate.
To do so, stand the dog up on all four paws and measure the length from the bottom of its tail through the nose tip.
Then add a few inches to the length so the bulldog can travel through the room comfortably.
The French bulldogs should have a little extra room so they can walk, change the bed, and feel cozy.
Read More: What Size Crate For German Shepherd?
The Right Crate Size For A French Bulldog
The size of the dog's crate can vary from 20″ to 48″, and you should choose the crate size based on the size of your dog.
Keep in mind that French bulldogs are mostly medium-sized, and getting a medium-sized crate will be a good decision.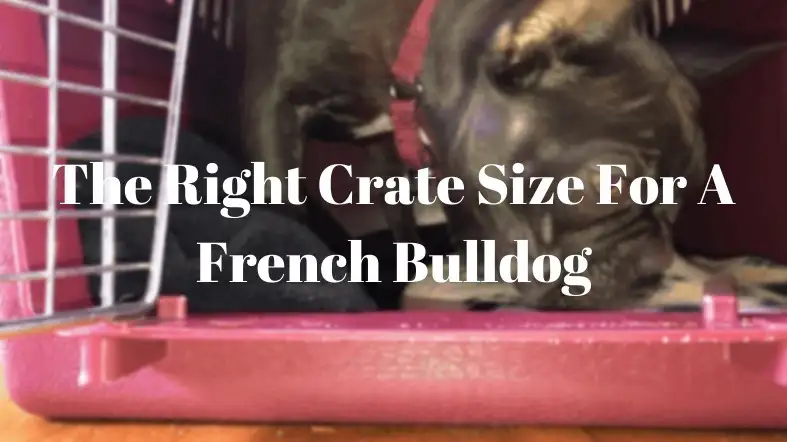 A properly sized crate will allow the pup to stretch and sit up until they grow fully.
Because of its length and height, many pet owners use a 30-inch crate for their puppy French bulldog.
You can also shop for a large-sized dog crate with a divider panel so you can keep the pup in the right space and increase the room according to the growth of the puppies.
Read More: What Size Crate For 50 Lb Dog?
Alternative ways to get the right size crate for French bulldogs
Multiple crate strategy
If you have enough budgets and investing in multiple crates isn't a big issue for you, then consider this strategy.
So get the length and height of your puppy and choose the crate that matches the size.
But remember, the puppy grows too fast and the crate will get too small too quickly.
Therefore, we recommend you spend less money on the first gate. For adult bulldogs, you should only invest in the crates for longer use.
Read More: What Size Crate For French Bulldog?
Purchase A Customizable Crate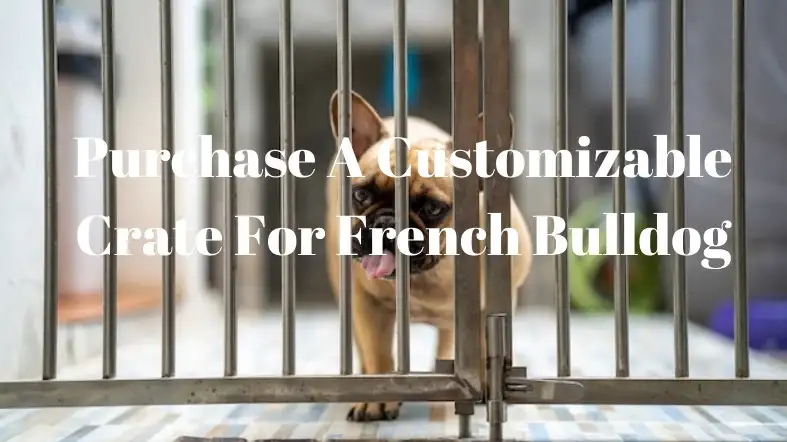 The size of the bulldog as a puppy is far different from the full-grown adult size. So the pet needs a smaller crate than the adult.
But following the growth of the puppy, the demand for the larger crate also increases, and that takes repeated investments.
To save money and avoid purchasing multiple crates, you can buy a crate in an adult size. But make sure it has a divider.
Using this feature, you can keep the bulldog in the appropriate crate size and increase the room as they grow at any time.
The split one will let you resize the crate of the dog and prevent it from offering too much space inside the crate while saving a large amount of money.
The importance of the right-sized crate for the French bulldog
The crate for the French bulldog should be too small for the dog, limiting its movement.
But the dog crate shouldn't be too big either, as it may offer them too much space for a walk.
Conversely, a right-sized crate will allow the French bulldog to move comfortably without crouching or squatting.
Another important aspect of providing the right size crate is providing enough leg space for the bulldog to spread their legs without touching the wall, especially when lying on its side.
Even you should be cautious about purchasing a too-large crate, especially if you are spacious enough for your adorable French bulldog. Even the French bulldogs themselves don't expect much room inside the crate, as some feel insecure. 
A large crate also has a detrimental impact on the effectiveness of French dog crate training. Some pet owners have experienced bulldogs using the corner of the large crate as a toilet.
The main intention of offering a crate to the French bulldogs is to offer them a sense of protection as well as comfort. Therefore, a right-sized crate is a must needed.
5 Best Crate For French Bulldog
1. MidWest Homes for Pets iCrate, Single Door & Double Door Dog Crates
Dog Crate | MidWest iCrate XXS Double Door Folding Metal Dog Crate w/ Divider Panel, Floor Protecting Feet & Leak-Proof Dog Tray | 18L x 12W x 14H Inches, Toy Dog Breed, Black
iCrate the "Al inclusive dog crate" | Includes Free divider panel, durable dog tray, carrying handle, 4 "roller" feet to protect floors &the MIDWEST quality guarantee 1-year Warranty
XXS Double door folding dog crate ideal for "Toy" dog breeds w/ adult weight up to 6 pounds | Convenient divider panel allows crate to expand as your dog grows | iCrate measures 18L x 12W x 14H inches
Your Dog's home While you're away from home| Durable design creates a safe place for your pet while you're away & caters to your dog's natural "den" instincts
SAFE & SECURE HOME: Heavy duty slide-bolt latch firmly locks dog crate door in place keeping your dog safely inside their dog crate
EASY ASSEMBLY & PORTABLE DESIGN: Sets up in seconds w/ no tools required for assembly & folds flat for convenient storage or travel | Roller feet protect hardwoods, make repositioning easy
Check Latest Price On Amazon
2. EliteField 3-Door Folding Soft Dog Crate, Indoor & Outdoor Pet Home
EliteField 3-Door Folding Soft Dog Crate, Indoor & Outdoor Pet Home, Multiple Sizes and Colors Available (24″ L x 18″ W x 21″ H, Beige)
Size: 24″ long x 18″ wide x 21″ high; 1″ wider and 3″ higher than most other brand 24″ soft crates, so the EliteField soft crate makes your dog feel more spacious; fully assembled; set-up and fold-down in seconds, no tools needed
The crate frame is made of strong steel tube; the crate cover is made of high quality durable 600D fabric and hex mesh fabric; a well ventilated, stylish, lightweight and durable crate
Three mesh doors (on the top, front, and side) for convenience and for sunlight and breathability; two accessory pockets on the top and side; removable and washable cover and bed
Free carrying bag and fleece bed included; a handle and hand carrying straps on the crate, hand carrying straps and adjustable padded shoulder strap on the carrying bag allow for many carrying options; folded crate with just 3″ height for easy transport and storage
2 Year Warranty from EliteField, a New York-based Pet Product Manufacturer. The "EliteField" brand is ranked #1 under Amazon's "Soft Dog Crate" category. This can be seen through searching for "Soft Dog Crate" on Amazon. Product Quality Guarantee, 100% Money-Back Guarantee, Customer Satisfaction Guarantee (See important information in "Product Description" section below)
Check Latest Price On Amazon
3. JESPET Soft Dog Crates Kennel for Pets, 3 Door Soft Sided Folding Travel Pet Carrier
4. New World 30″ Folding Metal Dog Crate, Includes Leak-Proof Plastic Tray
5. Amazon Basics Folding Portable Soft Pet Dog Crate Carrier Kennel
Amazon Basics Folding Portable Soft Pet Dog Crate Carrier Kennel – 36 x 24 x 24 Inches, Grey
Soft-sided carrier crate for pets that collapses down easily for storage
Made with durable polyester and PVC material
Well-ventilated with multiple screened panels for your pet to look out of
Includes plush fleece-covered pet bed for comfort while on the road
Accessory pockets on the top and sides for storing treats, toys, and more
Top handle and shoulder strap for dynamic carrying options
Recommended for medium sized breeds such as Blue Heelers and Golden Retrievers (26 – 75 lbs), and large breeds such as Boxers and German Shepherds (76 – 90 lbs)
Check Latest Price On Amazon
FAQs About Right Size Crate For French Bulldog
Is The French Bulldog Small Or Medium?
French bulldogs are usually medium-to-small-sized breeds. The weight of this dog breed can reach up to 28 pounds, and the maximum can reach up to 13 inches.
Do French Bulldogs Need A Crate?
A crate is essential for the French bulldog due to its security, and comfort. French bulldogs aren't usually considered a large dog breed, so buying a single crate can be enough for them. But make sure the crate will be big enough for their comfortable rest and movement once they grow fully.
Is It Hard To Train A French Bulldog?
Crate training for the French dog may not go as planned. But be patient and love your bulldog to let them learn behavior. You shouldn't even punish them if they don't show any interest in crate training.
Final words
The accurate measurement of the French bulldog and the type of the crate is essential to ensure the right size of crate for your franchise.
Throughout the guide, we have informed you what size crate for French bulldog and other crucial information is required to gift the sweat home to the pet.
Hopefully, the guide will help you find the appropriate home for the pet easily and accurately.