The French bulldog needs a cozy corner for resting and letting the parent travel them easily and a right size crate only can make it happen.
Knowing what size crate for French bulldogs is even more important for their secure feeling and easier crate training purpose.
So if you are a cautious parent read the guide completely to learn the right size crate for a French bulldog and other criteria for a worthwhile investment.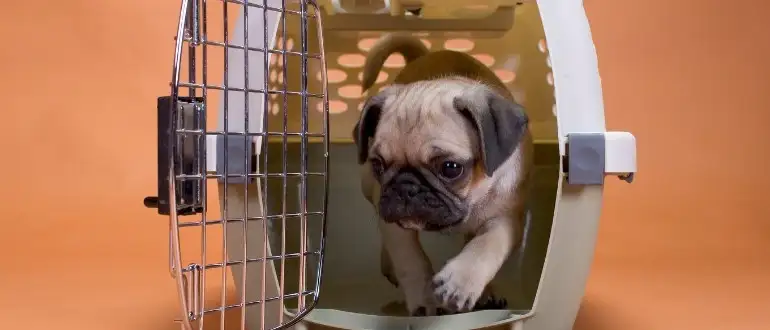 What size crate for French bulldog?
A suitable crate for an adult French Bulldog is generally a 30-inch dog crate, as it allows enough space for comfortable movement while ensuring security. Specific crate sizes might depend on the individual dog's size and comfort preferences.
So, measure your dog properly and then choose the right size crate accordingly. French bulldog crates size chart based on weight:
Importance of Correct Crate Size for French Bulldogs
There are several reasons why choosing the right crate size is so important.
Health and Safety Considerations
A crate that is too small can cause physical discomfort and stress for your Frenchie. He or she might not be able to stretch, turn around, or lie down comfortably.
This can lead to muscle stiffness, joint pain, and breathing problems. A crate that is too big can also pose a risk of injury or escape.
Your Frenchie might slide around, bump into the walls, or get stuck in the corners. The dog may also try to chew or break out of the crate, which can damage their teeth.
Comfort and Welfare of the Dog
A crate that is just right can provide a cozy and secure place for your Frenchie to relax and sleep.
It can also help them cope with separation anxiety, noise, or unfamiliar situations. Your Frenchie will feel more calm and confident if he or she has a crate that is like a den or a home.
A crate that is too small or too big can have the opposite effect. Your Frenchie might feel cramped, trapped, or exposed. This can cause them to develop fear, aggression, or depression.
Behavioural Considerations
A crate that is appropriate for your Frenchie can also help you with training and discipline. It can teach them to be more independent, obedient, and housebroken.
Your Frenchie will learn to associate the crate with positive rewards and experiences, such as treats, toys, and praise.
They will also learn to respect the crate as their own space and not soil it. A crate that is not suitable for your Frenchie can hinder your training efforts and encourage bad habits.
Your Frenchie might not enjoy being in the crate and try to avoid it or escape from it.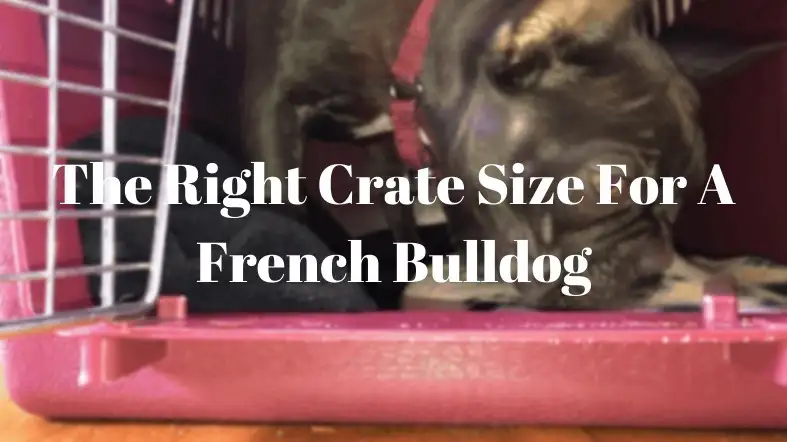 >> What size crate for a 40 pound dog?
Various Crate Types Suitable for French Bulldogs
Here are some of the most common types of crates for French Bulldogs.
Plastic Crates
Plastic crates are made of hard plastic and have a metal door on one side. They are durable, easy to clean, and provide good insulation and ventilation.
They are also lightweight and portable, making them ideal for travel. They can also be bulky, difficult to store, and prone to chewing or scratching.
They can also trap heat and odors, which can be uncomfortable for your Frenchie.
Wire Crates
Wire crates are made of metal wire and have one or more doors on the sides or the top. They are sturdy, easy to fold, and provide good visibility and airflow.
They are also versatile and can be used with a divider panel, a floor tray, or a cover.
They can also be noisy, cold, and exposed, which can be stressful for your Frenchie. They can also rust, bend, or break if not maintained properly.
Soft-sided Crates
Soft-sided crates are made of fabric and have mesh windows and zippered doors. They are lightweight, easy to carry, and provide a cozy and warm environment for your Frenchie.
They are also flexible and can fit in small spaces or irregular shapes. They can also be flimsy, hard to clean, and susceptible to tearing or chewing.
They can also lack security and stability, which can be risky for your Frenchie.
Heavy-duty Crates
Heavy-duty crates are made of metal or plastic and have reinforced doors and locks. They are strong, secure, and durable, making them ideal for aggressive or escape-prone dogs.
They are also easy to clean and provide good protection and ventilation.
They can also be heavy, expensive, and intimidating, which can be unpleasant for your Frenchie. They can also take up a lot of space and be hard to move around.
Furniture-style Crates
Furniture-style crates are made of wood or metal and have a door on one side. They are stylish, elegant, and functional, making them ideal for indoor use.
They can also double as a table or a bench, saving you space and money. They can also be costly, fragile, and difficult to clean.
They can also lack portability and ventilation, which can be inconvenient for your Frenchie.
How to Choose the Right Crate Size for a French Bulldog
There are several factors that you need to consider before buying a crate.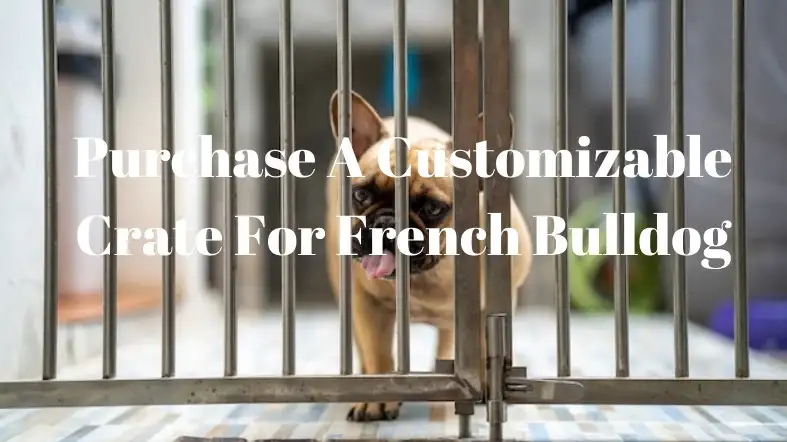 Measuring Your French Bulldog
As we mentioned earlier, measuring your Frenchie is the first step to finding the right crate size. You should do this when your Frenchie is fully grown or close to it.
If you have a puppy, you can estimate their adult size based on their breed standard or their parents' size.
Consideration of Growth and Changes
If you have a puppy or a young Frenchie, you should also consider their potential growth and changes in size.
You don't want to buy a crate that they will outgrow soon or that will become too tight for them.
You can either buy a larger crate and use a divider panel to adjust the space as they grow or buy multiple crates of different sizes as they grow.
Space for Movement
Another factor to consider is how much space your Frenchie needs to move around in the crate. You don't want to give them too much or too little space.
You want to give them enough space to stand up, turn around, and lie down comfortably, but not so much that they can run, jump, or play in the crate.
You also want to make sure that the crate is not too high or too low for your Frenchie.
When they sit up, their heads should not hit the top of the crate, and their necks should not be stretched.
5 Best Crate For French Bulldog
1. MidWest Homes for Pets iCrate, Single Door & Double Door Dog Crates
Dog Crate | MidWest iCrate XXS Double Door Folding Metal Dog Crate w/ Divider Panel, Floor Protecting Feet & Leak-Proof Dog Tray | 18L x 12W x 14H Inches, Toy Dog Breed, Black
iCrate the "Al inclusive dog crate" | Includes Free divider panel, durable dog tray, carrying handle, 4 "roller" feet to protect floors &the MIDWEST quality guarantee 1-year Warranty
XXS Double door folding dog crate ideal for "Toy" dog breeds w/ adult weight up to 6 pounds | Convenient divider panel allows crate to expand as your dog grows | iCrate measures 18L x 12W x 14H inches
Your Dog's home While you're away from home| Durable design creates a safe place for your pet while you're away & caters to your dog's natural "den" instincts
SAFE & SECURE HOME: Heavy duty slide-bolt latch firmly locks dog crate door in place keeping your dog safely inside their dog crate
EASY ASSEMBLY & PORTABLE DESIGN: Sets up in seconds w/ no tools required for assembly & folds flat for convenient storage or travel | Roller feet protect hardwoods, make repositioning easy
Check Latest Price On Amazon
2. EliteField 3-Door Folding Soft Dog Crate, Indoor & Outdoor Pet Home
EliteField 3-Door Folding Soft Dog Crate, Indoor & Outdoor Pet Home, Multiple Sizes and Colors Available (24″ L x 18″ W x 21″ H, Beige)
Size: 24″ long x 18″ wide x 21″ high; 1″ wider and 3″ higher than most other brand 24″ soft crates, so the EliteField soft crate makes your dog feel more spacious; fully assembled; set-up and fold-down in seconds, no tools needed
The crate frame is made of strong steel tube; the crate cover is made of high quality durable 600D fabric and hex mesh fabric; a well ventilated, stylish, lightweight and durable crate
Three mesh doors (on the top, front, and side) for convenience and for sunlight and breathability; two accessory pockets on the top and side; removable and washable cover and bed
Free carrying bag and fleece bed included; a handle and hand carrying straps on the crate, hand carrying straps and adjustable padded shoulder strap on the carrying bag allow for many carrying options; folded crate with just 3″ height for easy transport and storage
2 Year Warranty from EliteField, a New York-based Pet Product Manufacturer. The "EliteField" brand is ranked #1 under Amazon's "Soft Dog Crate" category. This can be seen through searching for "Soft Dog Crate" on Amazon. Product Quality Guarantee, 100% Money-Back Guarantee, Customer Satisfaction Guarantee (See important information in "Product Description" section below)
Check Latest Price On Amazon
3. JESPET Soft Dog Crates Kennel for Pets, 3 Door Soft Sided Folding Travel Pet Carrier
4. New World 30″ Folding Metal Dog Crate, Includes Leak-Proof Plastic Tray
5. Amazon Basics Folding Portable Soft Pet Dog Crate Carrier Kennel
Amazon Basics Folding Portable Soft Pet Dog Crate Carrier Kennel – 36 x 24 x 24 Inches, Grey
Soft-sided carrier crate for pets that collapses down easily for storage
Made with durable polyester and PVC material
Well-ventilated with multiple screened panels for your pet to look out of
Includes plush fleece-covered pet bed for comfort while on the road
Accessory pockets on the top and sides for storing treats, toys, and more
Top handle and shoulder strap for dynamic carrying options
Recommended for medium sized breeds such as Blue Heelers and Golden Retrievers (26 – 75 lbs), and large breeds such as Boxers and German Shepherds (76 – 90 lbs)
Check Latest Price On Amazon
FAQs About Right Size Crate For French Bulldog
Is The French Bulldog Small Or Medium?
French bulldogs are usually medium-to-small-sized breeds. The weight of this dog breed can reach up to 28 pounds, and the maximum can reach up to 13 inches.
Do French Bulldogs Need A Crate?
A crate is essential for the French bulldog due to its security, and comfort.
Is It Hard To Train A French Bulldog?
Crate training for the French dog may not go as planned. But be patient and love your bulldog to let them learn behavior.
Final words
The accurate measurement of the French bulldog and the type of crate is essential to ensure the right size of crate for your franchise.
Throughout the guide, we have informed you what size crate for French bulldog and other crucial information is required to gift the sweat home to the pet.
Hopefully, the guide will help you find the appropriate home for the pet easily and accurately.