Selecting the right size impact wrench for removing lug nuts is crucial, as an incorrect choice can lead to stripped nuts or damaged hardware.
This article will explore the determination process, various wrench types, and safety procedures to take during removing lug nuts. Read on to make an informed decision for efficient, safe lug nut removal.
What Size Impact Wrench Do I Need To Remove the Lug Nuts?
To remove lug nuts, a 1/2-inch drive impact wrench is typically sufficient, offering the ideal balance of torque and control. Ensure it delivers at least 100 ft-lbs of torque for effective performance, although requirements may vary based on the vehicle's specifications.
Impact Wrench Size Chart for Lug Nuts Removal:
| Common Lug Nut Sizes | Standard Impact Wrench Sizes |
| --- | --- |
| 17mm | 1/2-inch drive |
| 19mm (3/4-inch) | 1/2-inch drive |
| 21mm | 1/2-inch drive |
| 22mm | 1/2-inch drive |
| 23mm | 1/2-inch drive |
| 24mm (15/16-inch) | 1/2-inch or 3/4-inch drive |
How to choose the right Size Impact Wrench?
Choosing the right size impact wrench can be a bit tricky, but there are a few key factors to consider:
Torque requirements
The amount of torque required to complete a job is a crucial factor when choosing an impact wrench.
You will need to know the maximum torque required for the job you will be doing, as well as the torque range of the wrench you are considering.
Make sure the wrench you choose has a maximum torque output that is equal to or greater than the torque required for your job.
Bolt size
The size of the bolts you will be working with is another important consideration. The larger the bolt, the more torque you will need to loosen or tighten it.
Make sure the wrench you choose is capable of handling the size of bolts you will be working with.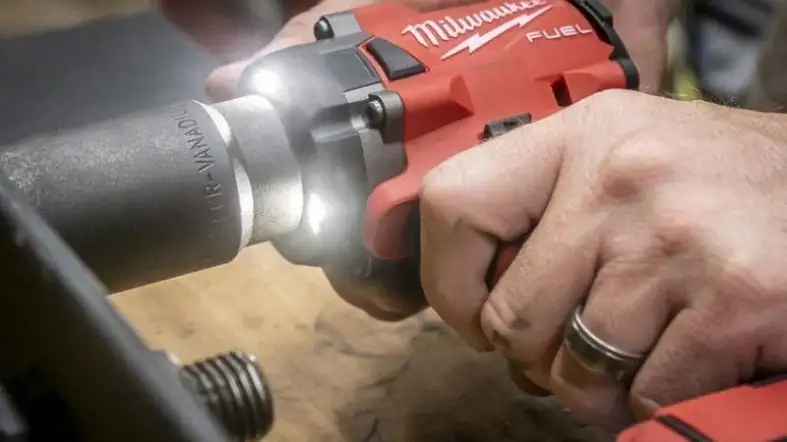 Power source
Impact wrenches can be powered by air, electricity, or batteries.
If you need to use your wrench in a location where there is no power source, a battery-powered wrench might be the best option.
If you have access to an air compressor, an air-powered wrench can provide more torque than an electric wrench.
Size and weight
The size and weight of the wrench are important considerations, especially if you will be using it for extended periods of time.
A heavy or bulky wrench can cause fatigue and discomfort, so choose a model that is comfortable to hold and use.
Brand and quality
Finally, make sure you choose a reputable brand and a high-quality wrench.
A cheap or poorly-made wrench may not be able to provide the torque or durability you need for your job.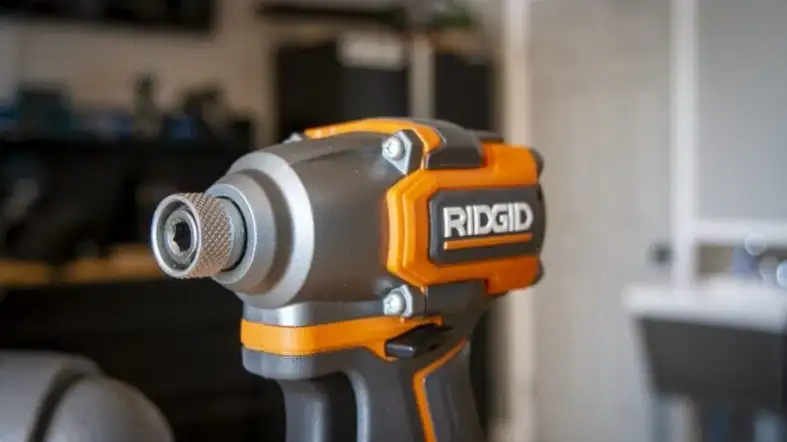 What Types Of Impact Wrenches Do You Need?
Now that we've gone over the different sizes of impact wrenches let's talk about the types. Impact wrenches come in three types:
Cordless
Corded Electric
Pneumatic (Air)
Each type has its own advantages and disadvantages that you should consider before making a purchase.
Cordless Impact Wrenches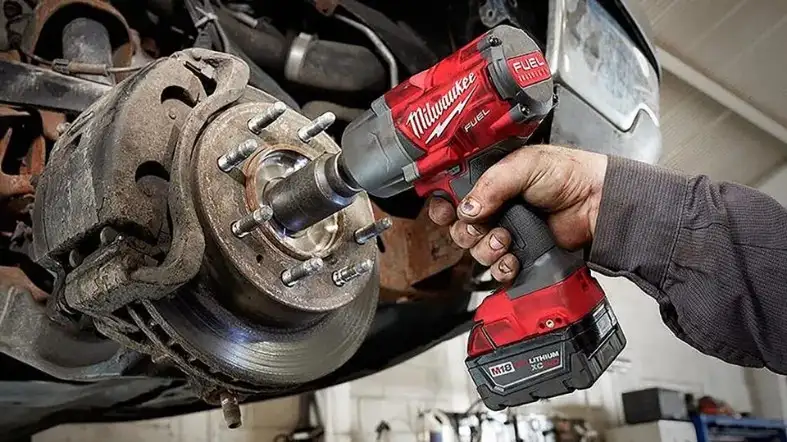 Cordless impact wrenches are becoming increasingly popular due to their portability and convenience.
These wrenches run on batteries, so they don't need to be plugged into an outlet to operate. 
This makes them perfect for use in tight spaces or areas with no power source. Additionally, cordless impact wrenches are relatively quiet and easy to use.
The main downside of cordless impact wrenches is that they tend to be less powerful than their corded or pneumatic counterparts.
The batteries can add significant weight to the tool, making it more challenging to handle.
Another downside is that batteries can be expensive and may need to be replaced frequently.
Corded Electric Impact Wrenches
Corded electric impact wrenches are the most powerful type of wrench available. They're ideal for heavy-duty jobs that require a lot of torque.
Corded electric wrenches are smaller and lighter than pneumatic wrenches, making them easier to use in tight spaces.
Also, they're generally less expensive than pneumatic wrenches. On the other hand, if you are looking for a downside of corded electric impact wrenches.
It would be that they require an electrical outlet to operate. This can be inconvenient, especially if you're working in an area where there is no power source available.
Pneumatic (Air) Impact Wrenches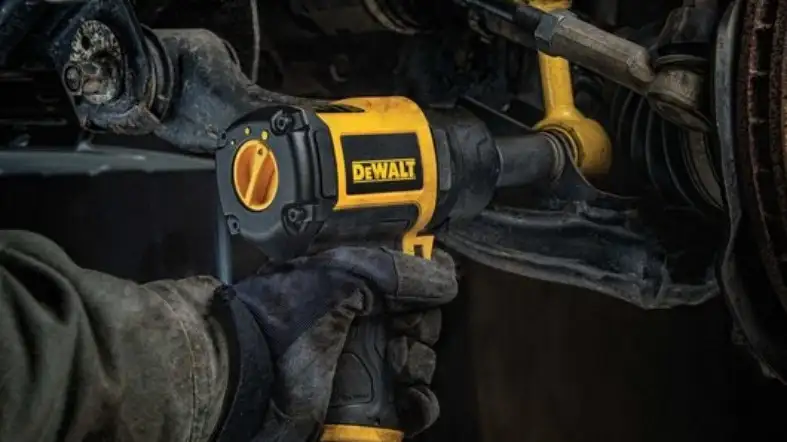 Pneumatic impact wrenches are the most powerful type of wrench available and are typically used for heavy-duty jobs.
They use compressed air to generate torque, making them ideal for loosening stubborn fasteners.
Pneumatic wrenches are also relatively small and light, making them easy to use in tight spaces.
But the main problem with pneumatic wrenches is that they require an air compressor to operate.
The lack of portability is perhaps the most significant disadvantage of an air impact wrench. 
The pneumatic version differs from the cordless variety in that it requires a connection with an air compressor, which will limit your movement considerably.
Of course, you can take a tiny pancake compressor with you. In order to function, they require you to connect them to the electricity supply.
How Much Torque To Remove Lug Nuts?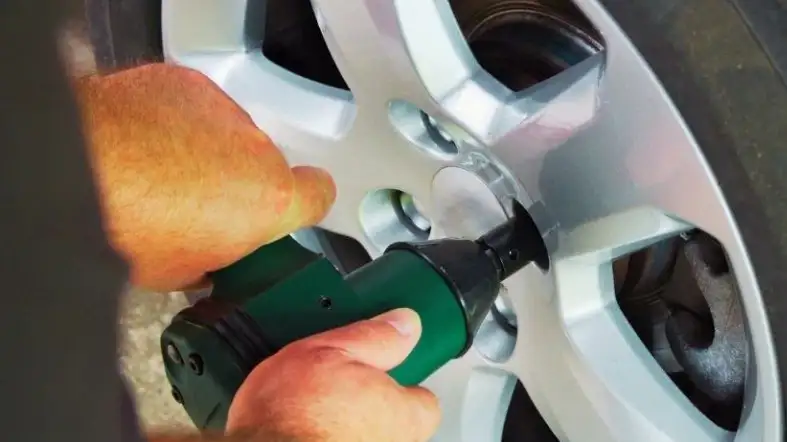 Using an impact wrench with a capacity of 500 ft-lbs is the appropriate way to remove lug nuts.
If you consult a wheel nut torque settings chart, you'll see that the recommended safe amount of torque for most lug nuts is 80 to 100 ft-lb.
To free lug nuts, use an impact wrench with a minimum capacity of 500 ft-lbs.
Torque Chart
Here's a torque chart to show you how much torque you can apply to different sizes of studs/bolts.
| Wheel Stud Size (inches and millimeters) | Typical Range of Torque (Pounds) | Number of Turns of Hardware Engagement |
| --- | --- | --- |
| 7/16 inch | 70 to 80 | 9 |
| 1/2 inch | 75 to 85 | 8 |
| 9/16 inch | 135 to 145 | 8 |
| 12 x 1.5 millimeters | 70 – 80 | 6.5 |
| 12 x 1.25 millimeters | 70 – 80 | 8 |
| 14 x 1.5 millimeters | 85 to 90 | 7.5 |
| 14 x 1.25 millimeters | 85 to 90 | 9 |
The impact wrench is the most incredible tool for this sort of work. It can be battery or air-operated and has a 3/8-inch or 1/2-inch diameter.
The size of the wrench will determine the amount of torque output. It is by far the best way to quickly and easily remove lug nuts without stripping them.
The standard sizes for this type of breaker are 3/8-inch and 1/2-inch.
These two sizes may provide enough power to break loose even lug nuts that have been fused into their bolts without putting out too much force.
On tire wheels, use an impact driver to remove overtightened lug nuts.
Consider that the lug nut must be tightened from 80 to 100 ft-lbs in order for the wheel to stay on. As a result, it is just as easy for people to overdo it.
Safety Precautions When Using an Impact Wrench to Remove Lug Nuts
Safety is paramount when handling any power tools, particularly with tasks like removing lug nuts using an impact wrench. Understanding and adhering to these precautions ensures not only the efficiency of your task but your well-being too.
Wear Protective Gear
Before you start, make sure you're wearing the right safety gear. This includes safety glasses to protect your eyes from flying debris and gloves to protect your hands from sharp edges.
Don't forget to wear sturdy shoes to protect your feet in case a heavy tool drops.
Use the Correct Socket
It's crucial to use the correct size socket for the lug nuts. A socket that's too large or too small can strip the nut, making it difficult to remove. Always double-check the size before you start.
Don't Over-Torque
When using an impact wrench, it's easy to apply too much torque and damage the lug nuts or studs. To prevent this, start with a low torque setting and gradually increase it until the nut is loose.
Keep Your Work Area Clean
A clean work area is a safe work area. Make sure there are no loose tools or parts that could cause you to trip or slip while working.
Regularly Maintain Your Tools
Regular maintenance of your impact wrench will ensure it operates safely and effectively. This includes cleaning, lubricating, and checking for any signs of wear or damage.
FAQs about What Size Impact Wrench Need To Remove the Lug Nuts
Can I use a smaller impact wrench to remove lug nuts?
It's possible to use a smaller impact wrench, such as a 3/8-inch, to remove lug nuts.
This may not provide enough torque to loosen the lug nuts, especially if they are rusted or overtightened.
Can I use a larger impact wrench to remove lug nuts?
Yes, you can use a larger impact wrench, such as a 3/4-inch, to remove lug nuts.
This may be overkill for most automotive applications and could potentially damage the lug nuts or studs if too much torque is applied.
What other factors should I consider when choosing an impact wrench to remove lug nuts?
In addition to the size of the wrench, you should also consider the torque output, power source (air, electric, or battery), weight, and brand/reliability of the impact wrench.
A high-quality, reputable brand with a sufficient torque output and comfortable weight should make the job of removing lug nuts easier and more efficient.
Can I use an impact wrench to install lug nuts?
While impact wrenches are commonly used to remove lug nuts, they are not recommended for installing lug nuts.
Lug nuts should be torqued to the manufacturer's specifications, which is best done with a torque wrench.
An impact wrench can be used to quickly spin the lug nuts onto the studs, but a torque wrench should be used to properly tighten them to the recommended torque.
Final Thoughts
Hopefully, this article has helped you to understand a little more about what size impact Wrench needs to remove the lug nuts.
As you can see, many different types are available, each with its advantages and disadvantages. 
So, when choosing an impact wrench, it's essential to consider the specific needs of your project.
Whichever type you choose, select a wrench with enough torque to loosen the lug nuts on your tires.