What Size Inverter Do I Need To Run A Laptop?
We may earn affiliate fees for purchases using our links (at no additional cost to you).
The inverter is one of the most necessary tools to use your electronic devices safely. Many people ask, "what size inverter do I need to run a laptop?"
If you do not use a proper inverter, your laptop may face damage. So, you must have knowledge about the right size of inverter.
This article is here for you to give the answer and help you get the properly sized inverter.
What Size Inverter Do I Need To Run A Laptop?
The size of the inverter depends on how you are using your laptop. To generalize, the size is between 100-400 watts.
Standard laptops can be powered by an inverter of up to 100 watts, but additional power will be required to run additional accessories such as printers, routers, and speakers.
Inverters with a minimum capacity of 400 watts are required for high-end gaming laptops.
Here is a table that shows the recommended size of inverter you need to run a laptop:
| Laptop Power Consumption | Recommended Inverter Size |
| --- | --- |
| Less than 100 watts | 150 watts |
| 100-150 watts | 300 watts |
| 150-200 watts | 500 watts |
| 200-300 watts | 1000 watts |
| 300 watts or more | 1500 watts or higher |
How To Determine The Appropriate Inverter Size For Your Laptop?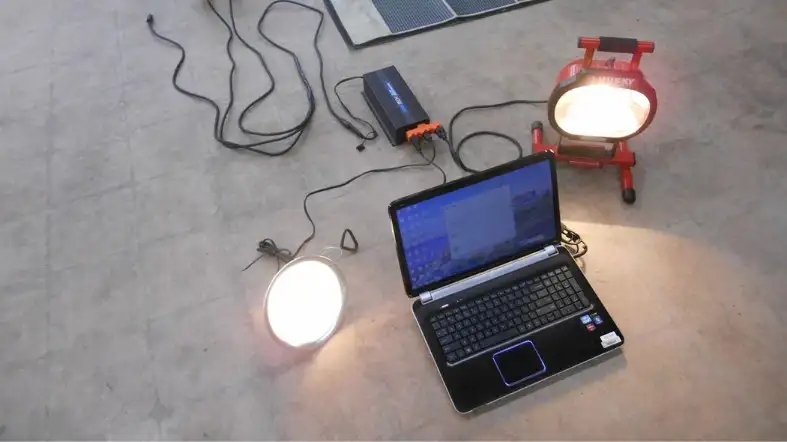 We need to do some math in order to figure out which inverter is best suited for your laptop. However, there is no need to be concerned because it is not difficult at all.
The formula is as follows:
Laptop watts + 20% = inverter size
The average power consumption of a laptop designed for business use is one hundred watts.
The majority of inverters have an efficiency rating of 85 percent, which means you need to add at least 15 percent to be able to run the laptop.
Let's round that number up to twenty percent for reasons relating to safety.
100 + 20 percent = 120
Therefore, the inverter power required to run a laptop with 100 watts of power is 120 watts.
However, that is the bare minimum requirement, and it won't hurt to use an inverter that is larger than that.
If you add a modem (which uses 10 watts), a printer (which uses 10 watts), and speakers (which uses 20 watts), the entire system will require at least 150 watts of inverter power.
An inverter with 100 watts of power should be sufficient for a standard laptop.
100 Power inverter is perfect for use with laptops and other portable electronic devices, and it can also be put to use in an RV or a moving vehicle.
There are undoubtedly many distinct kinds of laptops, but any of them can be described by the same general pattern. 
Examine the specifications of your laptop's power consumption, which should be included in the user manual.
Doing so will allow you to achieve the best results possible.
The addition of 20 percent to the total in the formula is subject to change depending on how efficient the inverter is. 
Due to the fact that the inverter operates at an efficiency of 85%, the percentage, in this case, is 20%.
If you have a system that is 90 percent efficient, you can cut this number down to 15 percent or 10 percent.
Using An Inverter With Your Laptop: Some Tips
Using an inverter with your laptop can be a convenient way to work on the go, especially when you don't have access to a power outlet.
There are some important tips to keep in mind to ensure that you use your inverter safely and effectively with your laptop:
Modified Sine Wave Inverters Versus Pure Sine Wave Inverters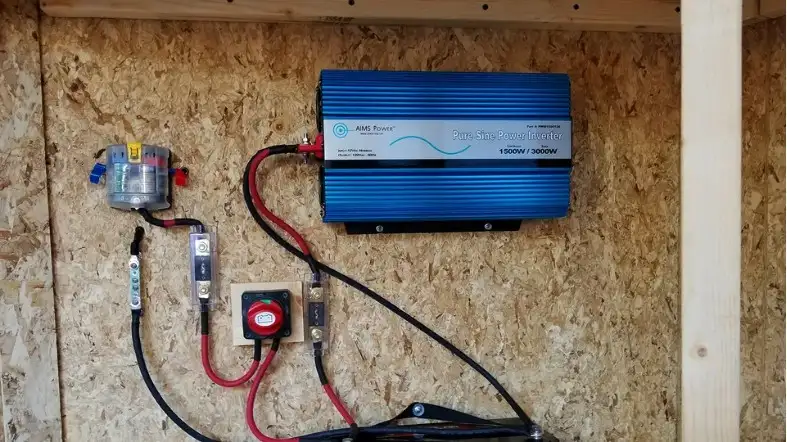 An inverter that produces pure sine waves has a higher level of efficiency.
You can get your hands on some inverters that produce modified sine waves of high quality if you shop around. 
A pure modified sine wave is the best type of waveform to use on a system that will be used to operate sensitive and up-to-date electronic equipment.
Check The Power Requirements Of The Laptop
Calculating and estimating the requirements for the inverter is going to take up a lot less of your time as a result of this. 
Simply increase the amount of power that the laptop requires by twenty percent, and you will have a fully operational system.
Perform A Full Calculation Of The Power Load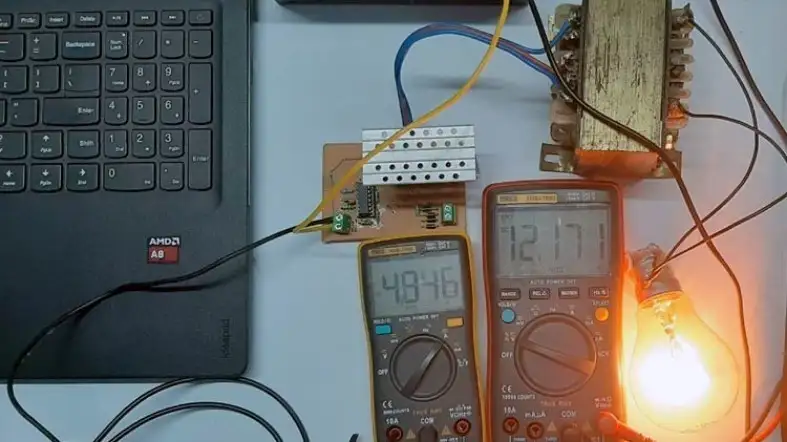 It's possible that all you need from the inverter is 100 watts to power your laptop, but what about the rest of the electronics in your home? 
When you add all of these factors together, including the battery DOD and the efficiency rating, you will have your inverter system.
Leave Room For Upgrades
At some point, laptops will need to be upgraded or replaced, and this will necessitate the consumption of additional power.
Because it is simpler to replace a laptop than it is an inverter and a battery bank, you should check that the power output of your solar system is sufficient to run any laptop you currently own as well as any laptop you might acquire in the future.
Do Not Push The Inverter's Capabilities To Their Absolute Maximum
If you were to add up the total load for the laptop and everything else and it came to say 1000 watts an hour, the inverter would need to have a power range of 1200 to 1500 watts. 
This is not only due to the fact that it is inefficient, but also because it is not a good idea to push the inverter to its maximum capacity.
FAQs About The Inverter For Laptop
Is It Possible To Power A Laptop With A 12V Inverter?
Inverters for laptops Check with the laptop's maker to be absolutely certain, but in most cases, affordable inverters will function just fine with laptop computers.
Is It Possible To Power A Laptop With A 300-Watt Inverter?
Inverters with a rating of 300 watts often have a maximum surge power of up to 600 watts and a constant power demand of only 300 watts. 
Check the technical requirements for your particular brand of an inverter.
This 300W inverter has the capacity to supply enough power to operate a variety of small electronic equipment, including CFL and LED lights, phone chargers, routers, laptops, and DVD players.
How Much Does It Cost To Buy An Inverter?
Inverters that produce modified waves typically cost in the range of $30 to $50, whereas inverters that produce pure sine waves typically cost in the range of $150 to $250. 
To tell you the truth, it is difficult to find a use case that justifies the additional expense of a pure sine wave inverter.
How Many Batteries Does A Laptop Inverter Require?
The answer relies on the available electricity to the inverter.
In an off-grid system, the inverter is linked to a battery bank, which provides the energy required to power equipment.
The inverter battery bank determines how long a laptop can operate on solar power.
Assuming that it is the only demand on the system, a 12V 100Ah deep cycle battery can run a 100-watt laptop for 5 to 6 hours.
Final Thoughts
Now you know the answer to the question, "what size inverter do I need to run a laptop?" The size is measured by the power your laptop need.
Before choosing your inverter consider for which reason you are using your laptop and the maximum power requirements for it.
Also, maintain the tips we have given above.