What Size Collar For Golden Retriever Puppy?
We may earn affiliate fees for purchases using our links (at no additional cost to you).
Choosing the right size collar for your Golden Retriever puppy can be a daunting task, especially if you're a first-time dog owner.
With so many options available, it can be difficult to know where to start.
But don't worry, in this blog post, we'll break down everything you need to know to make sure your furry friend is comfortable and secure while wearing their collar.
From measuring your puppy's neck to understanding the different types of collars available, we've got you covered!
What Size Collar For Golden Retriever Puppy?
The standard collar size for a golden retriever puppy between 8 and 10 weeks old is 6 to 9 inches.
Keep in mind that your puppy will outgrow this collar quickly, but it will be adequate for the first few months.
Two- to four-month-old puppies should wear collars of 9 to 12 inches in length and between 1 and 1.5 inches in width.
Golden Retriever adults require a collar between 16 and 24 inches in length, and Golden Retriever puppies require a collar between 12 and 16 inches in length.
Here is a chart for you,
| Age of the puppy | Average neck size | Average Collar length | Average Collar Width  |
| --- | --- | --- | --- |
| Below one month | 6-8 inches | 6-9 inches | 1 inch |
| 2-3 months | 9-12 inches | 9-12 inches  | 1-1.5 inches |
| 4-10 months | 12-16 inches | 12-16 inches | 1.5 inches |
| Above 10 months | 16-24 inches  | 16-24 inches | 1.5-2 inches |
Things To Consider Before Choosing The Right Collar For Your Golden Retriever
Measure Your Dogs Neck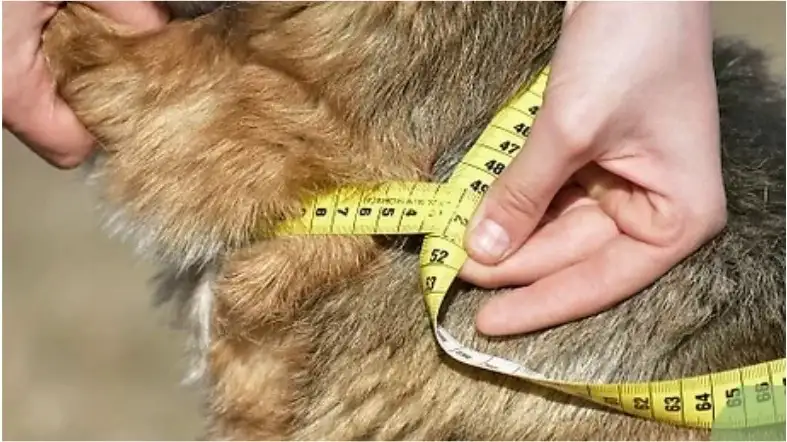 The easiest way to begin measuring your dog's neck is by measuring its collar.
This is appropriate if you intend to replace a worn-out or damaged collar and are certain that the replacement will be the same size.
Remove your dog's current collar, noting which hole is used for wear, and lay the collar flat.
Measure from the center of the buckle to the current sizing hole for the most accurate results.
If you are purchasing a new collar because your dog's current collar is too small, simply choose the next size up based on your measurements.
Measure twice, buy once. Ensure your measurements are accurate by measuring your dog's neck twice.
If you obtain the same result twice, you can confidently purchase your dog's favorite leash and collar set, knowing that you have selected the optimal size.
If your dog has had not any collars before, use measurement tape.
You will frequently hear that you must use a soft tape measure in centimeters to measure your dog's neck.
But it's okay if not every home has a soft tape measure lying around. If you lack a loose tape measure, you can use any available string, yarn, or ribbon.
Beginning by holding one end of the string between your finger and thumb, wrap the other end of the string around your dog's neck (be sure to measure the thickest area). 
Pull the string until you can fit two fingers between it and your dog's neck to allow for some movement.
Now, let go and mark the location on the string where your finger met the end of the string.
Then, use a tape measure to determine the length of your string measurement.
Be Careful About The Collar Of Your Growing Dog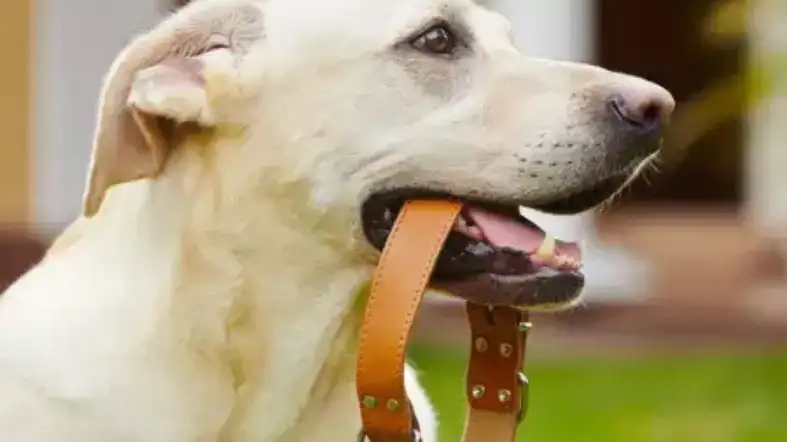 A growing puppy or young dog necessitates careful monitoring of the collar.
Not only will a puppy require time to adjust to their new collar, but you will likely need to replace it multiple times to accommodate their growth.
Follow the same "two finger" rule to ensure that you can fit two fingers snugly under your puppy's collar.
A collar that is too tight can cut into a young dog's skin and cause irritation, whereas a collar that is too loose can cause the dog to lose it.
You want your dog to develop a bond with their collar and view it as a normal, comfortable part of their life, so take care to select the proper size to facilitate this.
Choose The Right Materials Of The Collar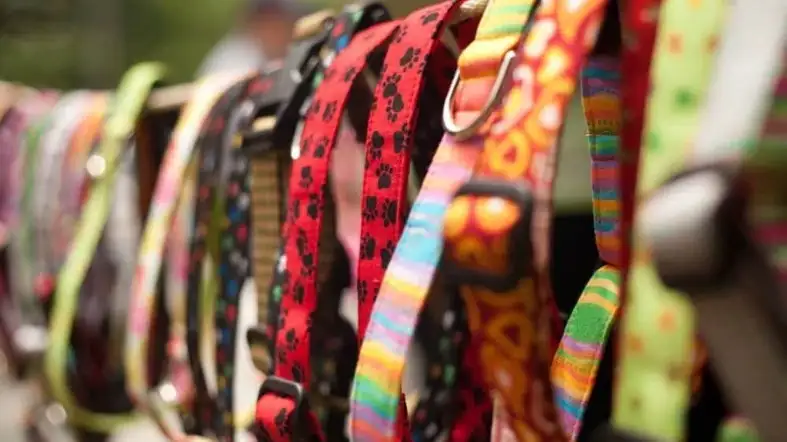 Collars for dogs are constructed from a variety of materials that prioritize comfort, aesthetics, and longevity.
Golden Retrievers are medium to large dogs who put their collars through the wringer, so durability should be a top priority.
The widest variety of designs, colors, and widths can be found in nylon and polyester, the most popular materials.
Polyester and nylon are highly flexible and relatively simple to clean fabrics.
Cotton Fabric
Cotton is highly durable, insulating, and capable of controlling moisture. In addition, they are simple to clean, cost-effective, and simple to maintain.
Numerous collars are made of cotton in a variety of patterns and hues. Some collars have an inner fabric sleeve wrapped around a nylon band to increase their durability.
Bio Thane
Some dog collars are made of the waterproof material Bio thane. Bio thane is composed of polyester and polyurethane and polyvinyl layers.
Its waterproof qualities make it ideal for Golden Retrievers, who are likely water-loving canines.
Leather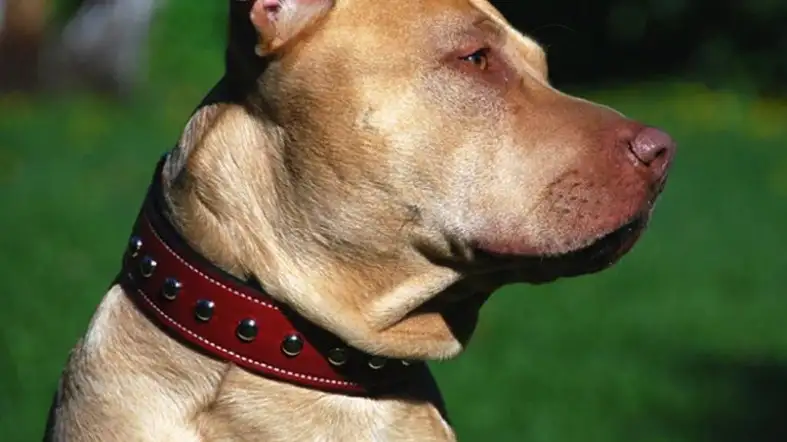 Leather is an organic material that is both durable and versatile. They are an excellent option for Golden Retrievers with allergies or sensitivities, despite being more expensive.
In contrast to collars made of synthetic materials, it is easy to clean and can be used for years without fading.
Neoprene
Neoprene is a rubber-based material that has a wide range of applications.
It has exceptional water resistance and does not retain moisture, which can lead to odors or mildew growth.
Neoprene dog collars combined with nylon or polyester are extremely sturdy and long-lasting, able to last for years.
Polyester Or Nylon
Due to their popularity, nylon or polyester collars typically have the greatest variety of styles, colors, and sizes.
Polyester and nylon are highly flexible synthetic fabrics that are also easy to clean.
Check The Fur Type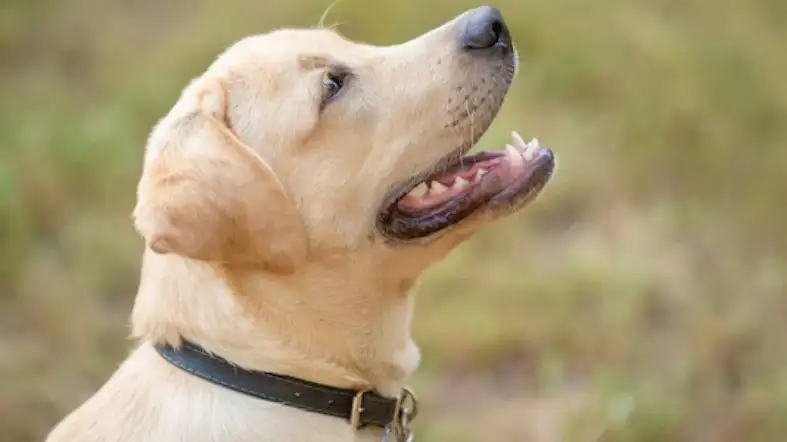 Consider your dog's fur when selecting a collar for him. Different types of collars are necessary for thick and thin furs. 
Additionally, the collar size and style are influenced by factors such as hairstyle. If you have recently trimmed your puppy's coat, choose a collar with future growth in mind.
These are some tips for selecting the appropriate collar for your puppy. Little Fields Farm is the place to go if you want to find additional dog collar options.
Choose The Correct Type Of Collar
There are several varieties of dog collars. This list is not exhaustive, but it does contain some examples.
Martingale Collars:
Martingale collars, also referred to as "no-slip" collars, are intended to tighten when your dog pulls.
However, unlike slip or choke collars, you can set the collar's maximum closure.
Rope Collars:
Rope collars are both comfortable and durable without irritating the skin.
Flat-Front Dog Collars:
These are the most common collars that are used daily. They consist of a flat, fabric-based collar with a plastic or metal buckle.
FAQs about the Collar for your Golden Retriever Puppy
How Tight Should The Collar For A Golden Retriever Be?
In an ideal situation, you should be able to fit two fingers easily between your Golden Retriever's neck and collar.
If you can fit more than two fingers between the collar and the person's neck, the collar is too loose and could go over his head.
Before you buy a collar for your dog, it's a good idea to measure his neck so that you can start with the right size and easily change it as needed.
Where Should You Put The Collar On Your Golden Retrievers Neck?
Your dog should wear a flat collar at the base of its neck. Instead of collars, head collars are worn higher on the dog's neck so that the collar rests just behind the dog's ears.
If you use a collar, make sure to follow the manufacturer's instructions for where to put it on your dog's neck.
What Kind Of Collar Should A Puppy Golden Retriever Have?
Golden Retriever puppies will grow quickly, so get a collar that can be adjusted, is easy to put on and take off, and, ideally, has a place for a nametag.
It would be enough to have a flat collar with a buckle made of soft, long-lasting materials. Don't use choke chains or shock collars to train puppies who are still young.
Which Factors Should I Keep In Mind Before Choosing The Collar For My Golden Retriever?
Always prioritize safety and comfort when buying a collar for your golden retriever. Dog collars don't always fit. Tight collars can suffocate dogs. Loose collars might cause unintentional hanging or get tangled, restraining your dog. Keep measuring your golden retriever till it's fully grown. Age requires a larger collar.
Chain slip collars and pinch collars can hurt your golden retriever if used incorrectly. As lovely as they look, they're harmful for newborn puppies.
Use collars that meet your dog's "age requirements." Small puppies need comfortable, lightweight collars, while adults need robust, strong ones.
Final Words
Now you know the answer to the question, " what size collar for Golden Retriever puppy?"
It is important to keep in mind that your puppy may quickly outgrow their collar, so it is probably best to start off by purchasing an item that is relatively inexpensive.
No matter whatever option you go with, your four-legged companion needs plenty of exercise and opportunities to run around and play in order to remain healthy and content.