Finding the perfect collar size is key to your beagle puppy's comfort and safety. An improper collar fit can lead to escapes, choking hazards, or neck irritation.
Understanding proper collar sizing based on your puppy's unique growth stage and neck measurements ensures you select the optimal size.
In this article, we'll cover what size collar for a beagle puppy, the types of puppy collars, collar size determining process, and more.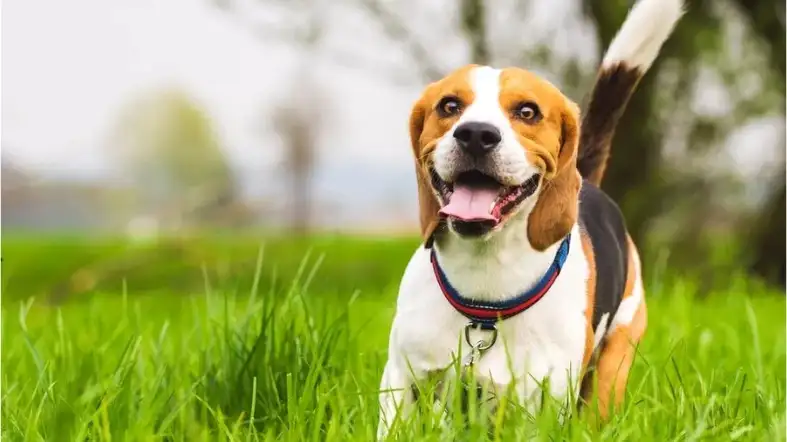 What Size Collar For A Beagle Puppy?
For a beagle puppy, a 10-12 inches adjustable collar is ideal. As your puppy grows, size up the collar regularly to allow 2 fingers between the collar and neck. Most adult beagles need 14-16 inch collars depending on neck size and shape.
Available Sizes Of Collar For A Beagle Puppy
Here is a table of available sizes of collars for a Beagle puppy:
| Collar Size | Neck Size (inches) | Recommended for Beagle Puppies |
| --- | --- | --- |
| X-Small | 7-11 | 8-12 weeks old |
| Small | 10-14 | 12-16 weeks old |
| Medium | 13-18 | 16-28 weeks old |
| Large | 15-20 | 28-36 weeks old |
| X-Large | 18-22 | 36+ weeks old |
Types of Collars: Which One Is Right for Your Beagle Puppy?
Standard Collars
Standard flat collars are the most common and widely available collar option. They come in a variety of materials like nylon and leather, with different colors, patterns and decorative elements.
Standard collars have a buckle or snap closure and sizing is limited to pre-set lengths. These collars are inexpensive and durable, providing a basic functional collar for everyday use.
However, their set sizing requires purchasing new collars frequently as your puppy grows. Standard collars can also slip off more easily if not properly fitted.
Adjustable Collars
Adjustable collars have multiple sizing points, using a sliding mechanism or layered design to customize the length. This allows the collar to grow with your puppy, preventing the need for constant collar replacements.
Adjustable collars provide more room for growth while maintaining a snug fit to avoid backing out of the collar.
Their customizable fit helps guide proper neck size as your puppy develops. The main downside is that the closure and adjusters can fail if chewed vigorously.
Training Collars
Training collars include styles like martingale, prong and choke collars. These collars tighten or constrict when pulled to provide increased control and focus for training.
They can be useful tools for leash manners, but require proper timing of corrections and introduction to avoid harming your puppy.
Harsh use of training collars can damage trust and inhibit learning. They should only be used under guidance of a qualified trainer.
Martingale Collars
Martingale collars provide a limited closure that tightens slightly if a dog tries to back out of the collar. This aids in preventing escapes without excessive constriction.
Martingales distribute pressure more evenly and can be fitted looser than standard collars. However, they should not be left on unsupervised as the tightening design can still pose risks if caught. They are generally safe when properly fitted and used with supervision.
Why Put A Collar On A Beagle Puppy?
First and foremost, this is helpful for identifying your furry friend.
You can have a necklace (collar) with a medal or plaque on it. In that case, the medal/plaque can have its name in addition to your address or phone number.
So, if you do end up losing your puppy, the individual who locates it won't have any trouble getting in touch with you. He will do it so quite promptly.
The collar serves as the initial form of identification for your new puppy.
The leash you want to attach does necessarily need a collar.
Why Is It Really Necessary For The Beagle Puppy To Be On A Leash Always?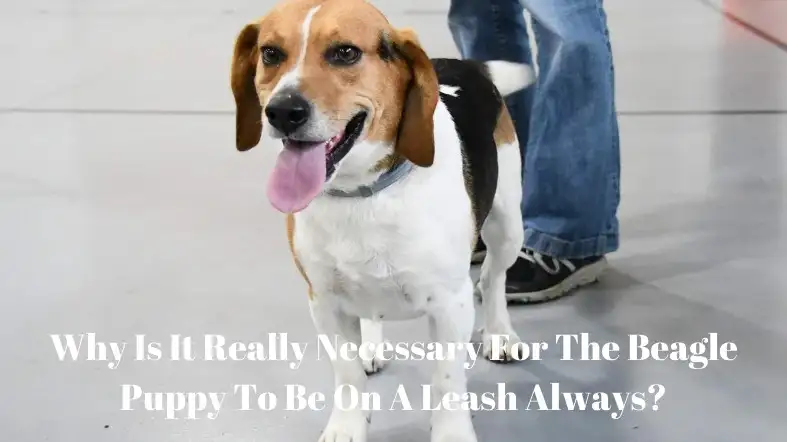 You need to be aware of the fact that this is a requirement in public locations.
Once you take the puppy outside of your house, it will be important for you to do so primarily for its own protection.
If you restrain him with a leash, you won't have to worry about him wandering off or traversing a street filled with vehicles.
You will keep him safe from harm in any situation.
Given that a puppy's innate tendency is not to walk peacefully, without tugging, and without getting furious while following his master's pace, it is also necessary to educate the puppy.
The leash and collar will help here to educate the puppy progressively.
What Kind Of Collars Will Suit The Beagle Puppy Most?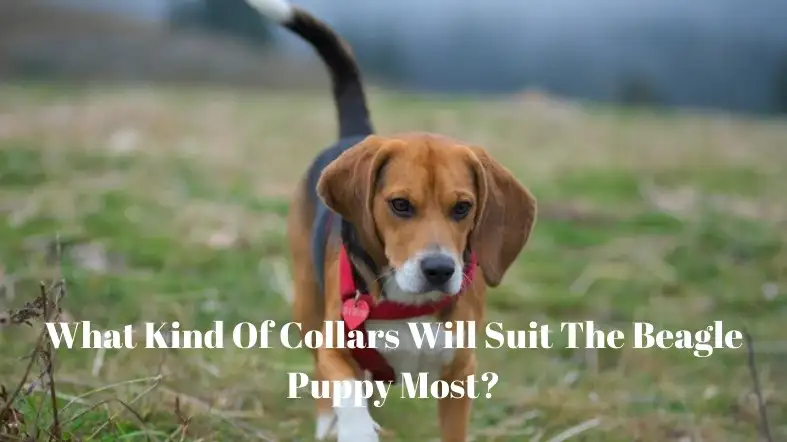 First thing first, the beagle is a breed with short hair. You won't understand the ease of short hairs until you put a collar and leash on your puppy.
To give a specific answer to the question, the beagle, which is a breed with short hair, looks best in a flat collar. 
This is the style of collar most commonly found in pet supply stores.
It doesn't matter what type of collar you pick. You need not be concerned that the collar may yank their hair and do substantial harm to their hair.
This is the preferable choice since it maintains its size. This kind of collar can have a buckle or a strap.
Another significant reason for recommending this is that you can modify its size as your beagle puppy keeps growing over time.
You may maintain the health of the collar region of the dog's neck by using a bristle brush.
Particularly if the collar is somewhat constrictive, the process seems to be much easier.
You can adapt the size of the brush as the dog becomes bigger.
>> What collar size for a great pyrenees puppy?
What Should You Look For When Purchasing A Collar For Your Beagle Puppy?
The material, the built quality, and the ease of use are the most important factors to consider while buying a beagle puppy collar.
You will get all of our advice for selecting the appropriate material that will properly suit your Beagle puppy.
Take Collar Styles Into Account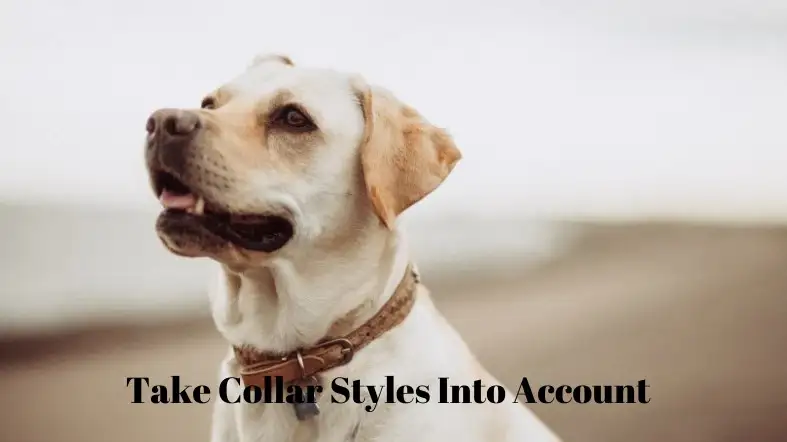 Puppies' neck accessories may be found in a wide variety of designs. From fancy and costly fabrics to leather, you are never out of options.
Picking a collar that is both attractive and functional is important, but the comfort of your puppy should come first. 
Some dog breeds may be more suited to specialized collars like martingales. But for your beagle puppy, it is generally recommended that you choose a flat collar.
Puppies are naturally curious and may get into all sorts of mischief while wearing a collar for the first time.
It is important to keep an eye on them while they are wearing one. What if you cannot keep an eye on it?
If you'll be leaving your puppy unattended for any length of time, a breakaway collar (similar to the collars for cats) is an excellent idea.
However, walking your dog requires a regular collar, not a breakaway one.
>> What size collar for golden retriever puppies?
Make Sure You Pick The Appropriate Material
Because there are so many options, making a decision can be challenging, and in many cases, personal preference will win out.
When looking into getting a collar for your dog, one must consider just the requirements the puppy may have.
Because of this, leather might not be the greatest choice for a little dog because it is heavier than other materials.
You should pick a material that is gentle and won't irritate your dog's sensitive neck skin. Also, think about the length of your dog's hair.
You should opt for the softest possible material on the face of the earth for your puppy with short hair.
The collars of fabric are an alternative worth considering. A fabric that allows air to pass through is even preferable.
Choose a collar for your puppy that is simple to clean. Though the beagle puppies don't get dirty even if they play in the mud all day long, it is still a preferable option.
>> What neck size for lab puppy?
Make Sure Your Dog's Collar Is The Right Size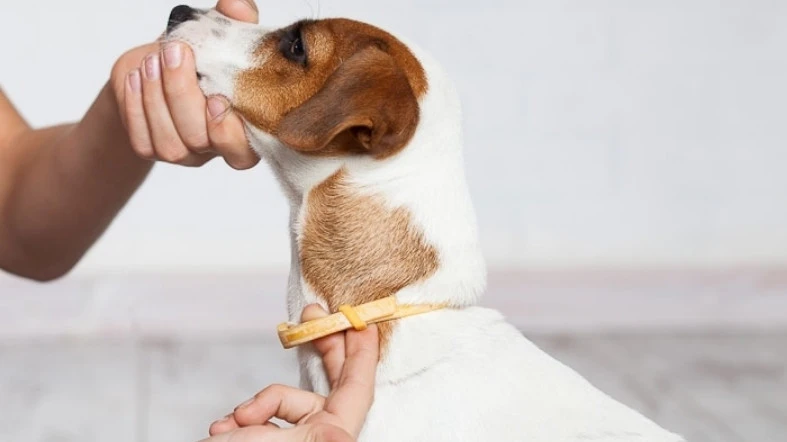 This isn't really a matter of concern if you stick to the sizing chart above. Yet, for your mental peace, you can still check if the collar fits comfortably yet remain tight.
You want your dog to be able to move freely while wearing the collar, but you also want it to be snug enough that it won't fall off when you're taking him on a tour.
Get Your Beagle Ready For The Collar
When it comes to putting a collar on a beagle puppy, one of the most important things you can do is make sure to go slow.
Your dog probably has never had a collar on before, so it's reasonable to expect some resistance when you put one on for the first time.
You do not need to begin training the beagle to walk on a leash right away if it has only been a few days since it joined your household. 
A Bark Collar Can Help You
If you want to teach your Beagle both behavioral and leash manners, a bark collar can help.
You will need to start leash training with the use of a bark collar from the very beginning.
The dog will avoid barking needlessly when wearing the bark collar since it will either make a noise, vibrate, or give it a little shock.
There are a variety of these collars available. 
Some of them merely emit beeping noises and vibrations. However, if the dog keeps barking, the intensity of the beeps and vibrations increases slowly.
Be sure to get a bark collar that has an automatic shut-off setting.
When the dog has barked so many times, the collar shall stop giving any additional shocks or vibrations.
This is a piece of advice on precautions that have recently become mandatory.
Make sure the collar fits snugly without causing any discomfort to the dog.
Remember, you are using it to confine the dog. So, it cannot be excessively loose, but too tight is bad. The perfect fit will allow two fingers to go beneath the collar.
Give The Puppy Its Time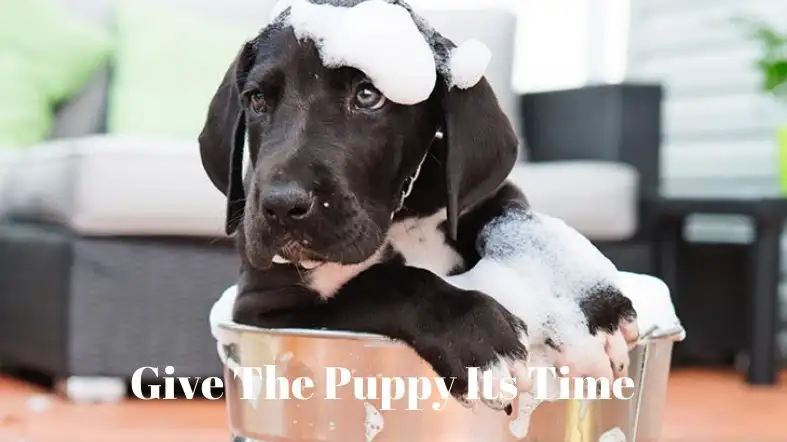 Only after you are willing to spend time with your beagle should you put the collar on it.
To help the Beagle adjust to the new collar and its functions, the initial testing period should take no more than 20 minutes.
To ensure the Beagle associates the collar with pleasant memories, continue playing with him even after you've fastened it around his neck.
To help the dog associate the collar with pleasant things, you should try clicker training.
Until your puppy feels comfortable with the collar on, keep the training session going for a few minutes regularly.
Factors to Consider When Selecting a Beagle Puppy's Collar
Puppy's Age and Growth Rate
Consider your puppy's age and anticipated growth pattern. Very young pups do best with soft, stretchy collars with room to expand.
As your puppy grows, size up the collar regularly to ensure a good fit. Transition to durable, non-stretch materials once growth begins to slow around 6-10 months old.
Material and Comfort
Opt for soft, lightweight materials like nylon or leather for comfort. Check for signs of irritation from collars, and discontinue use if any develops.
For hairless spots, try a padded collar. Prioritize your pup's comfort – they should tolerate wearing their collar all day.
Safety Features
Reflective Elements
Reflective threads or strips improve your pup's visibility in low light. This helps keep them safe on walks.
Quick-Release Buckles
Quick-release buckles are essential in case the collar gets caught on something hazardous. This allows you to rapidly detach for safety.
Attachment Points for Leashes and Tags
Look for a collar with multiple heavy-duty attachment points for leashes, tags, and harnesses to prevent undue stress on one ring. Distributing attachments prevents breaking.
Style and Personalization Options
Pick fun, unique collars that suit your puppy's personality. You'll need multiple collars over time, so customize them with embroidered names, bright colors, patterns etc.
Reviews and Recommendations
Check reviews and veterinarian recommendations to choose quality collars designed for puppy safety and comfort. Avoid novelty collars without safety testing.
Budget and Quality
Collars are daily-use items. Invest in durable, high-quality materials suited for your puppy's needs. Well-designed collars are worth the extra cost for safety and longevity.
FAQs about what size collar for a beagle puppy
Why Is The Collar Size Important?
Not only for the beagle puppies but all breeds, the collar size is important.
Not having the right size collar can be harmful to your dog and you may even lose it.
The right size collar keeps the dog at ease and helps in the training process.
Do Beagle Puppies Like Collars?
They usually don't in the first instance.
That's why you have to train it and prepare it before you can put a collar on its neck.
Do I Need A Bigger Size Collar If The Puppy Gets Bigger?
No, if you buy an adjustable collar.
The range of the collar, 12-18 inches, is enough to fit the puppy throughout its life cycle.
How often should I check the fit of my Beagle puppy's collar?
Check the collar's fit every 2 weeks, as Beagle puppies grow quickly and may need adjustments or a larger collar.
Is an adjustable collar better for a Beagle puppy?
Yes, adjustable collars are preferable as they can grow with your puppy, ensuring a comfortable fit during their rapid growth phases.
Final Words
On a serious note, don't just think that knowing what size collar is for a beagle puppy and getting the collar is enough.
To keep your dog at ease and healthy, there are many more things to take care of.
It's not a good idea to keep your dog's collar on for too long if you aren't going to be walking or exercising it. 
Leaving it alone at home with a collar on exposes it to the risk of injury from the collar snagging on furniture, plants, or other objects.