Finding the right size collar for your lab puppy can be a tricky task.
With so many options available, it can be difficult to know which one will be the best fit for your furry friend.
In this blog post, we'll help you make this important decision by breaking down the key factors to consider when selecting the best collar for your pup.
From measuring your puppy's neck to understanding the different types of collars available, we've got you covered!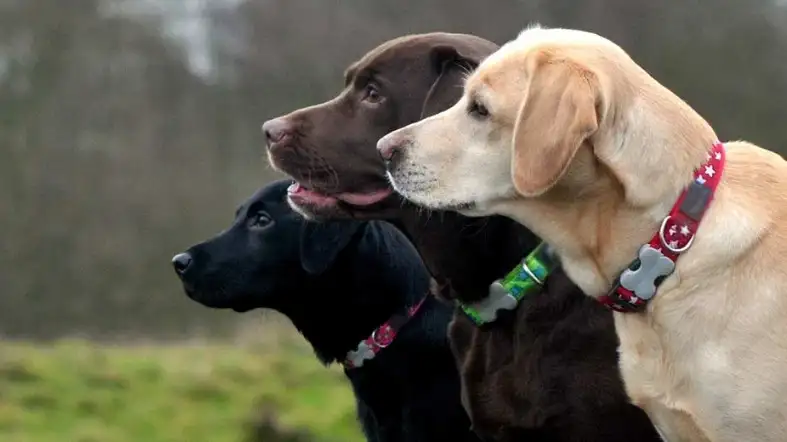 What Size Collar Do I Require For Lab Puppy?
For a Labrador retriever puppy with 8-12 weeks old, a collar of 10-14 inches is usually appropriate. By 6 months, they will likely need a larger 15-20 inch collar. A good guideline is to start with a collar that is about the same size as their neck and then size up as they grow.
Lab Puppy Collar Size Chart:
| Breed | Collar Size |
| --- | --- |
| Labradoodle | 14" to 20" |
| Labradoodle Miniature | 12" to 16" |
| Labrador Retriever | 18" to 24" |
How To Measure The Right Size Collar For Lab Puppy?
The size of the neck changes from puppy to a puppy as the size and form differ from one another. 
To achieve a precise fit, you should carefully measure your lab puppy's neck rather than estimating its size. 
Your dog's neck should be measured with a fabric seamstress' tape.
Simply add an inch to the measurement you begin with from his head down.
Ensure that it is cozy. Don't make it too tight.
If you don't have a tape measure on hand, you can measure with a piece of thread and then use a firm ruler.
The two-finger rule should then be followed to ensure that the collar comfortably fits the dog's neck.
>> What collar size for pomeranian?
What Are The Best Size Collar Type For Lap Puppy?
Other collar alternatives might also be advantageous for lab puppies. You may use one of two types of collars on your canine buddy.
Round And Flat Collars
Most labrador experts agree that flat collars with buckles are the best option for pups' collar sizes.
Use cotton collars if your lab enjoys swimming. These cotton collars with waterproofing are made of synthetic materials resembling polyurethane.
Waterproof collars are not only odor-resistant but also simple to wash. They typically have brilliant colors, which is our favorite aspect of them.
>> What size of collar for a beagle puppy?
Leather Collar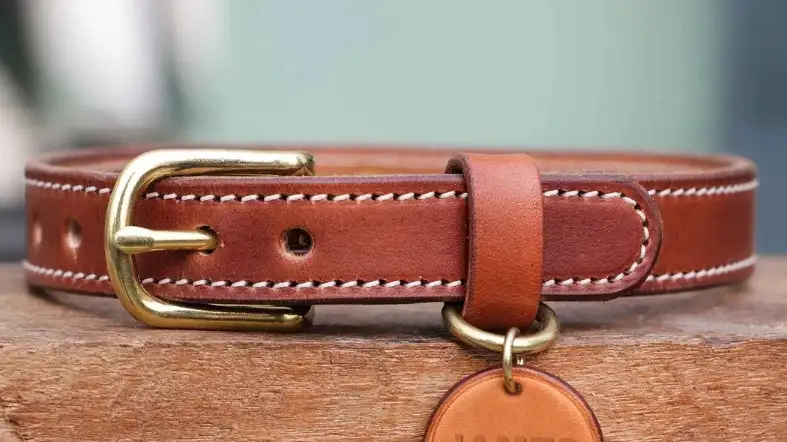 A leather collar will most likely survive for many years despite being more expensive.
The bonded leather is made of discarded leather that has been put together with an adhesive.
Dogs often liked to wear collars made of rolled leather, especially those with thick coats that frequently matt around collars.
>> What size of collar for great pyrenees puppy?
Nylon Collar
The most popular type of collar is a nylon collar, sometimes a polyester collar.
A wide variety of colors, patterns, and sizes are available. Both at home and on walks, lab pups can wear them.
The nylon collar is a standard collar that may be used for various occasions.
Neoprene Collar
Neoprene is a very flexible rubber substance used to produce wetsuits.
It is reinforced with nylon mesh for further toughness, flexibility, and durability. A neoprene collar is ideal if your dog spends a lot of time in the water.
Artificial Collar
Dogs who like to swim will also like biomethane collars. Non-toxic materials such as polyester weave and powder coatings made of polyurethane or polyvinyl are used.
Biothane collars are more comfortable, simpler to wear, and less costly than neoprene and leather collars.
>> What size collar for a golden retriever puppies?
What Is The Real Purpose Of Buying The Right Size Collar For Lab Puppy?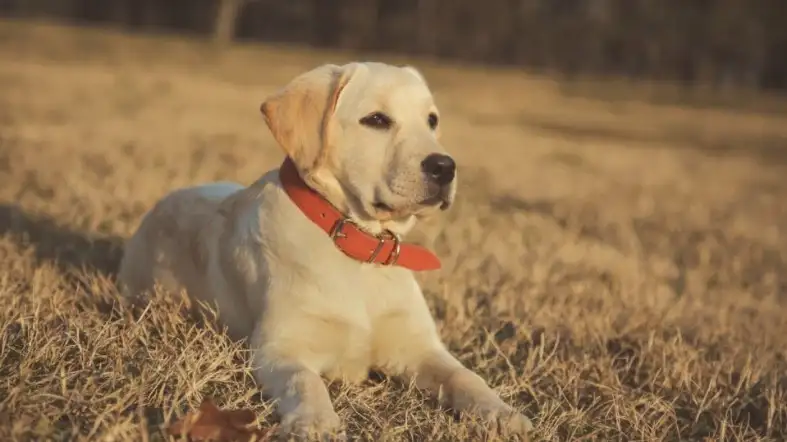 A collar serves as protection. It will enable you to control how your Labrador is attached.
You are vulnerable to maintaining control without a collar, and your dog is free to go into peril.
To Identify
According to the Control of Dogs Order of 1992, every dog in a public area must have an identification tag with the owner's name and address engraved on it so the owner can always be found.
Numerous other nations are also subject to this rule, and in specific locations, you must also wear your license and rabies tags.
For Training
Typically for pulling on the leash. Pinch, choke, and prong collars are a few collar kinds explicitly created for this use.
>> What is the best collar size for german shepherd puppy?
To Control Bark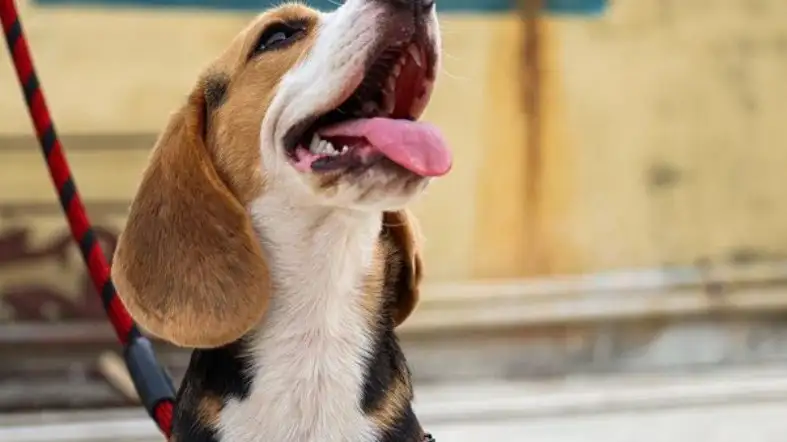 It could be a technique to stop a dog from barking nonstop. Some collars generate an unpleasant smell, vibrate, create an ultrasonic noise, or deliver an electric shock.
Any time a dog wearing one of these collars barks, all types are triggered, interfering and aiding in the behavior's cessation.
For Parasite Control
The term "flea collar" refers to a secondary collar (not the primary collar to which a leash is attached) soaked in chemicals that kill ticks and fleas.
Here is additional information on flea collars. The last justification for a collar.
FAQs About The Right Size Collar For Lab Puppy
What Is A Size Collar Ideal For My Puppy?
A suitable collar for dogs weighing under 10 pounds is up to 12 inches long.
Dogs weighing 11 and 25 pounds generally need a collar between 11 and 15 inches.
For dogs weighing between 26 And 55 pounds, the collar should be between 13 and 18 inches long.
When these dogs weigh between 56 lbs and 80 lbs, collars between 16′′ and 24′′explicitly created necessary.
How To Choose The Right Size Collar For Your Lab Puppy?
You'll want to make a few considerations when picking the ideal puppy collar size for your Labrador.
While many individuals will simply purchase the next size higher, that might be erroneous. Ensure the collar you select will fit your dog as he matures.
What Size Collar Should You Use For Your Lab Puppy?
A 1-inch collar concentrates all the force on a much smaller region of the dog's neck when your Labrador pulls, or you "check" your Labrador with a leash draw than a 3-inch collar, which spreads the pressure out over a broader area.
For a Labrador retriever that prefers 1.5 inches, an excellent 1.5 to a 2-inch collar is ideal.
Can I use a standard adult collar for my Lab puppy?
No, puppies require collars that fit their current size and can be adjusted as they grow, as adult collars will be too large and potentially unsafe for them.
Does the collar material affect my Lab puppy's comfort?
Yes, the collar material can affect comfort; soft, adjustable materials like nylon or padded leather are usually more comfortable for a growing puppy.
The Bottom Lines
The size of collar your lab puppy will require can be difficult to predict.
There are a few techniques to guarantee that the collar your new puppy receives is both attractive and well-fitting. 
So, picking the ideal size collar for your lab puppy is crucial.