Choosing the right size area rug for an open-concept living room can be challenging, but it's an important element to tie the space together and define different areas.
A rug that is too small can make the room feel disjointed, while a rug that is too large can overwhelm the space.
In this article, we'll explore what size area rug is for your open-concept living room.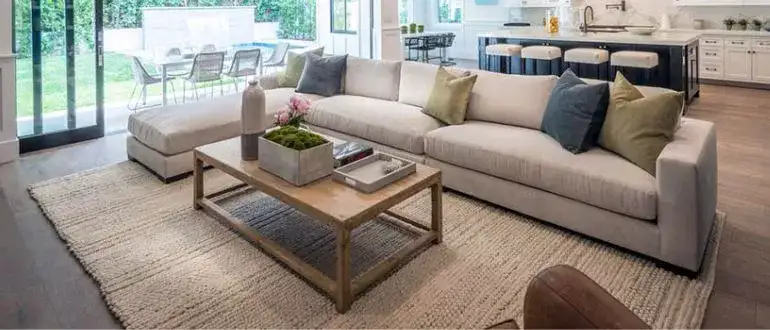 What Size Area Rug Do I Require For My Open Concept Living Room?
For a medium-sized open-concept living room, an 8′ x 10′ or 9′ x 12′ rug often works well centered in the sitting area with 18-24″ of the visible floor on all sides. For larger rooms, a 10′ x 14′ or 12′ x 15′ rug can anchor the space.
Open Concept Living Room Rug Area Size Chart:
| Area Size | Size |
| --- | --- |
| Small to Medium | 6 by 9 |
| Large open plan area | 6 by 9 or 8 by 10 |
| Large | 9 by 12 or custom size |
How To Choose The Best Size Area Rug For Open Concept Living Room?
A properly sized living room rug will provide harmony and comfort, making it the perfect finishing touch.
It supports the structure of your living room, offers comfort, and aids in floor protection.
Size
The size and placement of area rugs in living rooms are not subject to any rigid guidelines.
Following a few rug rules, you may get your house's ideal appearance and feel.
It's also important to remember how skillfully using an area rug may change the look of rugs in living rooms.
Placement
If you're shopping for one, choose a rug that is proportionate to the size of your living room.
Place the rug such that it echoes the size of the space. It helps if your furniture is bigger or your room has an unusual form.
Experiment with several area rug sizes to find the right fit for your space and budget.
Legs
All Legs On:
Give yourself around 8 inches between the edge of the furniture, and you want to put all your conversational furniture pieces on your rug.
Between the rug and the wall, leave about ten to eighteen inches. A rug that is too near to the wall creates the appearance that it is virtually wall-to-wall.
>> How to remove wrinkles from polypropylene rug?
All Legs Off: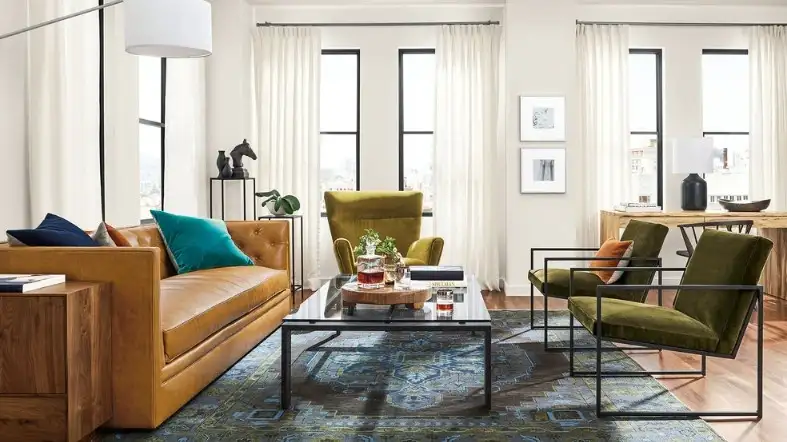 If done correctly, the rug will cover the space left by your furniture grouping and make it seem deliberate and well-styled.
Only if it is done correctly will the layout seem stylish. This plan works well with a smaller rug, such as a 5 x 7 rug.
Base the rug size on your seating area's interior measurements to get the proportions accurate.
Include The Front Legs:
The rug should only cover roughly one-third of each piece of furniture's breadth.
It maintains the seating area's unity and produces a harmonious appearance without adding to the expense of the room's carpeting.
The favorite go-to living room rug placement is the front-legs-only arrangement for several reasons. 
Two rugs on top of each other: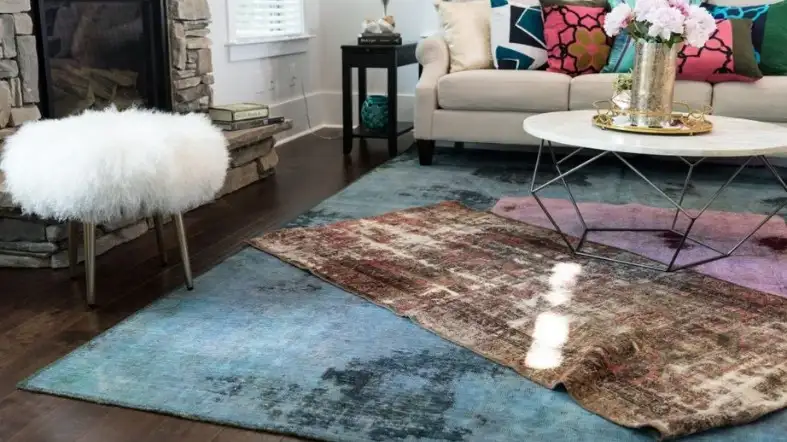 You may stack this rug on top of a larger one by placing the two rugs on each other.
This layout may look amazing if you find the appropriate combo.
Choosing a huge natural jute rug as your basis and adding a smaller rug on top, preferably one with a contrasting color and substance, is one recommended practice.
Rounded configuration:
Use a huge circular rug in your living room to identify your sitting area.
Choose a rug that is big enough yet standard-sized to fit all of your furniture with a few extra inches.
Additionally, you may get a rug that is at least big enough to fit each piece's front legs.
Color
Dark, rich hues help define more intimate spaces, while lighter colors enlarge the appearance of smaller spaces.
Colors like yellow, red, or orange give warmth, while cold colors foster calmness. Choose rug colors based on your furniture pieces, such as a sofa. 
Fabric
Comfortable fabrics that are soft and cuddly are ideal for resting.
Rug fabrics that are tough and resilient can withstand heavy foot usage.
Wool and cotton rugs offer insulation against the cold and are soft and simple to maintain.
Synthetic rugs are more affordable than natural materials like wool and provide a good mix of coziness and strength.
Tips for styling with an area rug
Styling with an area rug can be a fun and creative way to enhance the look and feel of your living space. Here are some tips for styling with an area rug:
Consider the rug material and texture:
The material and texture of the rug can have a big impact on the overall look and feel of the room.
For example, a plush shag rug can add warmth and coziness to a space, while a flatweave rug can create a more minimalist and modern look.
Choose a color and pattern that complements the space:
The color and pattern of the rug should complement the existing colors and patterns in the room.
If you have a lot of bold patterns and colors in your furniture and decor, consider choosing a rug with a more subtle pattern or color to balance the space.
On the other hand, if the room is more neutral, a rug with a bold pattern or pop of color can add interest and personality.
Experiment with different shapes and sizes:
Don't be afraid to play around with different shapes and sizes of rugs.
A round rug can create a cozy seating area in a large open space, while a rectangular rug can define the boundaries of a dining area.
Layering different sized rugs can also create a dynamic and visually interesting look.
FAQs About The Right Size Area Rug For Open Concept Living Room
How To Match Your Sofa With Your Area Rug For Your Open Concept Living Room?
If you want your rug and sofa to complement one another, you'll need a  patterned rug is a good choice if your sofa has a solid color.
Matching the secondary color of your patterned rug to your sofa is a brilliant design technique.
If there is a third hue, coordinate it with your living room's elements, such as the cushions, walls, and drapes.
Does An Open Concept Living Room Appear Larger Or Smaller With An Area Rug?
Choosing the right rug size is essential if you want to utilize an area rug to make your space appear larger.
An area rug or carpet that is too small is a typical design error because it makes the space look jagged and fragmented, which makes it appear smaller.
How Much Lighter Or Darker Should An Area Rug Be Than A Couch In An Open Concept Living Room?
Depending on your personality and style choices, the carpeting under the sofa might be brighter or darker.
Light rugs typically go with dark and dark sofas with light rugs.
Dark carpeting may provide a striking contrast if your sofa is light, and vice versa.
The Bottom Lines
The area rug in your living room may impact the room.
The right-sized rug will help define the space and give your living room a more elegant and coordinated appearance.
On the other hand, a living room rug that is too small or improperly sized for the space might take away from everything else and make the room appear unbalanced or smaller.
So, choose the best size area rug for your open-concept living room and make your room aesthetic.