What Size Collar For Pomeranian Puppy?
We may earn affiliate fees for purchases using our links (at no additional cost to you).
Now that your Pomeranian is old enough to wear a collar, you need to choose the right size.
Different people have different ideas about the best collars for Pomeranian puppies.
They depend on how big they are. For Pomeranians that weigh between 5 and 10 pounds, an 8- to 11-inch collar is the best choice.
These are X-small collars for dogs that are smaller.
Here, I'll show you how to choose the best, most comfortable, and safest collar for your furry Pom, how to measure their neck, and when to take the collar off.
How To Figure Out What Size Collar A Pomeranian Puppy Needs
The best collar size for your Pomeranian can vary, but in general, 8- to 11-inch X-small collars are a good choice for 5–10 lb Pomeranians.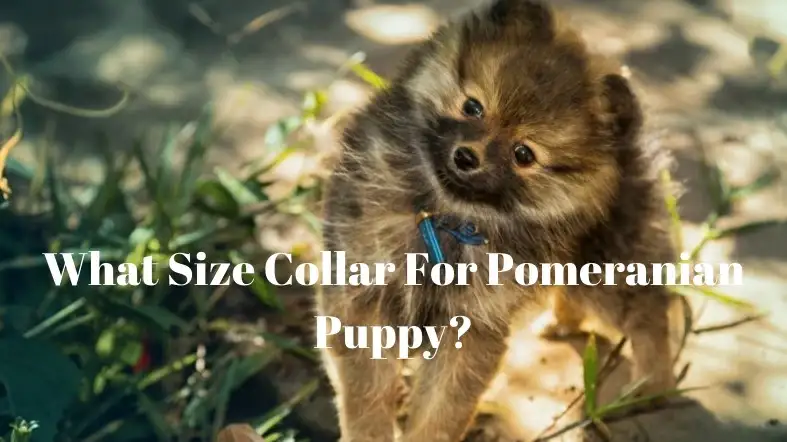 Measure your puppy's neck. This is the most important step in finding the right collar size for your Pomeranian.
When you have the right measurements, add an inch for more comfort.
When you take your Pomeranian's measurements for the first time, the fur will be a problem. It's not as easy as you might think to measure your Pom's neck.
First, your Pom will have a lot of fur, especially around its neck. After you've groomed your Pomeranian is the best time to measure it.
It will have much less fur, and it will be easy to measure the neck.
So, to measure, you should put the measuring tape around your dog's neck and make sure it fits right.
Then, use your fingers to see if there is enough room under the measuring tape for two fingers to fit.
The fingers should be able to easily move around the tape without sliding down too much.
You don't want the fingers to come loose and fall off without being held in place.
How To Choose The Right Collar For Your Pomeranian
Buying your Pomeranian's first collar might seem like the easiest thing to do, but it's actually very hard.
The right collar is neither too big nor too small. You shouldn't buy the cheapest collar for your beloved little Pom.
Instead, you should buy the best one you can. Cheap collars are usually either too thick or too wide for your Pom's neck, making them very uncomfortable to wear.
But if you want your Pom to feel safe and comfortable, you should be ready to spend more on the right collar.
There are a lot of important things to think about before you buy. These are the thickness, the way it can be adjusted, and the material.
Before you decide which size chart is best for your dog's neck, you should look at these important things:
How Thick And Wide.
If the collar is too thin or narrow, it can dig into your Pomeranian's neck and make it feel uncomfortable or even hurt.
If it's too thick or wide, it can make it hard for him to bend his neck down to drink or eat, and it can also make it hard for him to turn his neck the right way.
The best width for a Pom puppy is 14 of an inch, and for an adult, it's 12 to 34 of an inch.
This will depend on how much he weighs. Even though poms are small, a cat collar is NOT what you should use. They are too small and shouldn't be used at all.
Material
The best material for your pet's collar will be one that is both waterproof and light. You can buy chains made of different metals.
Some designs may look "cute," but they are too heavy for a small dog because they are made of metal.
If the chains don't repel or resist water, they will soak up water from rain, wet fur after a bath, conditioner sprays, and other sources.
They may start to smell, and the space between the fur and the collar can be a good place for bacteria to grow.
Collars with jewels or other decorations can look nice as long as they don't weigh too much.
But it's possible that these decorations could fall off and get eaten by the dog. So if you want such decorations, it has to be a good quality collar.
>> What Size Collar For Golden Retriever Puppy?
Adjustable
If the collar can only be adjusted in small sections, like a belt, it can be hard to get it to fit the way it should.
Even if you like the collar itself, it might not be right for your Pom.
The best collar will have a sliding mechanism so you can change the size to fit your pet's neck, which will get bigger or smaller as he gets older.
Collar size considerations
When picking a collar size, consider these factors. Neck size, collar size, and closure all matter.
First, measure your neck. Measure the collar's placement around your neck. This measures the neck.
Second, examine the collar size. You must choose a collar size that fits your neck.
Too-large collars are loose and floppy, and too-small collars are tight and uncomfortable.
Third, consider the closure. Snaps, buttons, and Velcro fasten collars. Personal preferences determine the closure you choose.
Dog collar measurements
First, determine your dog's collar size. Measure your dog's neck behind the ears. Order this size.
After finding the proper size, choose a style. You must pick a collar that fits your dog's lifestyle.
If your dog is often outside, consider a collar made of leather or nylon.
A cloth collar may be better for an indoor dog. After choosing the style and size, measure the length.
Measure from the buckle to the opening to determine your dog's neck size. Order this length.