Embarking on a shiplap project and unsure about what size nails for shiplap? The recommended nail size for shiplap ranges from 15 to 18 gauge, and the proper length ranges from 1.25 to 2 inches.
However, the specific nail size and length you choose may vary depending on the thickness of your shiplap and the surface you are attaching it to.
This blog post will guide you through the process of choosing the perfect nails for your shiplap, considering various factors. We'll also share common mistakes to avoid and provide a step-by-step guide to nailing shiplap.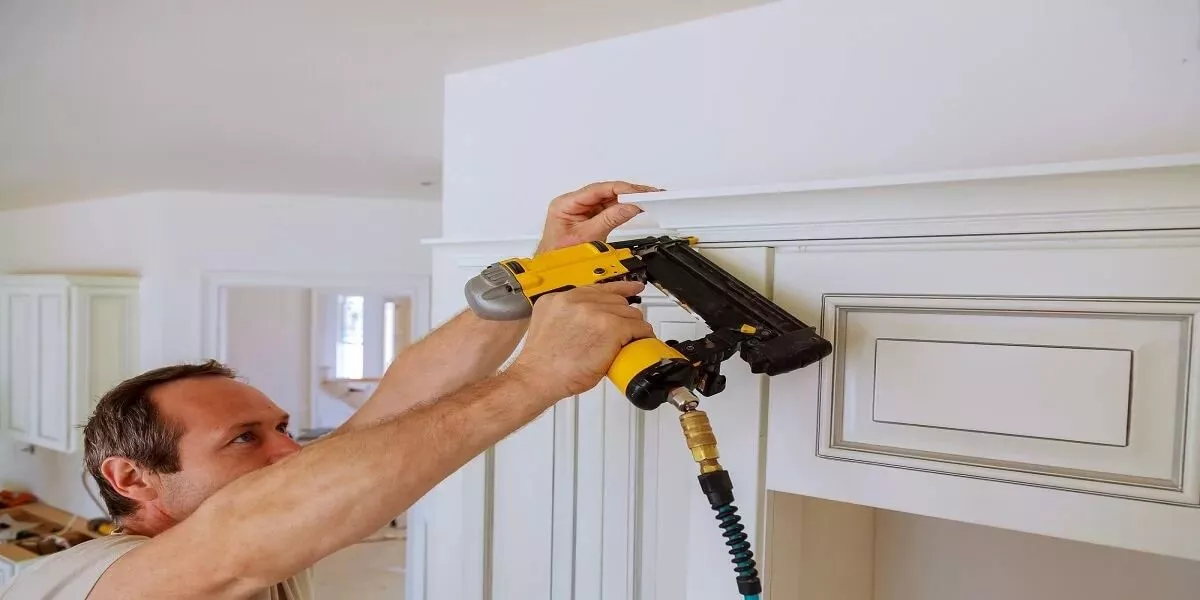 What Size Nails Do You Need for Shiplap?
For installing shiplap, 16-gauge finish nails that are 2 to 2.5 inches long are commonly recommended. The length ensures proper penetration into wall studs, while the gauge is thin enough to not split the wood but strong enough to hold the boards securely.
Choosing the Right Nails for Different Types of Shiplap
| Type of Shiplap | Recommended Nail Gauge | Recommended Nail Length |
| --- | --- | --- |
| Hardwood Shiplap | 16-gauge | 2 to 2.5 inches |
| Softwood Shiplap | 18-gauge | 2 to 2.5 inches |
| MDF Shiplap | 18-gauge | 1.5 to 2 inches |
| Exterior Shiplap | 16-gauge | 2.5 to 3 inches |
| Thin Shiplap Boards | 18-gauge | 1.5 to 2 inches |
Types of Shiplap and Their Nail Requirements
Softwood Shiplap
Softwood shiplap is a popular choice for its lightweight and easy workability. It's typically thinner than other types, which means you don't need very long nails.
A 2-inch nail is usually sufficient to secure softwood shiplap. For example, if you're installing a pine shiplap wall, 2-inch nails would be a good fit.
Hardwood Shiplap
Hardwood shiplap, like oak or walnut, is denser and thicker than softwood. This means it requires a longer nail to ensure a secure fit.
A 2.5-inch nail is typically recommended for hardwood shiplap. So, if you're working with a beautiful walnut shiplap, you'll want to have 2.5-inch nails on hand.
MDF Shiplap
MDF (Medium Density Fiberboard) is a type of engineered wood that's quite dense but not very thick. Because of this, it's best to use shorter nails, like 1.5-inch ones, to avoid any risk of the nail going through the other side.
For instance, if you're installing an MDF shiplap in your living room, 1.5-inch nails would be ideal.
Plywood Shiplap
Plywood is a versatile material that's used in a variety of applications, including shiplap. It's not as dense as hardwood or MDF but can vary in thickness.
A 2-inch nail usually works well with plywood shiplap. So if you're putting up a birch plywood shiplap wall in your bedroom, 2-inch nails would work great.
Factors to Consider When Choosing Nails for Shiplap
Material of Shiplap
The type of shiplap material greatly influences the nail choice. For instance, softwood shiplap typically requires 2-inch nails, while denser hardwood shiplap needs longer 2.5-inch nails.
Indoor vs. Outdoor Installation
The location of your shiplap installation matters. Outdoor installations need weather-resistant nails to withstand elements like rain and snow.
Thickness of Shiplap Boards
The thickness of your shiplap boards also determines the nail length. Thicker boards require longer nails to ensure a secure hold.
Type of Wall Studs
The type of wall studs you're nailing into is another factor. If you're nailing into metal studs, you'll need special nails designed for metal.
Local Building Codes and Regulations
Don't forget to check your local building codes. These regulations can influence the type and size of nails you can use for your shiplap project.
Climate Conditions
Lastly, consider your local climate conditions. In areas with high humidity or drastic temperature changes, stainless steel nails are a good choice for their rust resistance.
Common Mistakes to Avoid
Using the Wrong Nail Material
One common mistake is using the wrong nail material. For example, using regular steel nails for an outdoor shiplap installation can lead to rusting. Always match the nail material to your project needs.
Choosing Nails That Are Too Short or Too Long
Choosing nails that are too short or too long can cause problems. If the nails are too short, they won't secure the shiplap properly.
If they're too long, they might pierce through the other side. For instance, using 1-inch nails for a thick hardwood shiplap won't hold it securely.
Ignoring Local Building Codes
Ignoring local building codes is another common mistake. These codes are there for a reason – to ensure safety and quality. Always check local building codes before starting your project.
Skimping on Quality to Save Money
Lastly, skimping on quality to save money can end up costing more in the long run.
Investing in quality materials, like stainless steel nails for outdoor installations, can save you time and money in the long run.
Step-by-Step Guide to Nailing Shiplap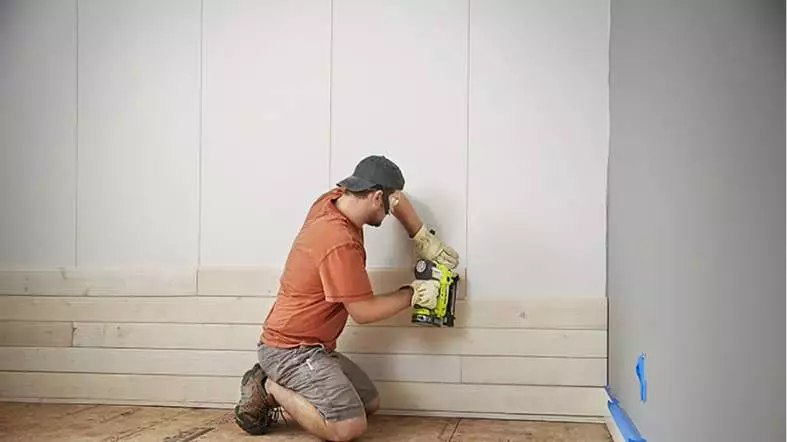 Selecting the Right Type of Shiplap
When choosing shiplap, go for the tongue-and-groove kind. It snaps together like a puzzle. You'll also find "rabbeted" or "nickel gap" shiplap.
Rabbeted shiplap is easier to install but doesn't give a tight fit. A nickel gap allows a little space between boards, just like a nickel coin! Each type has its look and ease of use, so pick what suits your style and skill.
Calculating How Much Shiplap You Need
First, measure the wall area in square feet. To do this, multiply the wall's height by its width. Have an adult check your math! Then, add 10% extra for mistakes or tricky spots. For example, if your wall is 100 square feet, you'd buy 110 square feet of shiplap.
Gathering Tools and Materials
You'll need a saw, a level, a hammer, and nails. Don't forget safety goggles! You'll also need the shiplap boards and some paint or stain. Get wood filler for gaps or mistakes. It's like the eraser for wood projects!
Prepping the Wall
Take off any old wallpaper or paint. Make the wall smooth. Locate the wall studs with a stud finder. Draw vertical lines to mark them. These lines are your roadmap! They tell you where to nail the shiplap.
Cutting the Shiplap Boards
Use a saw to cut the boards. Always wear safety goggles. Cut one board at a time. Measure twice, cut once! You might need a grown-up to help. Each piece should fit snugly like a piece in a board game.
Painting or Staining the Boards
Paint or stain the shiplap boards before installing them. It's easier now than after they're on the wall. Let them dry overnight. This step makes your shiplap look sharp and clean, just like a picture from a home magazine!
Installing the First Board
Place the first board at the bottom of the wall. Make sure it's straight with a level. Ask someone to hold the other end while you nail it into the wall studs. The first board is your foundation. Make it perfect, and the rest will follow!
Staggering the Boards
Don't line up the board ends. Stagger them like steps. This gives your wall a puzzle-like look. It also makes it stronger. Imagine building a tower with blocks; you wouldn't stack them directly on top of each other, would you?
Filling Gaps and Holes
After installing, you might see some gaps or nail holes. Fill them with wood filler. Smooth it out with a scraper. Think of this as the touch-up stage in a painting. It takes a good thing and makes it great!
Finishing Touches
After all boards are up, add a top trim or molding. It's like the cherry on a sundae! Then, paint or stain any spots that need a touch-up. Stand back and admire your work. You've just turned your wall into a masterpiece with shiplap!
FAQs
Can I use screws instead of nails for shiplap?
Yes, you can use screws, but nails are more traditional for shiplap.
How far apart should I space the nails when attaching shiplap?
Nails should be spaced about 6-8 inches apart along the shiplap boards.
Should I use a nail gun or hammer for shiplap installation?
Both a nail gun and a hammer can be used, depending on your preference and tools available.
What type of nails should I use for exterior shiplap siding?
For exterior shiplap, consider using galvanized or stainless steel nails to prevent rust.
Are there any tips for preventing splitting when nailing shiplap?
Pre-drilling pilot holes can help prevent splitting when nailing shiplap.
Conclusion
Choosing the right nails for your shiplap project is crucial for its success. Remember to consider factors like the material of your shiplap, where it's being installed, and local building codes.
Avoid common mistakes like using the wrong nail material or size. With careful planning and execution, you'll have a beautiful shiplap installation in no time!