We all agree that 6×36 tiles are very popular nowadays. They are considerably big; they are strong and you need less of them.
So, you may expect durability for your money.
But, when you want your tile and grout work done flawlessly, the trowel of appropriate size is the most important bid.
So, you must know what size trowel for a 6×36 tile or any other size tile. Without further ado, let's determine the correct trowel size for you.
What Size Trowel For 6×36 Tile?
Square notches trowels measuring 1/2 inch by 1/2 inch is perfect for plank tile flooring measuring 6 by 36 inches.
With this size, plenty of mortar will be able to move to the bottom of the tile, which will ensure that the tile will adhere correctly.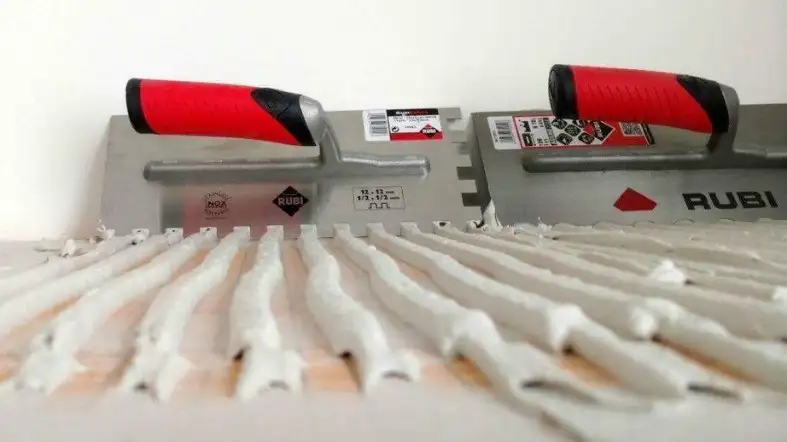 Available trowel size for 6×36 size tile:
Yes, you have your alternatives. In case the towels measuring 1/2 inch by 1/2 inch is nowhere to be found, a trowel measuring 1/4 inch by 3/8 inch is your alternative.
Moreover, a 3/8 Inch U-Notched trowel is also appropriate.
Instead of the square notched trowels, a trowel with U-shaped notches is preferred by certain floor installers.
They believe this shape provides a uniform distribution of mortar on the tile's underside. 
1/4 inch by 3/8-inch trowel: A 1/4″ x 3/8″ square-notched trowel produces 1/4″ wide by 3/8″ thick thinset ridges on the substrate, and each ridge gets separated by 1/4″.
3/8 Inch U-Notched trowel: This type of trowel will leave a 1/8-inch layer of thinset ridges on the substrate.
>> What trowel size for 3×12 tile?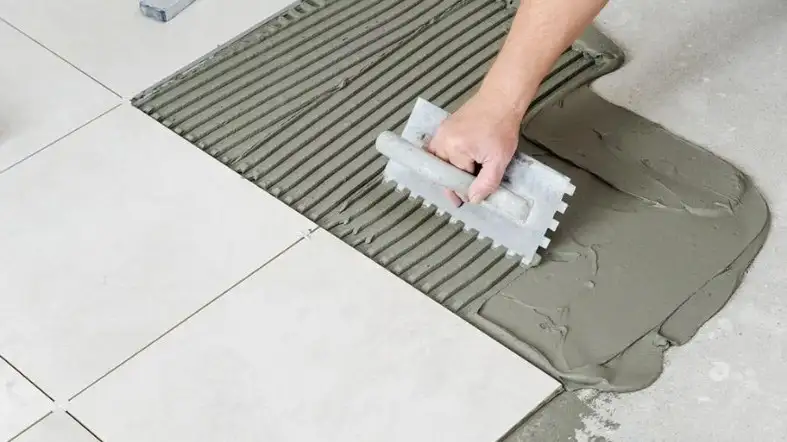 | Trowel Size | Shape |
| --- | --- |
| 1/2 inch by 1/2 inch (1/2 X 1/2) | Square notched trowel |
| 1/4 inch by 3/8 inch (1/4 X 1/8) | Square notched trowel |
| 3/8 Inch | U-Notched trowel |
Trowel shapes in detail:
There are many different forms, shapes, and sizes of thin-set mortar trowels.
There are no accepted criteria for selecting the appropriate trowel style. So, you are free to choose one based on your individual preferences.
>> What trowel should I use for 12×24 floor tile?
U-Notch and Square Trowels:
U-notched tines are the most popular form of trowel used worldwide. Either a square notch or a U-shaped notch can be your option in this category.
Apart from the width and depth of these two types, there is only one significant difference between the two types.
Only somewhat greater coverage is offered by the U notches than the square notches.
Square trowels can also deal with huge-bodied tiles. Yet, you should think about using U-notches for something larger than 15-16 inches or slate or other abrasive stones.
>> What trowel size for 3×6 tiles?
V-Notch Trowels:
Building walls work best with V-notch trowels, but you don't have to use them as mandatory.
Compared to the standard square or U-notch variation, the V-notch is advantageous.
It applies somewhat less mortar or glue to your beloved wall. This prevents leaking from the seams between the tiles, which can be caused by the over-smearing of other trowels.
The only downside is that the V-notched type has a little less coverage than the U-notched type.
So, this shape is They are particularly prevalent with tiles that have a tiny body and range in size up to 6 inches.
>> What trowel type for 12×12 wall tile?
European Notch:
There is also the option of using a trowel designed in European fashion. It includes notches of varying diameters all around its circumference.
This trowel covers huge tiles or stones better than the U-notch or square-notch. So, in a sense, this is the biggest tile shape available. 
This European shape trowels are reliable to guarantee that tiles and stones of huge dimensions stay firmly in place on the wall.
Thus, they're also good for ceilings that need lots of cement to keep tiles from slipping off.
>> Which trowel size for mosaic tile?
Mastering trowel selection:
When deciding on the trowel size, the size of the trowel is the basic consideration. But not the only consideration.
You should also focus on the thinset selection, thinset consistency, and many more things at the same time to get the optimal result.
>> What kind of trowel for 4×4 ceramic tile?
The coverage is all that matters: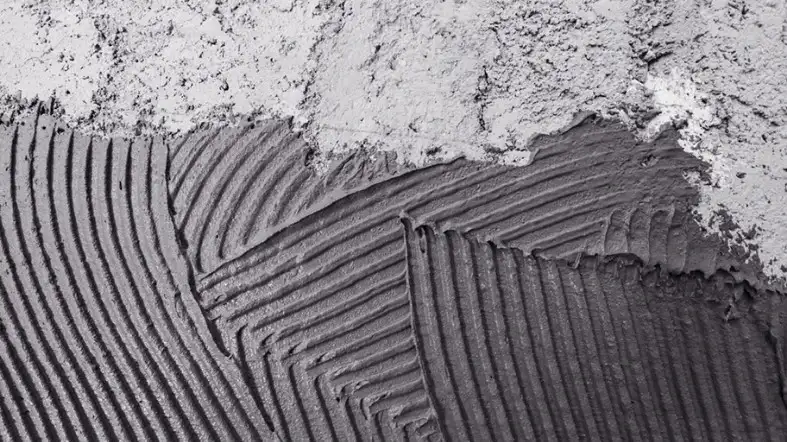 End of the day, you just want full coverage with the trowels you are using. So, you have to choose the size considering various factors. But the coverage will matter the most.
A good example would be a 1/4″ x 1/4″ square notched trowel that's perfect for installing any 6 X 24 subway tile.
Again, by this time, you also know that this trowel will also allow you to apply the proper quantity of mortar to these tiles.
But, for a 12×24-inch tile, you will need a squared notch ¼ inch x ½ inch trowel, whereas you need a 1/2 inch by 1/2 inch squared notched trowel for your 6 X 36 tile.
So, simply, the trowel size is all about the coverage you want for your tile. 
Warpage (Cupping) calculation: Cupping calculation refers to the determination of how much 'out of flat' tiles you have.  
Put tiles face-to-face and then gradually squeeze one corner. Cupped tiles cause the opposing corner to expand apart.
Divide the distance between the tile faces in the opposite corner by half. Thus, you have your tile's cupping.
If compressing the tile creates a 1/4″ gap in the other corner, it's 1/8″ cupped. For sufficient coverage, 1/8" must be added to the minimum amount of thinset required beneath the tile.
If you would like a 1/8″ layer of thinset behind the cupped tile, use a 1/4″ trowel. Also, a 1/2-inch square-notched trowel will work.
Visual Inspection: Visual inspection involves thoroughly immersing the tile in thinset mortar, removing it, and inspecting the substrate and back of the tile for correct coverage.
Select the proper thinset:  It is essential to make sure that you use the appropriate thinset for each circumstance, in addition to selecting the appropriate trowel.
If you want unaltered mortar specifications, for instance, your safe bait is the Schluter products.
Additionally, the choice of cement for glass tile must often be done with extreme caution.
Thinset consistency matters: Indeed, the constancy of the thinset has a significant role as well. The selection of a notched trowel and the right mixing of thinset operate hand in hand with each other.
For this part, for the appropriate mixing ratios for making thinset in small or large quantities, it is always safe to get expert advice.
>> What trowel size for 2″ floor tile?
FAQs About Sizing Trowel For 6×36 Tile
What Size Tile Trowel Should I Use?
The challenge of determining the correct trowel size for a given tile is a simple one. Tile trowels should always be selected based on the size of the tiles to be installed.
Is 6×36 Tile A Large Format?
Most of the time, larger tile formats are square or rectangular tiles that are bigger than 12 x 12. But, a 6×36 tile also falls among the big ones according to experts nowadays.
What Happens If You Use Too Much Thinset?
When using Spanish pavers, it is important to avoid using too much thinset to prevent discoloration and uneven surfaces.
How Long Should Thinset Dry Before Walking On Tile?
Before you may walk on tile, thinset glue has to cure for 24–48 hours. But, in just six hours, quick-setting mortar can withstand heavy foot activity. It's possible to cause tiles to move or come loose if you walk on them too quickly.
Final Words:
Installing tile that is 6 inches by 24 inches requires a trowel with a square notch that is 1/2 inch by 1/2 inch. This is the general rule.
The thin-set and tile suppliers may as well have particular recommendations for any particular tile. So, you should study their user guide and talk to them as well.
So, we can say that to ensure a flat and compact installation and repair, use the correct trowel size.
With the information we've presented, you should be able to figure out what size trowel for the 6 X 36 tile you would need.