The versatility of mosaic tiles makes them stand out among other kinds of tiles. They can also be incorporated into a wide range of different designs.
It is relatively straightforward to select the appropriate trowel for the task at hand.
As a general rule, the size of the trowel should correspond to the size of the tile.
To make it further easier for you, let's find out what size trowel for the mosaic tile you would need for perfection in home design.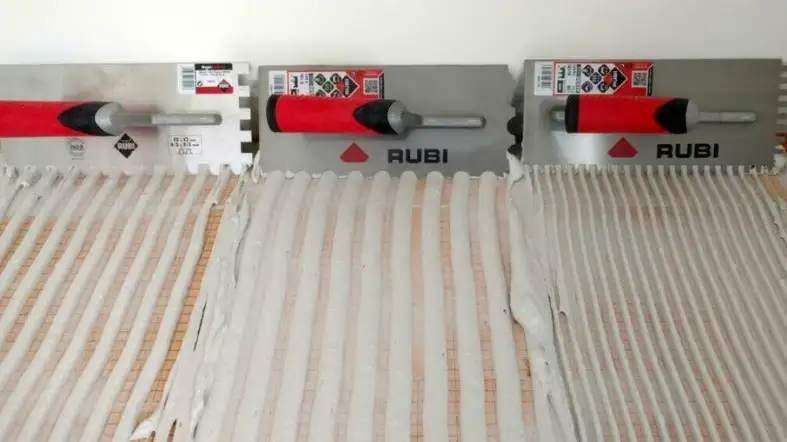 What Size Trowel For Mosaic Tile?
For mosaic tiles up to 2 inches in size, a 1/8-inch square-notched trowel is commonly used. This size allows for an even spread of adhesive, ensuring the mosaic tiles adhere securely to the substrate without excessive mortar squeeze-through.
Mosaic Tile Trowel Size Chart:
| Trowel Type | Trowel Size | Tile Size | Comment |
| --- | --- | --- | --- |
| V-notch | 3/16″ to 1/4″ | 4-1/2″ glazed tile | Small trowel |
| U or Square notch | 1/4″ x 1/4″ | 4″ to 8″ tile | Medium size trowel |
| U or Square notch | 1/4″ x 3/8″ | 8″ to 16″ tile | Large trowel |
| U or Square notch | 1/2″ x 1/2″ | 16″ and larger size tile | Extra-large trowel |
Different Types of Trowels Suitable for Mosaic Tiles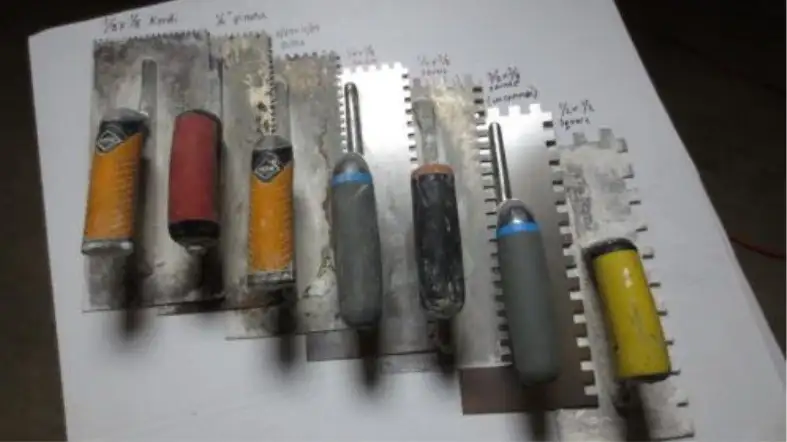 The 'notch' or tooth shape of a trowel affects the amount of mortar that you will have to deposit between the surface substrate and the tile.
Notches assist in establishing intervals between mortar lines as well as aid apply mortar in straight, equal lines.
So, based on the notches, the Square Notch, U notch, and V notch are the trowel types that we need to know.
V-Shaped Notches
This is one of the most ideal types of trowels for your mosaic tile. A V-notch trowel, as its name indicates, has edges that are fashioned like a V.
It has either a sawtooth pattern or very commonly a continuous zig-zag pattern. In this type of trowel, you need the least amount of mortar.
Consequently, v-notch trowels are the best tool to use for laying mosaic tiles that have less than 4 inches of mesh backing or squares.
Again, when it comes to applications involving walls and ceilings, V-notch trowels are recommended over Square-Notch trowels.
The reason is the same since the use of the least amount of mortar.
>> What trowel size for 12×3 tile?
U-Notched Trowels
In comparison to trowels with V-shaped teeth, those with U-shaped teeth can distribute a greater amount of mortar.
Trowels with U-notches often have a single number stamped on them. The single number or measurement includes both the depth and breadth of the teeth of the trowel.
The majority of the time, this pattern is applied to tiles that have more than 4 inches of edges. Even if one of the edges is more than 4 inches, you can efficiently use this trowel.
>> What trowel size for 6 x 24 tile?
Square-Notches
If you need to dispense the most amount of mortar, you have to use the square-notched trowels. 
In most cases, the squared notched trowels are capable of dispensing a greater quantity of mortar than the v-notched and u-notched trowels.
The square notched trowels can have notches either square or rectangular. Both of them form mortar rows with flat gaps in between each one.
When the tile you have is more than 4 inches, you can use the square-sized trowels. In short, trowels with square notches are the kind most commonly used for tiling floors.
Picking the right size trowel (pro tips): When applying your adhesive, the size of your trowel is just as important as the notch form. 
If you use too little glue, you may end up with seriously damaged tile. If you use too much, it may be difficult to get rid of.
Read More : What size trowel for laying subway tile
The Tips For Calculating The Trowel Size
The size of the tile
What depth your adhesive must be to properly secure the tile.
The kind of surface it has (for instance, it can be a wall, or floor, etc.)
After you have identified these criteria, the next step is to become familiar with the trowel measurement system.
When it comes to V-notch trowels, you will have to consider two factors.
One is measuring the width of the notch, and the other is measuring the depth of the notch.
Contrarily, you will have to consider three numbers for Square or U-notch trowels.
First, measure the width of the notch, then comes the depth, and finally measure the spacing between notches.
Good thing is, that most trowels have this information listed in their specs.
Pro tips: There is this simplest technique to see whether the trowel is of ideal size or not.
Installing a few tiles, letting them sit for a while, and then lifting them to examine the amount of mortar that makes contact with the surface is a perfect idea.
>> What size trowel for 2″ floor tile?
Look for oozing thin-set
The first clue that your trowel's notch is too large is thinset pouring out of the grout seams between the tiles.
Having excessive thinset is not always bad, but it does make grouting considerably more challenging. So, use a tile-sized trowel for optimal results.
Uniformity
The ideal tile installations are flat but not level. Thinset mortar must be spread in a smooth, uniform coating that provides enough adhesive for the tile to attach finely.
Mosaic will determine the size of the trowel, but you shall use as much thinset as is necessary for a flat and successful installation.
Factors Influencing Trowel Size Selection for Mosaic Tiles
Tile Size and Thickness
The size and thickness of your mosaic tiles are crucial. Larger and thicker tiles often require a larger trowel size to ensure adequate adhesive coverage.
Tile Material
Different materials, such as ceramic, glass, or stone, have different properties. For instance, glass tiles may require a smaller trowel to prevent the adhesive from oozing through the gaps.
Surface Being Tiled
The surface you're tiling, whether it's a wall, floor, or wet area, can influence your trowel size choice. Walls typically need smaller trowels than floors.
Tile Layout and Design Complexity
Complex designs may require different trowel sizes. For example, a herringbone pattern might need a smaller trowel than a straightforward grid layout.
Type of Adhesive or Mortar Used
Different adhesives have different consistencies and bonding strengths. Some may require a larger trowel to ensure a strong bond.
Grout Line Width Considerations
Wider grout lines can accommodate more adhesive, which may require a larger trowel size.
Drying and Setting Time
Longer drying times can mean using a larger trowel to apply more adhesive, ensuring the tiles stay in place as the adhesive dries.
Ambient Conditions
Temperature and humidity can affect how quickly your adhesive dries. In hotter, drier conditions, you might need a larger trowel to apply more adhesive.
DIY Project vs. Professional Installation
DIY projects might benefit from smaller trowels for easier handling, while professionals might prefer larger ones for efficiency.
Maintenance and Longevity of the Tiled Surface
Choosing the right trowel size can impact the longevity of your tiled surface. A well-installed mosaic tile surface will be easier to maintain and last longer.
FAQs About Trowel Size For Mosaic Tile
What Trowel Shape Is Best For Mosaic Tile?
The V-notched trowels are perfectly fit with mosaic tiles. So, if you are going to install mosaic tiles, the first option you should opt for is the v-notched trowels.
Can I Use 1/2″ X 1/2″ Size Trowel For Mosaic Tile?
Yes, if the mosaic trowel is larger than 16 inches, you can use U or Square notched trowels of1/2″ x 1/2″ size.
What Size Notched Trowel For A Mosaic Backsplash?
 Mosaic tiles in sheets, a ¼ inch x ¼ inch square notch trowel is the most ideal option.
How Thick Should Thinset Be For Mosaic?
In just about all the installations, 3/16 to 1/8-inch layer thickness is more than enough. To level a surface, don't add extra thinset.
Final words
Mosaic tile is a good edition for aesthetics. But not having the ideal size results in faulty installation and eventually make the whole surface look bad. 
That's why we have discussed thoroughly what size trowel for the mosaic tile you need.
So, looking for the precise measurement of tile, trowels, and also the type of trowel is important.
If you still have any confusion, we are here to help you out.