What Size Trowel For 6×24 Tile? Everything You Need To Know!
We may earn affiliate fees for purchases using our links (at no additional cost to you).
A right-sized trowel is an integral appliance for smooth grout and tile work, whether the tile size is 6 x 24 or other. But if you are stuck with a 6 x 24 inch tile, you still must learn what size trowel for 6 X 24 inch tile in terms of perfect coverage for the tile.
In the following, we have discussed how to choose the right size trowel for a certain size tile in detail to let you decide confidently. But before we jump into details, let's solve your query.
What Size Trowel For 6×24 Tile?
A ½ x ½ inch square notch trowel is mainly preferable for installing 6 x 24 inch tile. Despite this, you can also use a ¼ " x ⅜ " square notch trowel, but don't forget to fill up the hump in the tile center using mortar.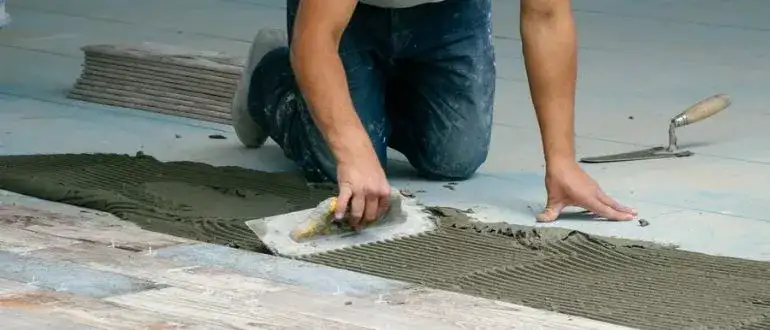 A Guide for Choosing the Right Size Trowel for Tile
Generally, you should use a ¼" x ¼" U or square notched trowel for tiles that are 16 inches or larger. Both tile producers and thin-set producers have specific recommendations on the trowel size. Despite this, some other factors are also affecting the trowel size to lay tiles, including:
Cupping of the tile
The substrate
The thin-set
Personal preference
You should have a clear understanding of these factors to choose the right size trowel for your certain size tile. At a time, the basic idea of the concepts of thin-set and tile is also essential for deciding the right size trowel.
Tight and level tile installation
The main target of a tile project is to get a flat yet tight surface. You can achieve the goal by using the proper tools and applying the appropriate amount of thin-set.
Undoubtedly, using the right tool helps apply the proper amount of thin-set. Therefore, you should know the different shapes of the trowel so you can choose suitably.
Shape of Trowels
Thin-set mortar trowels are available in various shapes. There are no standard criteria for choosing the right style of the trowel, so you can go with your personal preferences.
>> What kind of trowel for 6×36 tile?
The V-Shaped Trowels—The Sawtooth Selection
It has the appearance of a saw blade and is used to apply a less thin-set on the working surface. A v-notch trowel can apply a smaller amount of mortar than other trowels.
So it's a perfect solution for hanging or laying small tiles. You can use this trowel to create a mosaic pattern or install tile below 2 inches square.
>> What type of trowel for 12×24 floor tile?
U-Shaped Notches – Bigger Tile and More Thin-Set
A professional solution for installing four-inch square tile or larger dryer recommends this U-notched trowel for plenty of reasons, including:
Allows for very easy control of the exclude of thin-set into grout lines.
It has more space between the notches than other trowels.
Applying this trowel, a thin-set point is spread out instead of folding over while installing the tile.
>> What size trowel for mosaic tile installation?
Square Notched Tile – The Vertical Solution
If you need to hang the tile vertically on the wall, a square notched trowel should be your first choice. With its wider and shallower notch, you can properly maintain a fine standing point on a vertical surface.
The wider yet shorter thin-set edge holds the tile properly while ensuring enough depth under the tile for better adhesion. It also prevents squeezing out between the tiles into grout lines.
Getting the Proper Coverage for the Tile
Getting the proper thin-set coverage between the tile and the substrate is also essential for installing tile vertically on the floor. Remember these factors while applying thin-set:
If you are installing tile on the wall, you must ensure 80% coverage of the connected area between the main surface and the tile.
If it is shower enclosures and bathtub surrounds, the thin-set coverage should be a minimum of 95%.
The tile corner should be completely supported by a thin set.
It may take a little trial and error to get perfect coverage between the working surface and the tile. The technique you follow to apply the thin-set has also controlled the quality of the coverage.
>> What notched trowel size for wall tiles?
Depth of the thin set
The thin-set should be 3/32nds of an inch between the substrate and the tile. The least depth is three-thirty seconds.
Warpage – When Things Don't Line Up
Some types of tile can coupage or warpage while firing. In some cases, warpage doesn't make the tile unusable. Sometimes it can, but you should check the variation in the thin-set thickness.
You can place a sample of the tile end-to-end as a quicker way to check the cuppage. If you find the tiles are meeting up neatly while in place, the warpage is allowable. But if you notice visible gaps between tiles, you must treat this during the application of the thin-set.
Once you notice the cuppage, measure the gap and divide it by two. For example, if you find a ¼' warpage, you should allow an extra 1/8inch to the thin-set depth to balance the warpage.
>> What size trowel for 3×6 ceramic tile?
FAQs About Right Size Trowel For 6×24 Tile
Is 6×24 Tile A Large Format?
Generally, rectangular or square shape tiles with over 12 X 12 are considered larger tile formats. However, some DIY enthusiasts also consider this 6 x 24 as a larger format. These large tiles are durable due to their size and require fewer pieces.
How To Determine The Tile Trowel Size?
Finding the right size trowel for a certain tile is quite a straightforward task. In general, you should choose a tile trowel based on the tile size.
Is It Ok To Lay Hardwood Over 6 X 24 Tile?
Of course, 6 X 24 is a decent shape of tile that allows hardwood or laminating flooring over it. However, you can't install ¾ " hardwood flooring over the tile.
Final words
Using the right size trowel is key for getting a tight and level tile installation. Hopefully, you can now decide what size trowel for 6 X 24 tile based on the guidelines we have shared above.
In short, a 1/4″ X1/4″ square notch trowel is perfect for installing 6 x 24 inch tile. But you should read the tile and thin-set producers' user guide if they have specific suggestions.