Curious whether a 2000 watt generator can run your refrigerator? You're not alone in this electric dilemma.
We decode the power requirements, diving deep into appliance and generator compatibility.
Gain peace of mind and confidence during your next power outage, knowing your perishables are secure.
Click Here To Check Recommended Generators
Can A 2000 Watt Generator Run A Refrigerator?
Yes, a 2000 watt generator can generally run a refrigerator. However, the specific capability depends on the refrigerator's starting and running watts. A standard refrigerator requires about 600-800 running watts, but starting watts can be higher.
Appliance Chart for a 2000 Watt Generator:
| Appliance | Average Power Requirement (Watts) |
| --- | --- |
| Refrigerator | 600 |
| Microwave | 1000 |
| Coffee Maker | 800 |
| Toaster | 800 |
| Laptop | 60 |
| TV | 120 |
| Fan | 50 |
| Light Bulb | 60 |
N.B: Champion 2000-Watt Portable Inverter Generator and WEN 2000-Watt Gas Powered Portable Inverter Generator are the two most common generators that are used to run a refrigerator.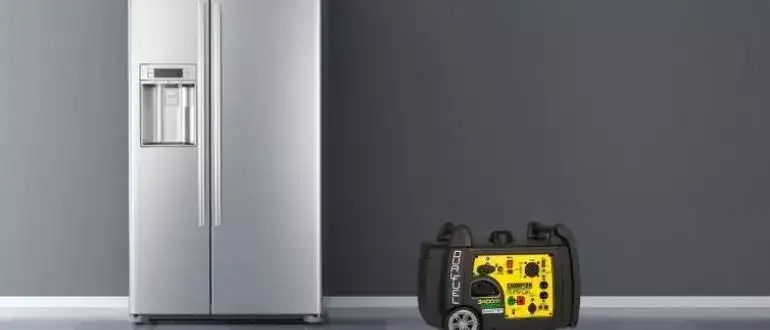 Different Types of 2000 Watt Generators
When you think about generators, many types come to mind. Let's explore three main categories:
Inverter Generators
Inverter generators are advanced. They give clean and stable electricity. This is like the power you get at home. They are light and quiet.
You can use them for delicate gadgets like laptops or phones. They don't make much noise. They save fuel.
They can connect with other generators to give more power. But they cost more. They can't power big machines. They need regular care.
Portable Generators
Portable generators can move. They are big and loud but less costly. They use different fuels like gas or diesel. They can power many things, big or small.
They cost less. They power big machines. They use various fuels. But they are noisy. They use more fuel. They might harm some gadgets.
Standby Generators
Standby generators stay in one place. They turn on when there's no power. They can use gas or propane. They can power a whole building. They are strong and trustworthy.
They give power all the time. They power everything in a house. They are quiet. But they cost a lot. Experts must set them up. They need lots of care.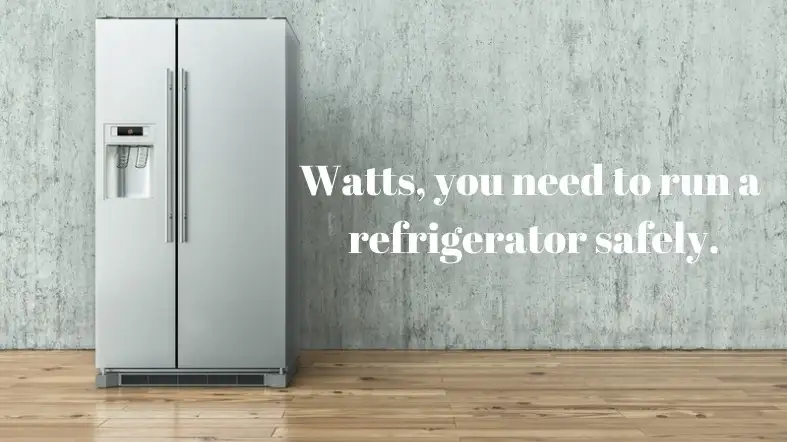 Assessing Refrigerator Power Requirements
>> How distant can a generator be from the transfer switch?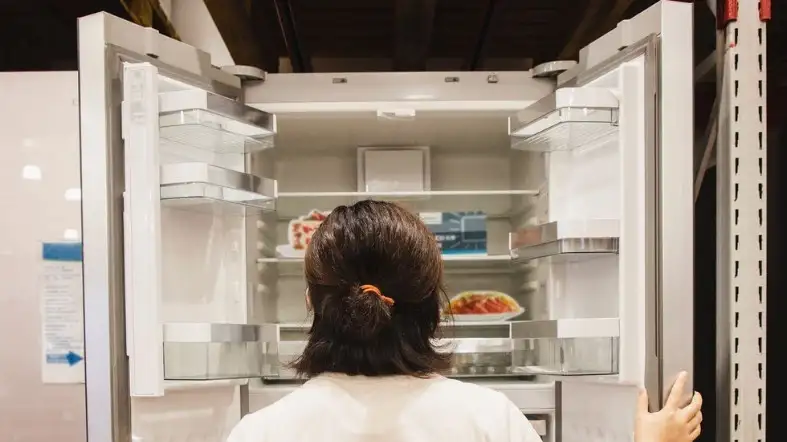 Starting Watts vs Running Watts
Understanding watts is key. Starting watts are the initial power when the fridge starts. They are high. Running watts are the constant power to keep the fridge on.
They are lower. A refrigerator needs more starting watts. This lasts for a few seconds. Then, it drops to running watts. A label on the fridge gives this info.
Or check the manual. If your fridge runs at 800 watts, it might start at 1600 watts.
Energy Efficiency of Refrigerators
Energy efficiency is crucial. It shows the power a fridge uses. More efficiency means less power per hour. Many factors affect this. The size and age of your fridge matter.
So do the settings and how often you open it. Even the food inside affects it! An Energy Star label tells you about efficiency.
Online calculators can also help estimate efficiency.
Importance of Compressor Starting Power
The compressor's starting power is vital. It's the highest power demand your fridge will need. This demand can overload or damage your generator.
If a generator can't handle this power, problems will occur. The generator may shut down or overheat. It might even produce unstable electricity.
This can damage your fridge. Your fridge might not start or run properly. Loud noises or vibrations might happen.
Reading Appliance Labels for Power Information
Appliance labels have power information. They show the model and serial number. They also show voltage and frequency.
The rated power or running watts are also there. Sometimes, they show the starting watts and energy efficiency.
Labels are usually on the back or inside of your appliance. The label may say the fridge has a power of 6.5 amps.
To find the wattage, multiply the amps by the voltage. So, 115 x 6.5 equals 747.5 watts running wattage.
>> What can a 10000 watt generator power
How to Properly Run a Refrigerator on a 2000 Watt Generator?
Connecting the Refrigerator
To connect the refrigerator to your generator, use a heavy-duty extension cord. This cord should be rated for outdoor use.
It should have the same or a higher wattage capacity as your generator. Make sure the cord reaches your generator without being too long.
Too long cords create resistance and are a tripping hazard. Plug one end of the cord into your generator outlet. The other end goes into your refrigerator plug.
Ensure both ends are securely inserted. They should not be loose or damaged. Keep the cord free from water, heat, or sharp objects. It shouldn't be tangled or kinked.
Monitoring Power Consumption
Monitoring the power consumption of your refrigerator is essential. The generator's power production needs tracking too.
Use a wattage meter or an online calculator for this. Keep the refrigerator's power consumption below the generator's power output.
It is crucial, especially during the compressor start-up. Ensure the generator's power output does not exceed its rated or surge power.
Exceeding might damage the generator. It is good to be mindful of the generator's display panel. It provides essential power output information.
Managing Additional Loads
Manage additional loads effectively. Consider the power needs of other appliances you run simultaneously.
Adding up the starting and running watts of all appliances is crucial. Comparing the total to the generator's rated and surge power is essential.
Avoid overloading or underloading your generator. Consider the order of turning on and off your appliances. Ensure the generator's surge power is never exceeded.
Using a load management system or a smart plug is advisable. They help in controlling and scheduling appliances automatically.
Safe Operation Guidelines
Follow safe operation guidelines strictly. Operate your generator outdoors only. Keep it at least 20 feet away from your house.
Generators can produce dangerous carbon monoxide gas, heat, and sparks. Regularly check the oil and fuel levels of your generator and refill them as needed.
Do not overfill or spill fuel on your generator. Always let it cool down before refueling. Avoid touching or moving your generator when it is running.
Never leave your generator unattended. Turn off and disconnect your generator when not in use.
Additional Tips
Regular maintenance and servicing of your generator are vital. They ensure the longevity and optimal functioning of the generator.
Always follow the manufacturer's recommendations and safety precautions diligently.
This practice is crucial to avoid accidents and ensure safe and efficient operation. Reading the manual and instructions for both your generator and your refrigerator is crucial.
It gives detailed insight into proper handling and operation. It is good practice to store the generator in a dry and secure place when not in use.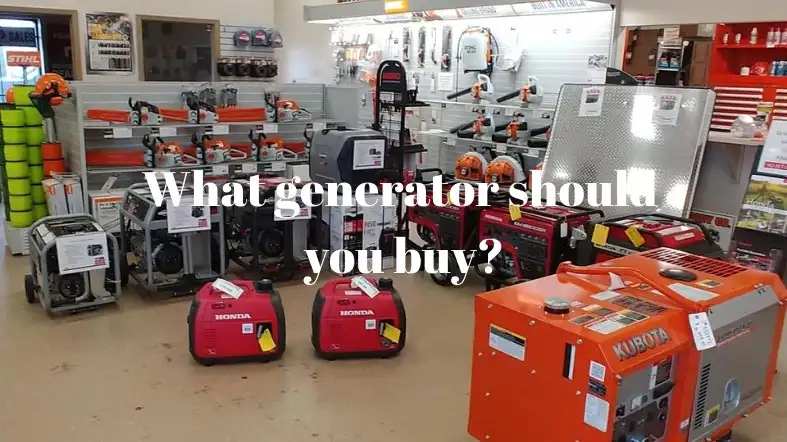 Factors to Consider when Running a Refrigerator on a Generator
Total Appliance Load
When running a refrigerator on a generator, consider the total appliance load. This load is the power all your appliances need.
You must ensure this load does not exceed your generator's power. Avoid overloading your generator.
Calculate this load by adding the starting and running watts of all appliances. Use a wattage meter or an online calculator for precise measurements.
Generator Fuel Efficiency and Run Time
Generator fuel efficiency and run time are crucial. These determine how long your generator can run on specific fuel.
Enough fuel is necessary to run your generator as long as needed. Follow the manufacturer's recommendations on fuel type and quality.
Check your generator's manual or the manufacturer's website to find fuel efficiency and run time. Using an online calculator is also helpful for estimating these factors.
External Temperature and Generator Performance
The external temperature affects generator performance. Place your generator in a well-ventilated area. Avoid direct sunlight, rain, and extreme weather conditions.
Adjust your generator settings according to external temperatures. Refer to your generator's manual or the manufacturer's website for optimal performance tips.
Online calculators can also help estimate performance in varying temperatures.
Duration of Power Need
Consider the duration of power need. It is the length of time you need your generator running.
Choose a generator that can run for your required duration without any disruptions.
Reduce your refrigerator's power consumption by adjusting temperature settings and minimizing door openings.
Estimate the duration of power need by considering the expected length of power outages and your refrigerator usage.
Generator Placement and Ventilation
Generator placement and ventilation are vital for safe and efficient operation. Place your generator on a flat, stable surface.
Keep it away from obstacles or hazards. Provide enough ventilation and airflow around your generator.
Keep it at a distance from your house and flammable materials. Refer to the specifications on your generator or the manual for placement advice.
Online calculators can help with placement and ventilation estimations.
Regular Maintenance and Operation Check
Regular maintenance and operation checks are essential for long-term use. Follow the manual and instructions for your generator and refrigerator.
Perform necessary checks and maintenance regularly. Use the right tools and accessories.
Check the specifications or manuals of your appliances or use online calculators for maintenance schedules.
FAQs About 2000 Watt Generator To Run A Refrigerator
How many amps can a 2000 watt generator supply?
A 2000 watt generator can supply around 16-17 amps on a 120V circuit, which is enough for most refrigerators that need 5-8 amps.
How long can a refrigerator keep food cold without a power supply?
A refrigerator can keep food cold for nearly 4 hours if you run out of electricity or get issues in the refrigerator.
Does starting the fridge overtax the generator?
The high starting wattage surge of refrigerators is no issue for 2000W models. Just avoid plugging in more high-draw appliances.
Is it safe to connect a refrigerator to a portable generator?
Yes, using proper power cords and following electrical safety guidelines to prevent back feed risks when connecting a fridge is critical.
What fuel type is best for running a refrigerator?
Propane or natural gas generators supply continuous power without refueling, making them ideal for fridge runtimes.
Conclusion
A 2000 watt generator can power your refrigerator! You need to consider the appliance's starting and running watts to avoid overloading.
Always remember to keep fuel on hand, and you're all set for a seamless, uninterrupted experience.
Keep your food fresh, your drinks cool, and your worries at bay with this powerful solution!