Can You Run A Space Heater On A Generator?
We may earn affiliate fees for purchases using our links (at no additional cost to you).
Do you want to run a space heater on the generator?
Here we will talk about everything you need to know before powering a space heater with a generator and what to consider to avoid risk.
As a space heater requires high energy consumption, many people are curious to know can you run a space heater on a generator?
We will cover detailed answers and talk about a better handy alternative to run a space heater safely. So let's started.
Can You Run A Space Heater On A Generator?
You can run a space heater on a generator if your generator is above 2000 watts.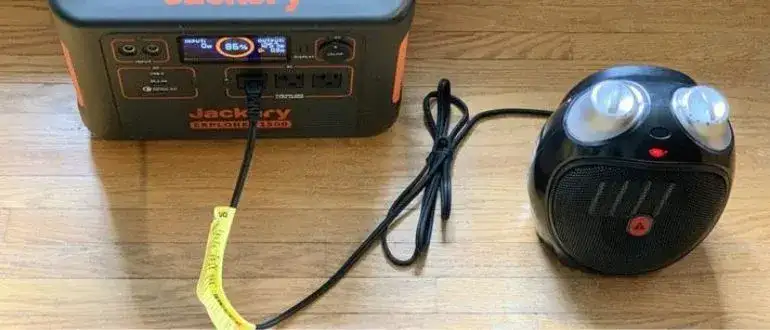 The space heater requires 1500 watt energy for starting. So if the generator is 1000 watts, it won't be capable of delivering 1500 watts of energy that can damage your heater fuses. So don't try a lower capacity generator to stay safe.
What Size Generator Is Ideal For Running A Space Heater?
You must give a look at generator power capacity before buying any specific generator to avoid unwanted issues.
Well, there is nothing that can be more important than safety, right?
If you don't consider the power capacity of a generator, you just increase the risk of damaging your expensive tools.
Most of the generators have 500 watts fluctuations in power supply.
This power buffer is a common scenario for every generator due to extension cord, temperature change, etc. It won't the causes behind fuse blown.
A 2000 watt generator is capable of running your space heater safely. But you can't integrate other devices with a space heater.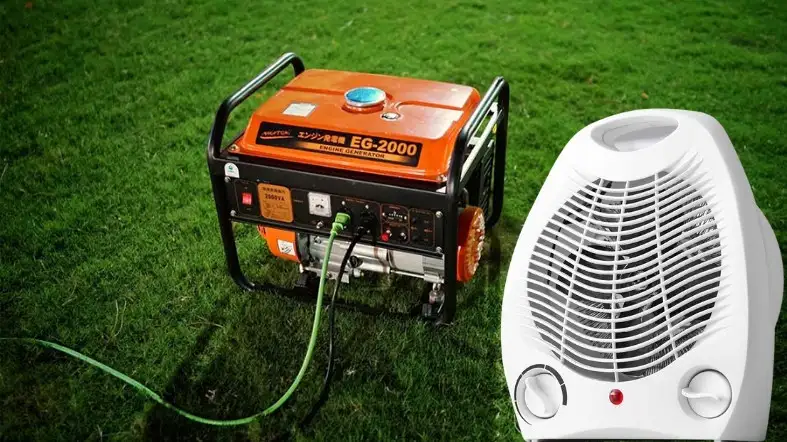 If you need to run other appliances with a space heater, then you need to adjust the heater setting to nearly 750 watts.
Or buy a high-capacity generator such as 3500watt, 4500w, etc.
If you need a generator to run the space heater and refrigerator, then 4500-5000watt is suitable for you.
First, you need to list out the devices that you want to run in the generator.
Then sum up the total required energy.
Suppose you require a 3000watt power supply, then go for a 3500-watt generator to avoid interruptions or other issues like power drop.
If you go for a bit of extra power capacity, then it will easily give you flawless services.
You should remember that a generator won't supply more power than its rated wattage.
Even it is certain to face a power drop of nearly 300-500 watts than the declared watts.
So, we won't suggest a 1500 watt generator for a space heater.
Because when a power drop occurs, it will blow the fuse gates due to inefficient power supply.
That is why using the right power generator is highly essential.
>> What appliances can a 10000 watt generator run
Recommended Generator for running space heater safely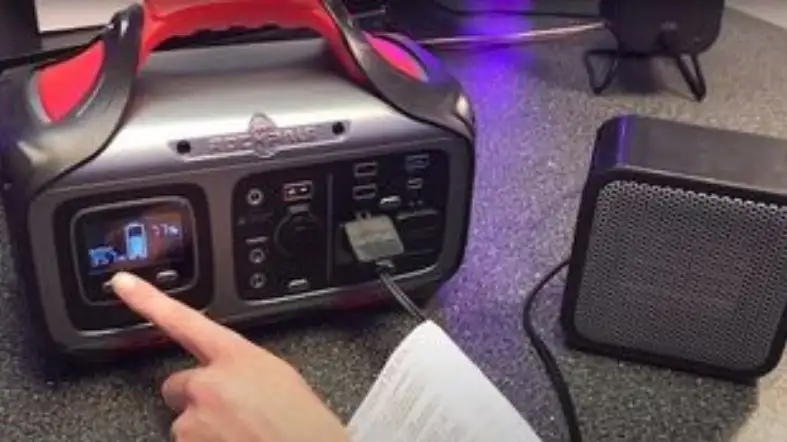 If you are looking for a good generator to run a space heater, you can check the below generator.
WEN 56200i 2000 watt generator
Westinghouse iGen 4500watt generator
If you want to run multiple devices with a space heater, then the second option is for you. But to run only the space heater, WEN 56200i is powerful enough.
These generators are quiet, efficient, and allow maximum running time with low fuel consumption. So it will reduce your fuel cost as well.
Safety tips for running a space heater on a generator
Place in the right position: It is always good to keep the generator in a well-ventilated room or opening area. Placing is essential to avoid accidents. You can keep it near windows, doors, or vents to run a space heater. It is recommended to use an extension cord to run the space heater from the generator.
Use extension cord: You should use a high-quality and thick extension cord to avoid power fluctuations or fire incidents. Never connect an extension cord with a 1500 watt generator that can also blow a fuse gets.
Run carefully: The heater and generator both are risky appliances. So you need to use them carefully. You should use the heater when you are actively present in the room. So that you can notice if any changes occur.
Use a high power generator: To run a space heater or refrigerator, use a 2000 watt or more powerful generator. Never use a lower capacity generator to run a space heater. Low capacity generator such as 1000 Watt or 1500W has a high risk of fire or blown a fuse gets. So don't take risks with your safety.
Maintain sequence: First, starts the generator, then plug in your space heater. You can adjust the power setting of your space heater until it reaches 1500 watts. If your space heater doesn't allow power setting, then you can skip this step.
Alternative To Run A Space Heater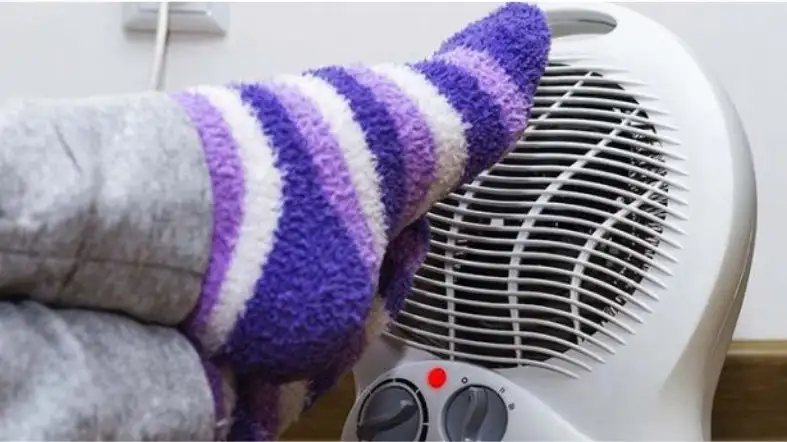 A generator is a bit dangerous appliance. Besides, it can give you maximum backup up to 6-8 hours only.
So you can't keep your room warm for the whole night during storms or other emergencies. 
The best and most efficient way is to use a propane heater. It is more affordable, durable, and efficient than the generator.
Moreover, it is safer to place indoors. You can use any propane heater according to your preference.
FAQs About Space Heater Generator
What Size Generator Do I Need To Run A Space Heater?
To run a space heater, you need a 2000watt or above the generator. The space heater requires a 1500 watt continuous power supply, so don't connect it with a low power generator.
Every generator has power dropping issues of nearly 300-500 watts. So don't use 1500 watt generator to avoid accidents during power drop.
How Many Watts Does A Space Heater Use?
Usually, space heaters consume 500-1500watts of power. Most of them allow power settings to adjust the power.
Can A Solar Generator Run A Space Heater?
You can run a space heater using a solar panel, but no direct connection is possible. You need to install different components such as the battery, inverter, etc., to link the solar with a space heater to power up the machine.
How Many Space Heaters Can A Generator Run?
It depends on generator power. A 2000 watt generator can handle only one space heater but if your generator is 4000watt you can run two heaters simultaneously.
Final Verdict
Hopefully, you get your answer regardless of can you run a space heater on a generator. It is safe to run a space heater in a generator if and only if you buy 2000w or above power generators.
Otherwise, the low power generator is not capable of handling the required power of a space heater and creates a disaster such as fire issues or a blown fuse.
So, follow our safety tips to run a space heater on a generator safely. It helps you to keep your room warm even on a winter storm night.
Yet it is not the most efficient way to run a space heater on the generator. You can use a propane heater instead of a generator to get a long-time backup at a low cost.