Deciding on the perfect mirror size for your pedestal sink? It's a common design challenge. Find out our comprehensive guide, detailing all the factors to consider.
Make your bathroom both practical and aesthetically pleasing. Your ideal mirror awaits.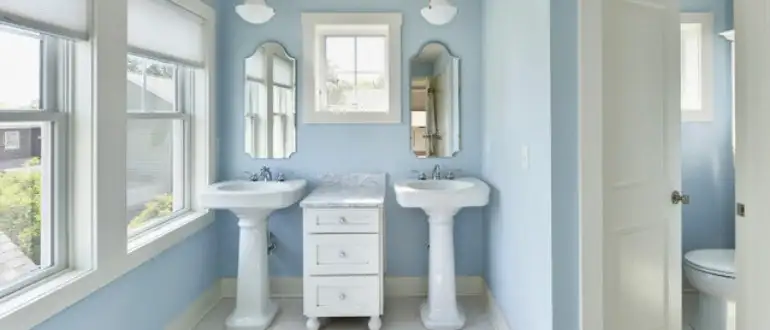 What Size Mirror Is The Best For A Pedestal Sink?  
For a pedestal sink, the mirror should be about two-thirds the width of the sink. For instance, if your pedestal sink measures 24 inches wide, a mirror around 16 inches wide is ideal. This ratio ensures a harmonious balance and aesthetic appeal in the bathroom.
Mirror size chart for the pedestal sink:
| Pedestal Sink Width (inches) | Recommended Mirror Width (inches) |
| --- | --- |
| 18-20 | 12-14 |
| 22-24 | 15-16 |
| 26-28 | 17-19 |
| 30-32 | 20-21 |
>> What size mirror for 36″ bathroom vanity?
Various Mirror Shapes Suited for Pedestal Sinks
Here are some examples of how different mirror shapes can suit pedestal sinks.
Oval Mirrors
Oval mirrors are one of the most popular choices for pedestal sinks. They are graceful, and elegant, and can soften the edges of the sink and the wall.
They can also fit well in narrow spaces and create an illusion of height. Oval mirrors are especially suited for curved or rounded pedestal sinks1.
Rectangular Mirrors
Rectangular mirrors are another common choice for pedestal sinks. They are simple, classic, and can match any style of bathroom.
They can also provide more coverage and reflection than other shapes. Rectangular mirrors are ideal for straight or angular pedestal sinks2.
Round Mirrors
Round mirrors are a fun and trendy option for pedestal sinks. They are playful, and modern, and can add some interest and contrast to the bathroom.
They can also make the space look more spacious and airy. Round mirrors are great for any type of pedestal sink3.
Square Mirrors
Square mirrors are a less common but still viable option for pedestal sinks.
They are sleek, and minimalist, and can create a sense of symmetry and order in the bathroom. They can also fit well in small spaces and corners.
Square mirrors are best for square or rectangular pedestal sinks4.
Unique and Custom Shapes
If you want to add some personality and flair to your bathroom, you can opt for unique and custom shaped mirrors for your pedestal sink.
These mirrors can come in any shape you can imagine, such as hexagonal, diamond, heart, star, or even animal shapes.
They can also be made from different materials, such as wood, metal, glass, or mosaic tiles.
These mirrors can make your bathroom stand out and reflect your taste and style.
>> What size bathroom mirror for 48 inch vanity?
How to Choose the Perfect Mirror Size for Your Pedestal Sink?
Proportions
Balance is key when pairing a mirror with a pedestal sink. The mirror should not dwarf the sink. Nor should it look like a tiny dot above a large basin.
To get this balance, measure the sink first. Use a tape measure or ruler for this. Mark the desired size of the mirror on the wall with masking tape.
This will help you visualize if it's the right size.
Style Matters
The mirror's style should complement your bathroom. There shouldn't be a clash in design or color. Think about your bathroom's overall look. Is it modern or traditional?
This will guide your choice. Look at magazines or online for inspiration. Visit stores to see the mirror in person if you can.
Functionality Beyond Reflection
Mirrors aren't just for reflection. Some come with extra features. Do you need storage behind your mirror? Maybe you'd like a mirror with lights around it? Think about these features. They add more functions to your mirror.
Installation Insights
Installing your mirror should be simple and safe. Heavier mirrors require strong support. Always check what's behind your wall.
Drywall anchors or studs can support most mirrors. Make sure you have the right tools before you start.
Avoiding Common Pitfalls
When choosing your mirror, be cautious. It's easy to pick the wrong size or style. Avoid the hassle of returning or replacing it. Always measure twice.
Always visualize the style in your bathroom before buying. This way, you're more likely to get it right the first time.
>> What size mirror for a 30 inch vanity?
Factors Affecting Mirror Size Choice for a Pedestal Sink
Sink Size and Design
The mirror should fit with your sink's size and design. When you have a round pedestal sink, you'll often find that a round or oval mirror looks best above it.
If your sink is square or rectangular, then mirrors of those shapes will likely look best. Always aim for balance.
You don't want a mirror that overshadows the sink or one that's too tiny to serve its purpose.
Bathroom Space and Dimensions
Your bathroom's dimensions play a big role. First, measure your bathroom wall space. Place the mirror in a spot where it won't block any windows or doors.
In smaller bathrooms, a compact mirror can save space.
If your bathroom is spacious, a larger mirror might look more fitting and can make the room appear even bigger.
User Height and Needs
Your height and daily routine matter. For tall folks, a mirror placed too low might not be helpful. They won't see their whole face!
On the other hand, shorter individuals won't want to tiptoe to use the mirror.
And, if you put on makeup or wear glasses, a mirror that magnifies could be a game-changer.
Lighting and Functionality
Lighting makes a huge difference. If your bathroom has dim lighting, a mirror with built-in LED lights can help.
These mirrors light up your face, making tasks like shaving or makeup application easier. If your bathroom is already bright, choose a mirror that reduces glare.
You'll avoid those sharp reflections that can hurt your eyes.
Aesthetic and Decor Style
The mirror should complement your bathroom's style. If your bathroom is plain or has a lot of whites, a mirror with a colored frame can add a pop.
If your bathroom is colorful, a simpler, neutral-toned mirror can balance things out.
Mounting Options and Stability
How you hang the mirror is crucial. If there are studs in your wall, using screws might be best. They hold the mirror securely.
If your wall is more delicate like drywall, adhesive strips or special mirror hooks might be the safer choice. They spread out the weight and prevent damage.
Safety Considerations
Always think about safety first. If your household has active kids or pets, choose a mirror with rounded edges. These are less likely to cause injuries.
And if you live in places where the ground shakes sometimes like in earthquake zones, mirrors with flexible frames can move without breaking.
Cost and Budget Constraints
Money matters. Before shopping, decide on a budget. If you're looking to save, there are basic mirrors without all the extra features.
But if you've got some money set aside, you can splurge on a fancy mirror. Some have high-quality frames or smart features.
Additional Features (like anti-fog, LED lights)
There are mirrors, and then there are smart mirrors. Some mirrors prevent fog buildup, which is super helpful after a steamy shower.
Others have touch screens where you can adjust the light's brightness. There are even mirrors with Bluetooth, so you can listen to tunes while you get ready.
And if you often lose track of time in the morning, some mirrors have built-in clocks!
Local Building Codes and Regulations
Last but not least, know the rules. Before making any big changes to your bathroom, check the local regulations. If you're renting a place, get your landlord's okay.
If you're in a historic neighborhood, there might be extra rules to follow.
>> What is the best size mirror for 72″ vanity?
FAQs About The Right Size Mirror For A Pedestal Sink
Should I size the mirror exactly to the sink width?
Slightly wider, around 2-4 inches wider than the pedestal sink, creates a proportional look with some counter surface still visible.
What height should I mount the mirror?
Mount with the mirror's top edge around 4-6 inches above the backsplash height for optimum visibility when using the sink.
Can I Use A Square Mirror Instead Of Oval Or Rectangular?
A square mirror can work above a pedestal sink but sometimes appears boxy.
Should the mirror attach directly to the wall or have space behind?
For a clean look in small baths, mount flush to the wall. Articulating arms take up valuable room.
Is it better to have one larger mirror or flanking mirrors?
One centralized mirror is preferable for pedestal sinks to maintain an open, streamlined look.
Should the mirror match the pedestal design?
Matching shapes and finishes creates a unified, custom look.
The Final Words
Choosing the right mirror size for your pedestal sink enhances your bathroom's look and functionality.
Factoring in sink design, room space, and user needs ensures the perfect fit. With the right choice, you'll merge style and practicality seamlessly.
Always prioritize balance, aesthetics, and personal comfort in your selection.