Are you puzzled over the ideal mirror size for a 30-inch vanity? Nailing the perfect dimensions can transform your bathroom's aesthetics.
Why let the wrong size mirror dampen your decor vibes? Discover how to make the right choice!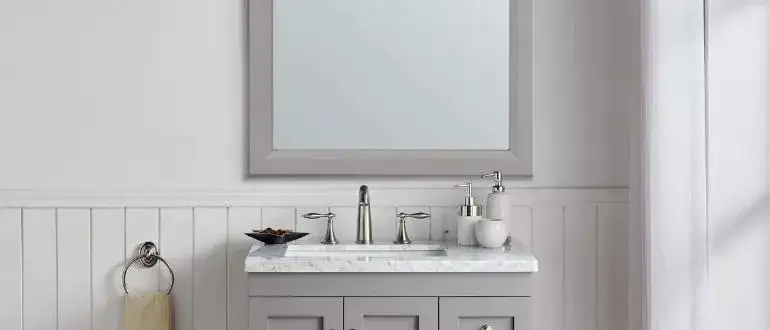 What Size Mirror Do I Need For A 30 Inch Vanity?
For a 30-inch vanity, the optimal mirror size is between 24 and 28 inches wide, ensuring a balanced appearance. The height can vary but is often between 30 and 40 inches to achieve a proportional look in the bathroom.
Different Types of Mirrors Suitable for a 30-Inch Vanity
There are many different types of mirrors that you can choose from depending on the style and layout of your bathroom.
Rectangular Mirrors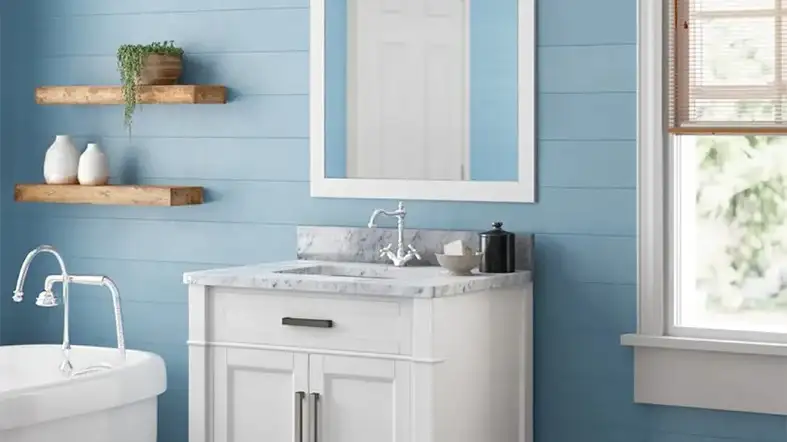 Rectangular mirrors are the most common and versatile type of mirrors for vanities. They can fit any style of bathroom, from modern to traditional.
They can also be hung horizontally or vertically, depending on your preference and the available space.
Rectangular mirrors are great for creating a clean and simple look for your bathroom.
Round Mirrors
Round mirrors are another popular type of mirror for vanities.
They can add some softness and curves to your bathroom, especially if you have a lot of straight lines and angles in your design.
Round mirrors can also create a focal point and draw attention to your vanity. Round mirrors are ideal for creating a cozy and inviting look for your bathroom.
Oval Mirrors
Oval mirrors are similar to round mirrors, but they have a longer and narrower shape.
They can create an elegant and sophisticated look for your bathroom, especially if you have a classic or vintage style.
Oval mirrors can also make your vanity appear taller and slimmer, which can be flattering for your face.
They are perfect for creating a refined and graceful look for your bathroom.
Square Mirrors
Square mirrors are less common than rectangular or round mirrors, but they can still be a good choice for some bathrooms.
They can create a strong and bold statement in your bathroom, especially if you have a minimalist or contemporary style.
Square mirrors can also create a sense of symmetry and balance in your bathroom. They are suitable for creating a modern and sleek look for your bathroom.
Arched Mirrors
Arched mirrors are another type of mirrors that have a curved top and a straight bottom.
They can create a unique and stylish look for your bathroom, especially if you have an eclectic or rustic style.
Arched mirrors can also add some height and drama to your vanity, which can make it stand out more.
They are ideal for creating a charming and whimsical look for your bathroom.
How to Choose the Perfect Mirror Size for Your Vanity?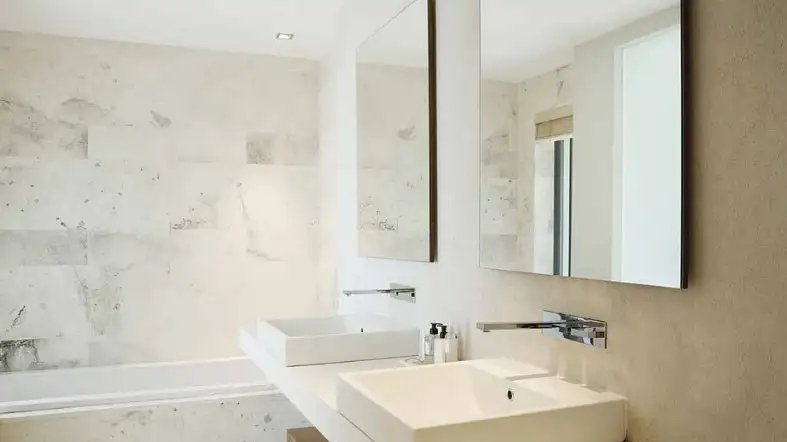 Measure First
Always measure your vanity and wall space first. Know the size you have to work with. This stops you from getting mirrors that don't fit.
Think Function
What's your mirror's main job? Is it for grooming, like shaving or makeup? Maybe it's more about style. Your answer helps pick the right size.
Style Choices
What's your bathroom's vibe? Do colors and patterns need to match? Or do you like fun contrasts? Your taste guides the mirror's shape and frame.
Light and Fixtures
Check the lighting in your bathroom. Natural and artificial light can change how your mirror looks. And remember, items like faucets can be in the mirror's way.
Make sure they don't clash.
Placement
Where your mirror goes matters. Do you want it centered? Maybe a bit to the side? The best spot makes your bathroom look its best.
Factors Influencing Mirror Size Selection for a 30-Inch Vanity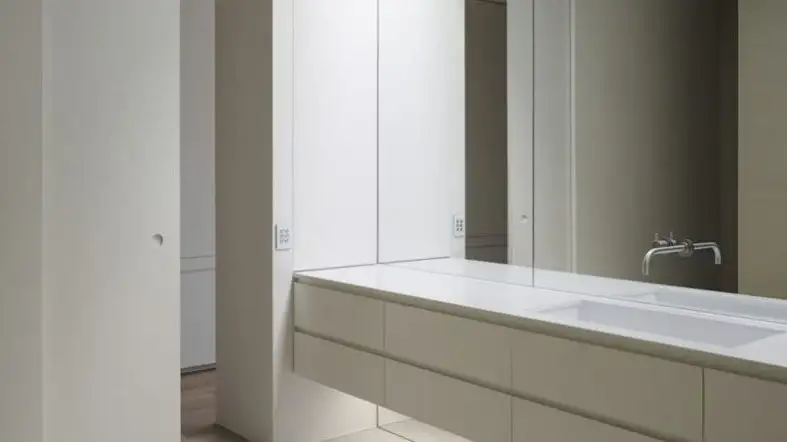 >> What size wall mirror for 24 inch vanity?
Vanity Design and Functionality
Design and functionality affect mirror size. A single sink vanity might need a smaller mirror. It fits the sink's width and looks tidy.
A double sink vanity might need a larger mirror. It spans both sinks and looks spacious.
If your vanity has lots of storage like drawers or shelves, choose a smaller mirror. This leaves wall space free. If your vanity is open or minimal, a larger mirror works.
It uses most of the wall and looks organized.
Bathroom Size and Layout
Bathroom size and layout matter. A small bathroom benefits from a large mirror. It reflects light and seems bigger. A large bathroom might prefer a smaller mirror.
It adds contrast and interest. Think about your bathroom's shape too. A rectangular bathroom matches a horizontal mirror. It looks balanced.
A square bathroom can use a vertical mirror. It adds variety.
Aesthetic and Style Preferences
Your style preferences influence your choice. A simple style pairs with a smaller mirror. It blends in and looks clean. A bold style goes with a larger mirror.
It stands out and looks dramatic. Mood is important too. Want a relaxing feel? Pick a smaller mirror. It creates cozy shadows. Prefer an energizing vibe?
A larger mirror reflects light. Your bathroom will feel bright.
Lighting and Fixture Considerations
Lighting and fixtures play a role. Poor lighting? A larger mirror helps. It reflects and adds brightness. Bright lighting? Choose a smaller mirror.
It softens the glare. Consider fixture types too. Overhead or wall-mounted fixtures pair with a smaller mirror. It prevents shadows and glare.
Integrated fixtures like LEDs match larger mirrors. They create a seamless look.
Frame Design and Material
The mirror frame matters. A thick frame like wood suggests a smaller mirror. It won't dominate the room.
A thin frame like glass fits a larger mirror. It gives a seamless appearance.
Installation and Mounting Options
Think about installation and mounting. Wall-mounted mirrors look best smaller. They seem sleek. Freestanding mirrors can be larger.
They add depth to the room. Simple installations like hooks suggest larger mirrors. Complex ones like wires hint at smaller mirrors. They're easier and safer to install.
Safety and Durability
Safety and durability are key. A fragile mirror like glass is safer smaller. A sturdy mirror like metal can be larger. Quality and warranty play a role too.
High-quality mirrors can be larger. They last longer. Low-quality mirrors fit smaller sizes. They're more affordable.
Budget and Cost Considerations
Your budget affects size choice. A high budget can buy a larger, feature-rich mirror. A tight budget suggests a smaller, simple mirror. Price range matters.
A wide range means you might choose a large mirror. A narrow range means a smaller mirror might fit.
Local Retailer and Supplier Availability
Local availability influences choice. Many local options mean a larger mirror might fit. Few local choices suggest a smaller mirror. Ordering online becomes easier.
Additional Features
Extra features change size needs. Want LED or touch control? A larger mirror might be needed. Want something simple? A smaller mirror saves space and energy.
Consider your bathroom's compatibility too. If your bathroom supports the features, choose a larger mirror. If not, a smaller mirror works better.
>> What is the best size mirror for a double sink?
How to Install a Mirror Above Your Vanity?
>> What mirror size for a pedestal sink?
Gather Your Materials
Check the instructions. Every mirror will come with its own. Then, lay out the hardware that comes with your mirror.
This might include screws, anchors, hooks, or brackets. Don't forget to also have the necessary tools.
Mark the Position
Choose the spot where you want the mirror. Use a tape measure to get the height right. It's important the mirror is centered on your vanity.
Use a pencil to mark this spot. Check with a level to make sure it's straight.
Drill Holes
Get your drill. Pick a drill bit that fits the size of your screws or anchors. Drill holes where you marked with the pencil.
This is where your hooks or brackets will go.
Hang the Mirror
Time to hang the mirror! Use the hardware from your mirror kit. Hooks, screws, and anchors will keep your mirror in place.
Make sure it's secure. A wobbly mirror isn't safe.
Manage Wires or Cords
Some mirrors have lights. If yours does, there might be wires or cords. Make sure to connect them. Also, keep them hidden. Tuck them behind or under your vanity.
Give It a Shine
Grab a soft cloth. Use some glass cleaner. Wipe down your mirror. You want it to look its best. Make sure it's free from smudges and fingerprints.
>> What size mirror for a 72″ vanity?
Best Mirror For 30 Inch Vanity
1. FRALIMK Rectangle Bathroom Wall Mirror
FRALIMK Mirror on Mirror 24×36 in Rectangle Bathroom Wall Mirror Beveled Edge Frameless Bathroom Vanity Mirrors for Wall, Decorative Rectangular Wall Mirrors for Bath, Entryway, Living Room, Bedroom
Unique "Mirror on Mirror" Design: The "Mirror on Mirror" design makes this frameless rectangle mirror for wall look full of personality. This wall-mounted silver mirror for bathroom acts as not only a practical functional purpose furniture but also as an ornament to beautify the home space. Ideal decorative wall mirrors for bathroom, hallway, entryway, living room, bedrooms, vanity room
Crystal Clear Bathroom Silver Mirror: Made of 5mm HD environmental friendly copper-free silver mirror, this rectangular bathroom vanity mirror offers high reflective quality and gives you a clear, clean reflection experience. Large reflective mirror makes small spaces look larger
A Luxury Elegant Wall Decor Mirror: An artistic display on its own, this frameless bathroom wall mirror is a beautiful part of any home decorating scheme. These modern frameless beveled edge mirrors for wall can also add light and enlarge the feeling of any space. Decorate your wall and bring sophisticated elements and enhance the beauty of any room in your home
Modern Frameless Decorative Mirror For Wall: This mirror is a great addition to any living space. A classic design trick, placing mirrors strategically in a small room helps open up the space, it enlarges the feeling of any room, or add one in an area that reflects windows to bring in additional light
Much Easier to Hang: With upgraded hanging bracket instead of the previous hanging holes, this FRALIMK wall mirror for bathroom is much easier to hang onto the wall, making this rectangle mirror easy to be hung in 10 minutes. And it supports both vertical and horizontal hanging
Buy with Confidence: The packaging has passed all tests including the dropping test, impact test, and heavy pressure test before it was shipped. If there are any quality problems when you receive the mirror, please feel free to contact us and we will either give you a replacement or a full refund
Perfect Gift: A perfect Christmas, New Year, Thanksgiving, Mother's Day, Father's Day, Birthday Gift for your relatives and friends to upgrade the bathroom
Check Latest Price On Amazon
2. BEAUTYPEAK Rectangular Mirror with Metal Frame
BEAUTYPEAK Wall Mirror 26″ x 38″ Rectangular Mirror with Metal Frame Rectangle Hanging Mirrors Set for Living Room Bedroom Bathroom Entryway Hangs Horizontal or Vertical, Black
Premium Quality Materials – Rectangular wall mirrors are made of true HD glass that will not distort the image from any Angle. Our fully sealed metal frame & simple design endow the mirror anti-water, shockproof, more stable & longer working life. We use commercial level material to provide a perfect black metal frame mirror to customer
Safe and Beautiful – Shatter-proof membrane, scatter prevention, keep you and your family safe enough. Square Mirror features an aluminum alloy frame, durable and fadeless. The rectangle black stainless steel frame would protect the mirror also adds elegance and class for bathroom and bring simple sophistication to any room
Perfect Size – This wall mounted mirror size is 26 x 38 x 1.2 inches black framed beveled rectangular mirrors. The rectangular mirror is a great choice to decorate your wall with this vanity hanging, making space appear larger and brighter
Easy to Install – Each piece of mirror has been polished Manually, metal bracket is pre-install on the back of the mirror. The package includes the necessary accessories for installation, safe installation will not take a long time. You can hang the mirror both horizontally or vertically / Landscape or Portrait
Adapting to Various Field: The mirror is ideal for bathroom mirror, bedroom mirror, living room mirror. Sleek, modern design that fits in a wide variety of interiors, for example, in hotel and in office. Mirror can not only for admire your appearance, but also hide imperfection
Check Latest Price On Amazon
3. TEHOME Farmhouse Large Black Metal Framed Pivot Rectangle Mirror
TEHOME 27 x 35 inch Farmhouse Large Black Metal Framed Pivot Rectangle Bathroom Mirror Rounded Rectangluar Tilting Beveled Vanity Mirrors for Wall
PRACTICAL YET BEAUTIFUL DESIGN: One of our best-selling rectangle pivot vintage bathroom mirror collection! Framed in metal for unrivaeld strength. Tilting up or down to adjust viewing angle for either standing or seated mirror use. Also this pivoting mirror is coming with an elegant and generous 3/4" bevel. An easy fit in your bathroom aesthetics no matter it's Chic Modern or Rustic Farmhouse.
DIMENSION: Overall (Includes Pivot Grommets): 27″ wide x 3.25″ deep x 35″ high, Excludes Tilot Gromments: 23″ wide by 34″ high, Mirror is elegantly beveled in a classic rectangle design.
STURDY WALL BRACKETS: This black rectangle edge tilt vanity mirror comes with adjustable wall brackets , each bracket is premium quality zinc alloy material, which is extremely durable and safe, avoid loosening, slipping or rust found in some other cheaper brands.
SIMPLE ASSEMBLY: Mounting hardware, instrcutions and scews & anchors included
HASSEL FREE RETURNS: We stand by our products and your happiness with a 100% money back guarantee. Direct factory with over 30 years of professional manufacturing experience in mirror industry.
Check Latest Price On Amazon
FAQs About Right Size Mirror For 30 Inch Vanity
What shape of the mirror is suitable for a 30-inch vanity?
The shape of the mirror largely depends on your personal preference and the overall style of your bathroom
Should I consider the height of the mirror?
Yes, you should consider the height of the mirror as well.
Can I use a frameless mirror for a 30-inch vanity?
Yes, you can use a frameless mirror for a 30-inch vanity.
Can I customize a mirror for my 30-inch vanity?
Yes, you can customize a mirror to fit your 30-inch vanity.
Where can I find mirrors for a 30-inch vanity?
You can find mirrors for a 30-inch vanity at home improvement stores, furniture stores, bathroom supply stores, and online retailers.
The Final Verdict
A well-decorated home is no less than a paradise. Decorate your home with these magnificent vanity mirrors in your bathroom.
So if you want a 30-inch vanity with a perfect size mirror then don't be late. Set it and take your home in the 21st century.