Ever wondered if a generator can damage a refrigerator? It's a valid concern many overlook.
Dive into the specifics and understand the potential risks. By the end, you'll be equipped to protect your appliance and ensure longevity.
Stay informed and keep your fridge safe.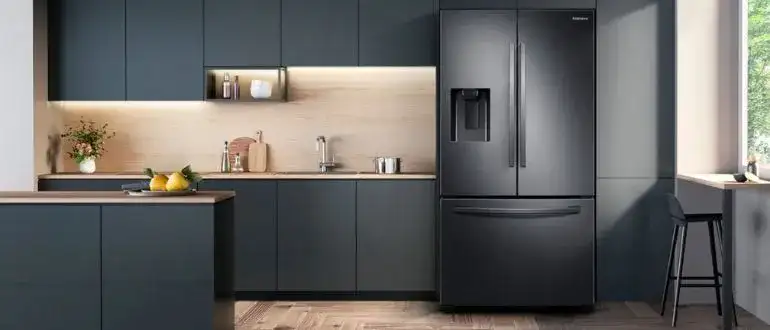 Click Here To Check Recommended Generators
Can A Generator Damage A Refrigerator?
Yes, a generator can damage a refrigerator if they're not properly matched in terms of voltage and wattage. Overpowering can overheat or burn the refrigerator's components. Make sure the generator can handle the appliance's wattage demand and its voltage.
Types of Generators and Their Compatibility with Refrigerators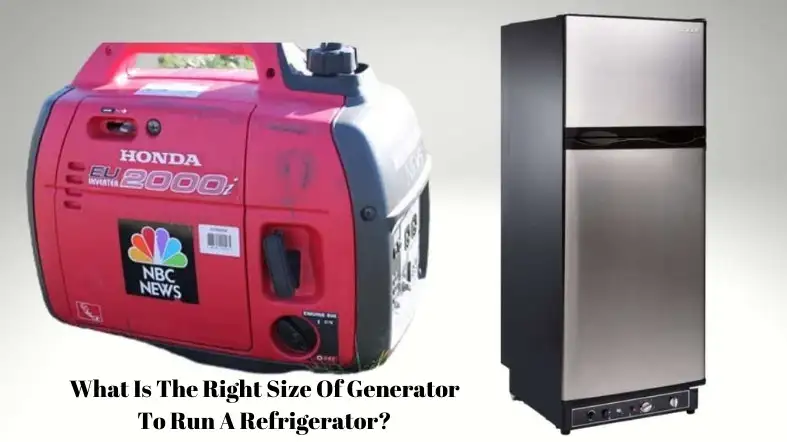 Portable Generators
Portable generators are small and easy to move. They use gas or diesel. There are outlets for plugging things in. These are great for emergencies or trips.
But they have problems. They can be loud and smelly. The power they make isn't always steady. This can harm fridges or other devices.
When using one with a fridge, you should check the fridge's wattage first. Then choose a generator with the right wattage. Use a matching extension cord.
Connect the fridge to the right outlet on the generator. Start the generator and wait a bit. Then plug in the fridge. The generator should be kept outside.
Check the fuel and oil often. Turn it off when you're done.
Standby Generators
Standby generators are big and stay in one place. They use natural gas or propane. They're connected to the home. They start automatically in power outages.
They make steady power. This is great for all devices. But they cost a lot. They also need a special setup. To use with a fridge, get a pro for the setup.
Pick the right wattage for your needs. The fridge should be connected as it usually is. Regular tests ensure it works right.
It should be kept safe and easy to get to. Fuel it up as needed and always check the oil.
Inverter Generators
Inverter generators are newer. They use gas or batteries. They're quiet and efficient. Their power is steady and safe. It's perfect for fridges and computers.
For fridges, check their wattage. Then choose the right generator. Get a matching extension cord. Use the right outlet on the generator.
Start it up and wait before plugging it into the fridge. It should be kept in a cool dry place. Keep it fueled or charged.
Solar-Powered Generators
Solar-powered generators use the sun. They don't make noise and cost nothing to run. Their power is safe and steady. This is great for devices like fridges.
To use, check the fridge wattage. Then get a generator with enough power. Use a good extension cord. Connect the fridge to the correct generator outlet.
Solar panels should be in the sun. They connect to the generator with special cables. Start up the generator and then plug it into the fridge.
Everything should be kept clean and safe.
Common Ways Generators Might Harm Refrigerators
>> Will a 2000 watt generator run a refrigerator?
Power Surges
A power surge is a rise in voltage. It can hit hard and fast. It can hurt your fridge. Reasons for power surges include lightning or bad wiring.
These surges can burn the inside parts of your fridge. They can even start fires. Surge protectors can help. They stop too much power from reaching your fridge.
Plug your fridge into one. Then plug it into your generator. Some protectors can help the whole house.
Inconsistent Power Supply
Sometimes power doesn't stay steady. This is an inconsistent power supply. It happens when your generator changes speed or runs low on fuel.
This can make your fridge act weird. It might not cool right. It might wear out fast. You need the right generator size.
This size should match the power your appliances need. Small generators can struggle. Big ones can waste power.
To find the right size, add up the power all appliances need. Multiply the result by 1.5.
Inadequate Power Capacity
Sometimes a generator can't give enough power. This is inadequate power capacity. It happens if you guess the power needs wrong.
Your fridge might not start. It might even get damaged. To keep your fridge safe, don't overload the generator. Check the wattage of your fridge.
Pick a generator with more wattage than you think you'll need. Use the right extension cord for your fridge and generator.
Plug your fridge into the generator outlet. Avoid multiple plugs in one outlet. Turn on your generator. Wait a bit. Then plug in your fridge.
Watch the generator for any trouble signs.
Electromagnetic Interference
Devices give off invisible waves. These waves can mix and cause electromagnetic interference. Nearby devices like radios can be a problem.
This interference can make your fridge act up. It might not work right with other devices. To stop this interference, use grounding techniques.
Grounding means connecting to the earth. It can block bad waves. You do this with special wires. Connect your generator and fridge to these wires.
Make sure the wires touch the soil or a metal thing.
Signs Your Refrigerator May Have Been Damaged by a Generator
Flickering Lights in the Fridge
When the lights in your fridge change, pay attention. They might flicker. Or get dim then bright. This could mean your generator has issues.
It's not giving steady power. This uneven power can hurt your fridge over time.
Abnormal Noises
Hear strange sounds? Like humming or clicking? Your fridge might be telling you something. These unusual noises suggest damage.
Your generator might have hurt some parts. Parts like seals or motors. Cracks might form. Or things inside might fail.
Inefficient Cooling or Freezing
Your fridge has a job. Keep things cold. If it's not doing that, there's a problem. Food might not stay fresh. Or ice might build up.
Spoiled food and mold are signs too. This suggests your generator hurt vital parts. Maybe the compressor. Or the thermostat.
Electronic Component Malfunction
Some fridges are smart. They have screens and buttons. If they act up, take note. Errors might show up. Or some functions might stop.
This means your generator might have damaged circuits. Or messed up the fridge's software.
Tips to Extend the Life of Your Refrigerator When Using a Generator
Avoid Continuous Use
Don't use the generator and fridge non-stop. It stresses both devices. And it wastes power.
Let the Generator Rest Periodically
Using both for hours? Give them breaks. Turn the generator off sometimes. Unplug the fridge too. Do this for 15 minutes.
Every few hours is good. It stops them from getting too hot.
Opt for Refrigerators with Surge Protection Features
Buying a new fridge? Choose one with surge protection. It shields against power changes. Generators can cause these changes.
Regularly Inspect Both Generator and Refrigerator
Look at both devices often. Check parts like cords and motors. Spot issues early. If you find problems, act fast. Fix them or call an expert.
Best Generator To Run A Refrigerator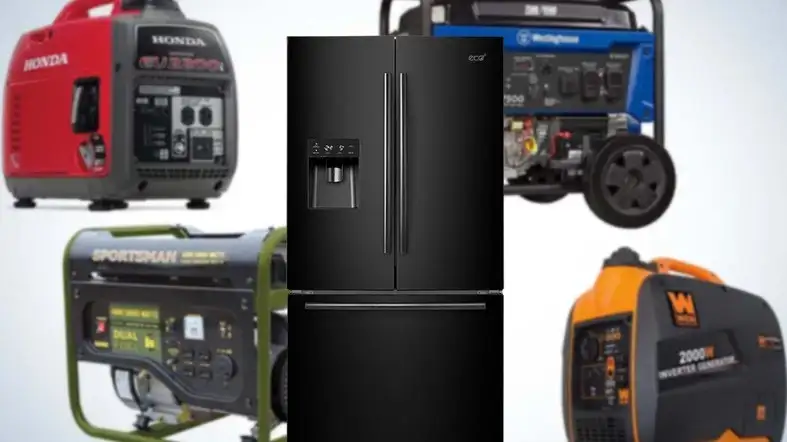 After in-depth research, we are picking some best generators that won't damage your refrigerator and are capable of giving you a smooth backup.
If you are looking for the best generators for refrigerators, then give a look.
Champion 3400-watt generator-Best for Overall
Champion 3400 watt is a dual fuel inverter generator that is cost-effective. You can run a fridge efficiently with this powerful generator.
The running power is 3100 watts, and if we count power drop, then you will get 2800-2900 watts of power continuously. 
So it is capable of running refrigerators along with other devices. If you only run a refrigerator, that means on 50-60% load; it will give you run time nearly 7 hours. It is easy to operate and improve fuel efficiency to reduce your fuel cost.
>> will a 5000 watt generator supply a welder?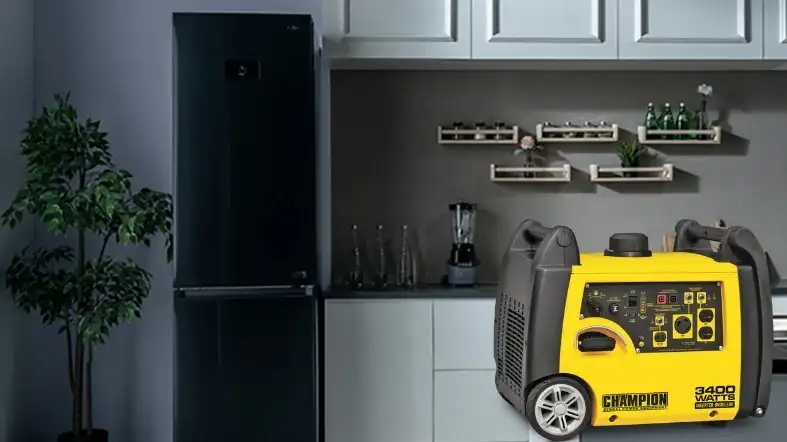 You can also carry it anywhere as it comes with a wheel kit.
Pros
Powerful and maximum run time
Cons
WEN GN400i-Best for Budget
It is a powerful generator on the market. You can not only run the refrigerator safely but also integrate other household appliances with it.
It is the best house generator I have ever used.
The continuous power supply is 3500 watts. You will get 3300 watts without any issues.
So if you only run a refrigerator, it can give you backup for 7 hours+. You can also run a TV and washing machine along with the refrigerator safely in this powerful generator.
It is a fuel efficiency generator that is a bit noisy. It has a low chance of damaging sensitive devices such as TV smartphones because it delivers power without voltage spikes.
Pros
Cons
Now you can ask why we pick a more powerful generator than a refrigerator.
Well, a generator is a costly investment that we not only buy for running a single device, right? 
So we picked a powerful generator so that you can run multiple devices safely without any worries.
Besides, more power helps you to enjoy the maximum run time. You can pick any of these to run the refrigerator without the risk of damage.
>> What distance can a generator be from the transfer switch?
FAQs on generator damage to refrigerators
Can A 2000 Watt Generator Run A Refrigerator?
Yes, a 2000 watt generator is capable of running most of the fridge.
How Long Should I Run The Refrigerator On The Generator To Keep It Cold?
You need to run the refrigerator for at least one hour on the generator to keep it cold for four hours.
Can An Inverter Generator Run A Refrigerator?
Yes, if you choose the right power inverter generator, it can smoothly run a refrigerator.
Is It Safe To Run A Refrigerator On A Generator?
Yes, it is 100% safe to run a refrigerator on a generator if you choose the right capacity generator.
Final Thought
Now you know a generator can damage a refrigerator if not used correctly. Armed with this knowledge, you're better prepared to protect your fridge.
Remember, staying informed can save you costly repairs. Keep your appliances safe and let them serve you longer. Always prioritize informed choices.