Can A Generator Damage A Refrigerator?
We may earn affiliate fees for purchases using our links (at no additional cost to you).
It is important to make sure your refrigerator is always running to avoid lots of food damage.
That is why people are looking for alternative power supplies to handle load shedding.
Many people consider a generator as a great backup power supply for homes. But they want to know, can a generator damage a refrigerator?
A refrigerator is an expensive and essential household appliance, so it is normal to get worried about its safety.
Here is an in-depth guide to running a refrigerator on a generator.
Can A Generator Damage A Refrigerator?
You can run the refrigerator safely on a generator if you maintain the right power capacity and precaution.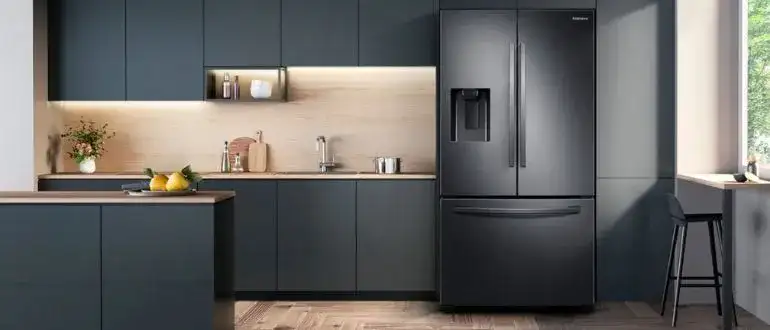 If your fridge consumes 1000-1200 watts of power and you use a generator that delivers only 800 watts of power, then it has a risk of damaging the refrigerator.
So, the generator size is important to avoid the risk. If you choose the right size of the generator, then it is the best source of power supply for a refrigerator.
Well, in the market, the latest refrigerator comes in different sizes, capacities, and wattage.
The power wattage varies from model to model, depending on capacity and technology. 
So before choosing any generator, you should consider the required power for your refrigerator.
Depending on the required power consumption, you should buy the right size generator that is capable of delivering sufficient power flawlessly.
As a result, you can successfully skip the risk of damaging the compressor, expansion, valve, and other components.
However, the fridge is not a sensitive device like a Smartphone or laptop. If you power up the refrigerator properly, there is no risk of damage like a sensitive device.
What Is The Right Size Of Generator To Run A Refrigerator?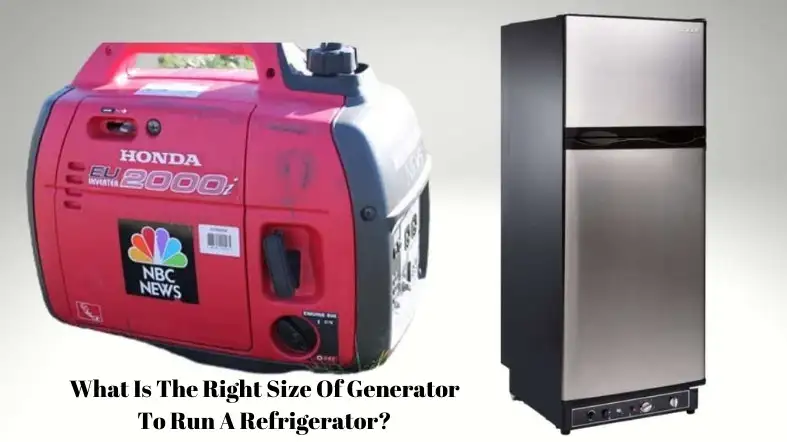 Every home uses a different size of a refrigerator.
Depending on the size and capacity, it requires different energy levels. A small refrigerator does not require much energy like an extra-large one.
So, there is no dynamic answer to select the generator size. Depending on your refrigerator's required energy, the right size can vary.
The simple way is to find out generator size checking the refrigerator starting energy.
When you know the required starting energy, adds 500 safe watts extra to buy the right size generator.
The generator can drop power 200-300 watts. That is why you should maintain the safest watt boundary to get the best outcome from the generator.
Generally, a common home fridge consumes 800-1200 watts, so a 2000 watts generator is ideal for running a generator.
It can deliver nearly 1800 watt power supply per hour. So there is no risk of damaging your refrigerator.
>> Will a 2000 watt generator run a refrigerator?
Best Generator To Run A Refrigerator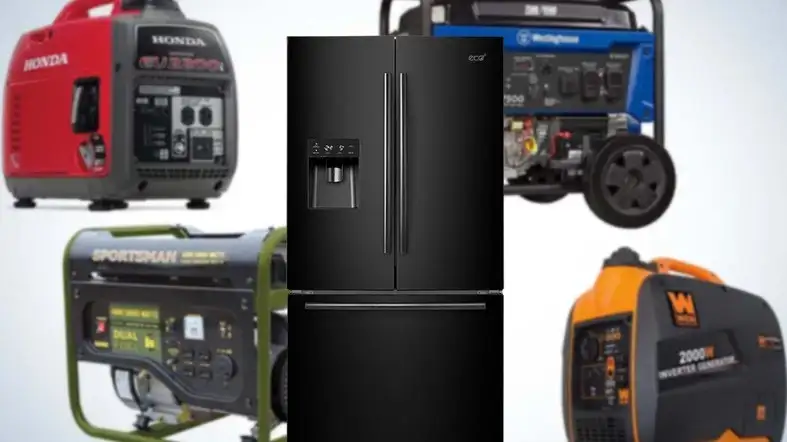 After in-depth research, we are picking some best generators that won't damage your refrigerator and are capable of giving you a smooth backup.
If you are looking for the best generators for refrigerators, then give a look.
Champion 3400-watt generator-Best for Overall
Champion 3400 watt is a dual fuel inverter generator that is cost-effective. You can run a fridge efficiently with this powerful generator.
The running power is 3100 watts, and if we count power drop, then you will get 2800-2900 watts of power continuously. 
So it is capable of running refrigerators along with other devices. If you only run a refrigerator, that means on 50-60% load; it will give you run time nearly 7 hours. It is easy to operate and improve fuel efficiency to reduce your fuel cost.
>> will a 5000 watt generator supply a welder?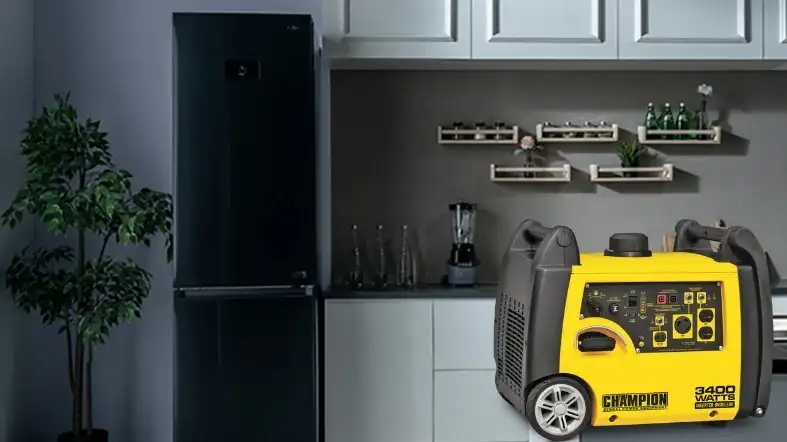 You can also carry it anywhere as it comes with a wheel kit.
Pros
Prevents Power surges
3-year warranty
Portable
Fuel efficient
Powerful and maximum run time
Quiet
Cons
WEN GN400i-Best for Budget
It is a powerful generator on the market. You can not only run the refrigerator safely but also integrate other household appliances with it.
It is the best house generator I have ever used.
The continuous power supply is 3500 watts. So undoubtedly, you will get 3300 watts without any issues.
So if you only run a refrigerator, it can give you backup for 7 hours+. You can also run a TV, Washing machine along with the refrigerator safely in this powerful generator.
It is a fuel efficiency generator that is a bit noisy. It has a low chance of damaging sensitive devices such as TV smartphones because it delivers power without voltage spikes.
Pros
Powerful engine
Affordable
EPA and CARB certified
Prevent device damage
Cons
Now you can ask why we pick a more powerful generator than a refrigerator.
Well, a generator is a costly investment that we not only buy for running a single device, right? 
So we pick a powerful generator so that you can run multiple devices safely without any worries.
Besides, more power helps you to enjoy the maximum run time. You can pick any of these to run the refrigerator without the risk of damage.
>> What distance can a generator be from the transfer switch?
Frequently Asked Questions
Can A 2000 Watt Generator Run A Refrigerator?
Yes, a 2000 watt generator is capable of running most of the fridge. Any refrigerator that requires a 1200-1500watt power supply can run by a 2000 watt generator.
How Long Should I Run The Refrigerator On The Generator To Keep It Cold?
You need to run the refrigerator for at least one hour on the generator to keep it cold for four hours. Depending on the fridge size and model, the duration can vary slightly.
Can An Inverter Generator Run A Refrigerator?
Yes, if you choose the right power inverter generator, it can smoothly run a refrigerator.
Is It Safe To Run A Refrigerator On A Generator?
Yes, it is 100% safe to run a refrigerator on a generator if you choose the right capacity generator. Make sure your generator can deliver the required power of a refrigerator to run it safely in a generator.
Final Thought
Due to natural disasters or other issues, when our home is out of power, we get worried about our stored food in the fridge.
If we can't give an alternate power supply, then the food can spoil. So, the best solution is to use a generator to keep the food fine.
But many people are afraid that the generator can damage your refrigerator. So they want to know can a generator damage a refrigerator.
Definitely, it is a misconception, and the refrigerator is not a sensitive device.
 If you buy the right size generator, there is no risk of damaging the fridge. So follow our guide to choosing the best generator for powering a refrigerator.