What Size Pressure Washer Do I Need?
We may earn affiliate fees for purchases using our links (at no additional cost to you).
A pressure washer is now an integrated part of a home, and industry to keep the area and equipment clean of mold, grime, and dirt.
But it varies in types, capacities, and performance, making it difficult to pick the right item for certain needs.
So if you are wondering what size pressure washer do I need and don't know how to determine it, keep reading.
In the following, we have revealed the right size pressure washer required for almost all kinds of cleaning tasks and described the entire information needed to achieve appropriate performance.
What Size Pressure Washer Do I Need?
The size of the pressure washer depends on the type of surface you'll work on and the quality of dirt you have to get rid of.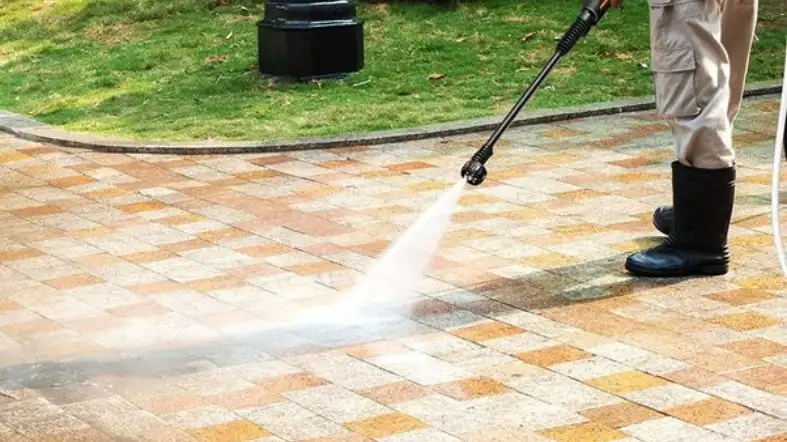 And pressure washers are categorized based on PSI rating, flow rate, and type to pick the right size for specific purposes. 
How Does Pressure Washer Work?
Let's start with the basics. A pressure washer is typically a mechanical spray that works through an electrical or internal combustion motor to run a high-pressure water pump.
It receives water at a lower pressure and releases it through the hose and spray nozzle at high pressure.
A pressure washer sprays high-pressure water to blow up stains and dirt.
The amount of pressure output is measured in PSI (pounds per square). And the GPM stands for gallons per minute.
It will be aware of the flow rate of water through the nozzle. In short, a pressure washer with higher PSI means more cleaning power, while a higher GPM will ensure faster performance.
>> What Size Generator To Run Electric Pressure Washer?
Why Does The Pressure Washer PSI Matter?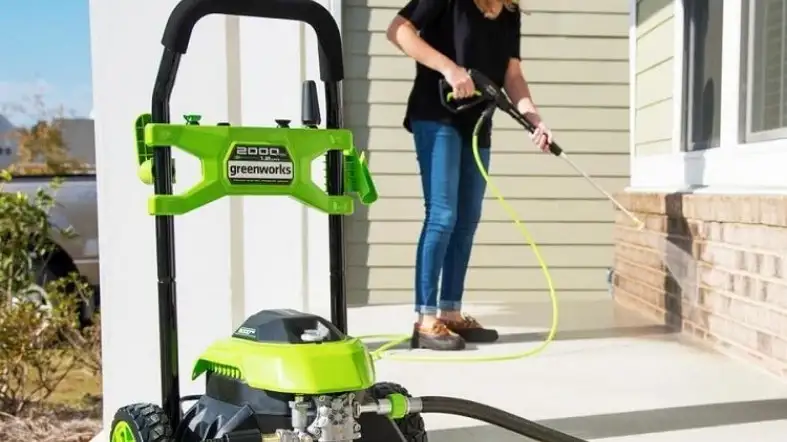 Buying a pressure washer without considering the required PSI will have two consequences.
A pressure washer with too low pressure will make the cleaning inefficient, while a powerful washer can damage the property.
In particular, the second case can waste your money on more tools than actual requirements.
Many homeowners believe that it's better to start with a small pressure washer and work your way up to the higher PSI, especially when you aren't sure about the PSI requirement.
Though this is a good idea to a specific extent, it can cost you to overbuy and waste extra money.
Don't fret. Following we have described the exact pressure washer PSI requirement for certain purposes, avoiding efficient cleaning, and ruining the property and money.
>> What Size Pressure Washer For 2 Story House?
The Amount Of Pressure Washer PSI Is An Actual Need For Certain Purposes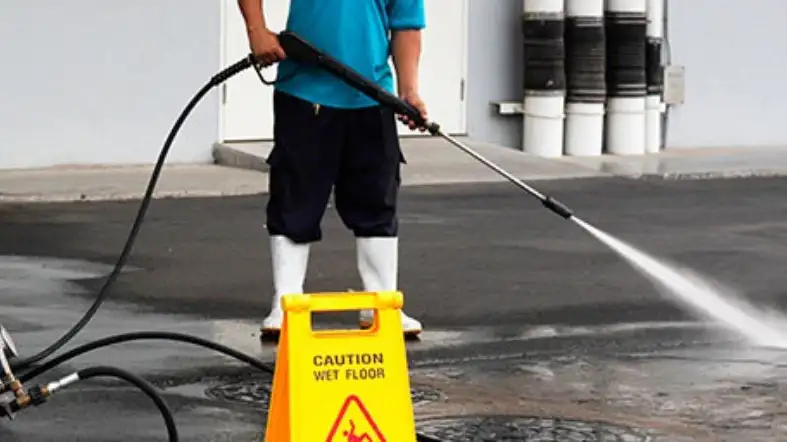 The requirements of PSI vary depending on the cleaning project.
While some surfaces can withstand low pressure, others require high pressure to clean completely.
However, some surfaces can handle any kind of pressure up to 3000 PSI.
So it can be a bit complicated to determine. Still, we have tried to make it easy for you. The following are different PSI ratings required for various cleaning jobs:
Light Duty
A light-duty pressure washer is preferable for light household cleaning jobs and regular maintenance jobs.
The PSI ranges in a light-duty pressure washer are 1500 to 1900, which is good enough to remove dirt and mild stains.
This pressure washer PSI rating is safest for any form of surface, but won't be able to remove tough stains.
Instead, you'll find the low pressure perfect for cleaning delicate surfaces inside of the house.
For example, the soffits, gutters, and windows are more fragile compared to the driveway or deck.
Therefore, these surfaces require extra care compared to the exterior.
Apart from that, a light-duty pressure washer is suitable for cleaning cars, trash cans, vans, and trucks as well.
You can also use this kind of pressure washer to clean outdoor patio furniture, wicker, and wooden furniture, avoiding splintering or warping.
>> What Size Pressure Washer Do I Need To Clean Concrete?
Medium Duty
A medium-duty pressure washer is suitable for cleaning oil stains and dirt buildup. The PSI ranges in such washers are from 2000 to 2800.
This medium-duty pressure washer is also safe for almost all surfaces, including brick, concrete, and wood.
You can utilize this pressure washer to clean siding, patios, decks, roofs, and fences.
A medium-duty pressure washer can remove stubborn stains and dirt efficiently, which could be tough for a low-duty one.
This kind of pressure washer can also clean wooden surfaces without creating splinters or chipping the wood.
But you shouldn't use this pressure washer on vehicles or windows.
The reason is that the windows can crack and the vehicles can dent due to higher pressure than needed.
Heavy Duty
The PSI rating on heavy-duty pressure washers ranges from 2,900-3,200.
This kind of pressure washer is ideal for blasting away barnacles and algae from boats or yachts that have gotten stuck on the bottom of them.
A heavy-duty pressure washer is also commonly used to clean sidewalks, driveways, and pathways as well as to prep various surfaces for painting.
Extra Heavy Duty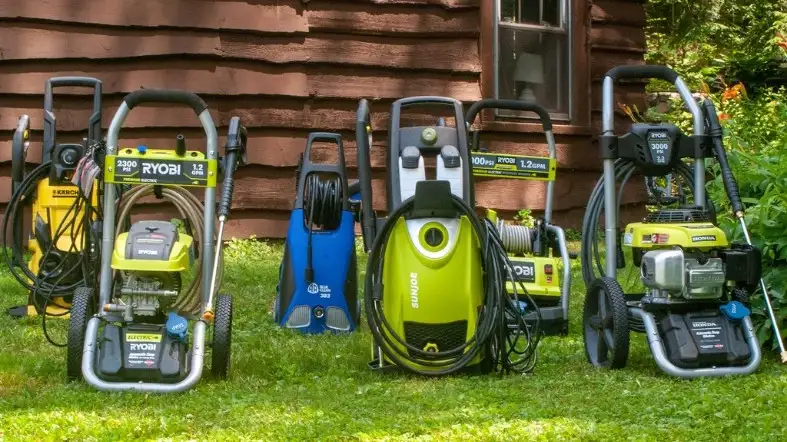 If you need to remove caked-on dirt or heavy stains from driveways, then using the extra heavy-duty pressure washer will be the right decision for you.
Its PSI rating ranges from 3300 to higher.
But don't use this form of pa ressure washer on painted fences, floors, or walls. Otherwise, spraying water at around 4000 PSI will strip the paint off of surfaces.
Instead, use this pressure washer to remove graffiti on walls.
This type of pressure washer is also preferred as an industrial cleaning solution and is suitable for use in construction, trucking, food service, or other industrial purposes.
Apart from the PSI rating, there are also some other factors that you should consider to pick the right pressure washer for your needs.
> What Size Garden Hose For Pressure Washer?
Flow Rate
The amount of water that leaves a nozzle is called a flow rate, and it's measured in LPM (liters per minute).
It's an essential aspect to consider, especially for commercial and professional cleaning projects.
The right flow rate helps the operator clean more areas efficiently and within a short time.
Hours Use Per Week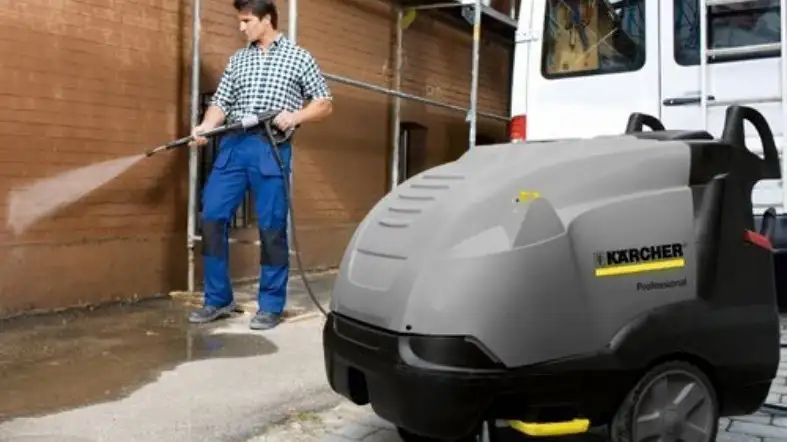 While determining the right size pressure washer, figure out how many hours you'll need to run it per week.
Different types of pumps are available that can deliver the same flow rates and PSI but affect the cost and durability of the machine.
Types Of Pressure Washers
Pressure washers come in various types, which you can set apart depending on their power sources, the temperature of the water they use, and the usage.
Electric Vs. Gas Pressure Washers
Pressure washers are available in two types, including gas and electric. An electric pressure washer is perfect for smaller jobs.
Its PSI rating ranges from 1000 to 1500 while the GPM is around 1.5.
These types of pressure washers are lighter, quieter, and cheaper compared to gas models.
Electric pressure washers also don't require much maintenance and are preferable for cleaning off outdoor furniture, vehicles, and tires.
But the mobility of an electric pressure washer is limited due to its power cord and power outlet. Even the electric washer isn't compatible with the extension cord.
Conversely, a gas pressure washer comes with up to 2000 PSI and 4 GPM capacities.
These models are perfect for medium to heavy-duty cleaning jobs like washing sidewalks, concrete, siding, or removing graffiti and paint.
Cold-Water Vs. Hot-Water Pressure Washers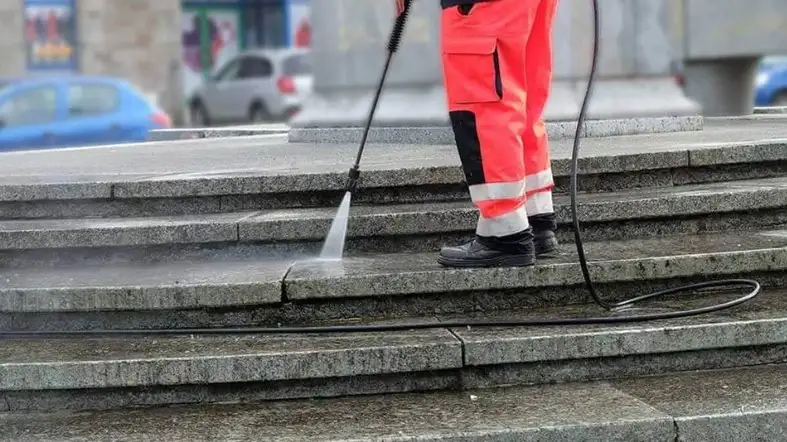 Cold water pressure washers are suitable for removing dirt, mud, and sand. These come in a more compact size and cost a relatively lower price than hot water models.
Cold water models depend on the sheer power of pressurized water to get rid of dirt.
You can use detergent on a cold water pressure washer, but it won't be a good idea to clean greasy or oily surfaces.
Conversely, hot water pressure washers are suitable for more difficult cleaning projects. In general, hot water cuts through oil and grease more easily.
Plus, hot water models can clean quickly, even using less detergent compared to cold water models.
Lastly, hot water pressure washers are costlier, bulkier, and have considerably lower PSI.
Commercial Vs Residential Pressure Washers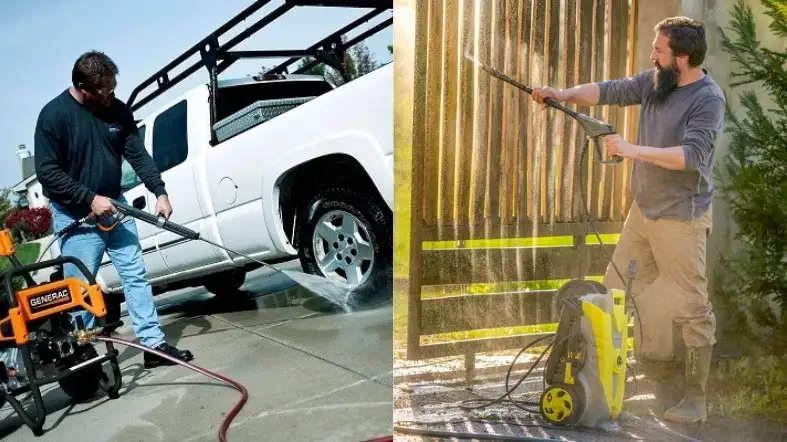 In general, commercial pressure washers are used for business purposes like cleaning storefronts, equipment, and workstations.
But currently, many homeowners have started using this type of pressure washer to keep hard household surfaces clean.
The key differences between commercial and residential types are the amount of power, building materials, and run time.
Overall, commercial pressure washers are more durable and have more cleaning power, as well as being more expensive than residential models.
The Right Size Nozzle For A Pressure Washer
Using the right size nozzle based on a certain surface is vital along with determining the size of the washer, particularly to have improved performance.
A basic rule of thumb is that the smaller the nozzle opening, the more concentrated the spray will be. 
But remember, too concentrated a spray can damage the surface, making it crucial to pick the right size.
In this case, you can test various sized nozzles on the concrete surface to pick the right one safely.
Luckily, lower PSI pressure washers come with adjustable nozzles to let you to alter the flow rate while cleaning.
This eliminates the need to remove the nozzles every time before cleaning different surfaces.
Conversely, a higher PSI pressure washer includes multiple nozzle tips along with a universal color-coding system to determine the spray angle.
The following are some color codes with their spray angles:
Black Nozzle
The black nozzle sprays soap and detergent at a 65-degree angle onto the surface at a lower pressure.
White Nozzle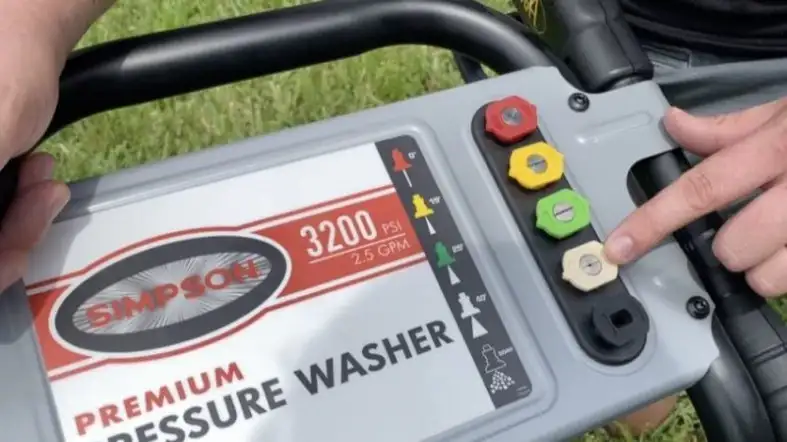 White nozzle spray water at a 40-degree angle at low pressure, making it perfect for cleaning fragile surfaces like windows.
Green nozzle
This colored nozzle sprays water at a 25-degree angle and is commonly used in household cleaning tasks.
It means you can use this nozzle to get rid of dirt and mud from decks, siding, or patios. 
With a little extra attention, you can use this nozzle to clean cars and boats as well.
This green nozzle is wider than the yellow or red nozzle and can clean a larger surface quickly.
Yellow nozzle
This 15-degree yellow nozzle delivers concentrated spray, making it perfect for washing mildew, stains, and paint off tough surfaces like concrete.
However, this nozzle can damage wood or other softer surfaces.
Red nozzle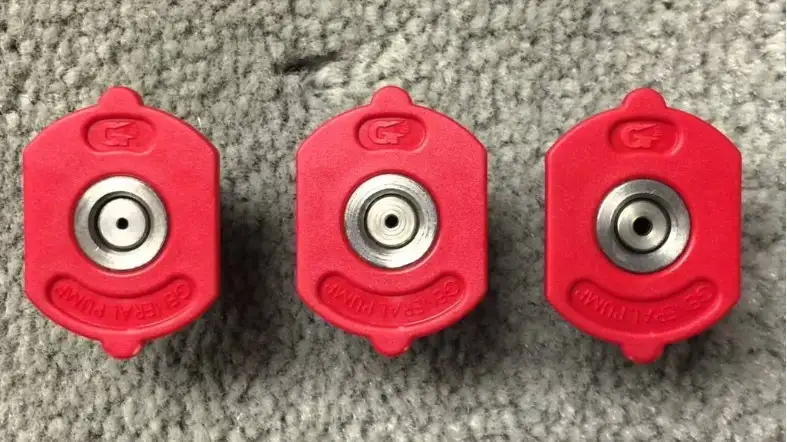 The red nozzle prays at zero degrees and produces highly concentrated water. This nozzle is only safe for hard surfaces like metal and concrete.
Another common type is a rotating nozzle, which can spray in a circular motion.
Despite this, some pressure washers include adjustable wands to set the pressure and spray pattern without changing the tip.
Pressure Washing Safety Tips
Operating a pressure washer is a risky and messy job. Thus, it's worth taking the time to prepare and follow safety tips while working with it.
Eye and hearing protection
A pressure washer is quite noisy and can spray back the water and debris toward you while operating at high pressure.
In these cases, wearing goggles and hearing protection is essential to protect the eyes and ears.
Use both hands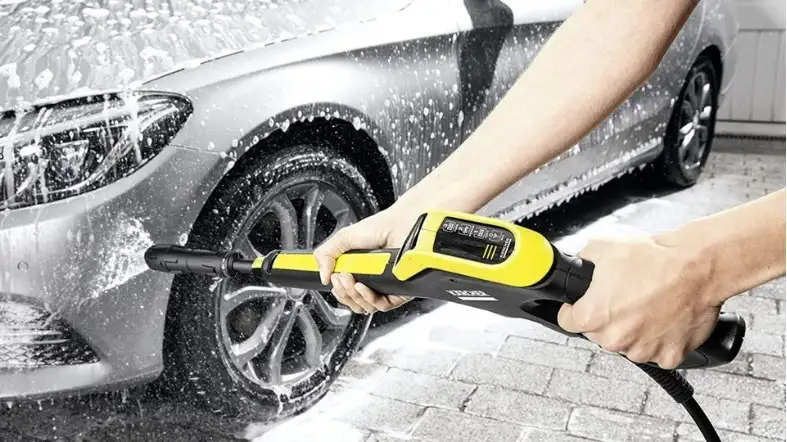 Hold the wand of the pressure washer securely with both hands to prevent it from flying out of the grip.
Keep following these tips until you gain confidence and get a reliable hand.
Don't get too close
Keep the spray tip around 18 inches away from the surface to minimize the risk of ruining the surface due to high pressure.
Be careful with windows
Pay extra attention while cleaning the windows, especially if they are old. The water pressure can be too strong for the pane and smash the window.
In this case, use lighter pressure to clean the windows, and it's better to check the manufacturer's suggestion before starting the job.
Test the pressure
As said earlier, test an inconspicuous area using the spray setting nozzle before starting washing.
This will prevent damaging the surface due to applying too much pressure.
For example, washing paving using a too narrow nozzle can cause grooves in the surface.
Don't pressure wash older siding
You shouldn't pressure wash older siding that was painted before 1978, as this requires a professional power washer.
The reason is that old paint can flake off during pressure washing as it can contain lead. The dust and chips of lead paint are dangerous to inhale.
While the professional is washing your older siding, keep the family, pets, and yourself away from the working area.
FAQs
Which One Is Better: Renting Or Buying A Pressure Washer?
There is a large controversy between renting and buying pressure washers due to their price. But the fact is that it depends on your needs. If you need a pressure washer 3 or 4 times a year, you should rent one. But if you have a huge pressure-washing task, invest in your own.
What Size Pressure Washer Do I Need For Home Use?
A pressure washer with 2,000 to 3,200 PSI is the most versatile option for most household jobs. It means you can use this size of pressure washer for cleaning cars, fences, home siding, grimy garage floors, and boats. But if you need to wash tough stains around the home, consider 3200 PSI.
Can I Clean The Driveway Using A 2000 Psi Pressure Washer?
Of course, a 2000 psi pressure washer is good enough to clean the driveway effectively within a short time.
What to search for in a pressure washer?
Apart from determining the right size pressure washer, the other features to consider are:
Horse Power (HP)
Gallons per Minute (GPM)
Pounds per Square Inch (PSI)
Cleaning Power Units (CPU)
Pressure Washer Hoses
Electric Motors
Pressure Washer Wands and Tip
Gas Engines
Final words
A pressure washer is a far better choice than a garden hose to remove grime, dirt, and grease from the surface and keep them clean. It also saves water and ensures faster operation with a better result.  
But you won't find the pressure washer beneficial if you don't know what size pressure washer do you need and invest in the wrong items.
Hope you will avoid this mistake and get the desired performance after reading this in-depth pressure washer size guide.