What Size Pressure Washer Do I Need To Clean Concrete?
We may earn affiliate fees for purchases using our links (at no additional cost to you).
Pressure washers are a great way to clean large areas of concrete, like driveways, walkways, and patios.
They use a high-pressure spray of water to clean the concrete surface, and they do it quickly. 
There are a lot of people who wonder, "What size pressure washer do I need to clean concrete?"
When deciding to purchase a pressure washer for your home or for any other purpose, the size of your power washer needs to be is an important first question to ask. It depends on various factors.
Read the article to know your answer. You will also know how to use the pressure washer properly.
What Size Pressure Washer Do I Need to Clean Concrete?
The majority of electric pressure washers produce between 1300-1700 pounds per square inch of pressure (PSI) with a water flow of 1.5 gallons per minute (GPM),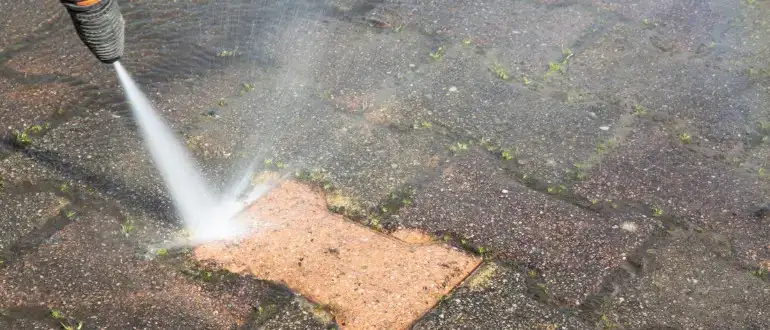 However, experienced contractors recommend between 2000 and 3000 PSI and a flow of at least 2.5 gallons per minute (GPM) to clean dirty concrete.
Powerful water is sent out by an electric motor to clean what you want. It's like a garden hose, but with more power to get rid of stains and dirt. 
The pressure washer can use detergents, and hot or cold water, depending on the machine that is being used to clean the surface.
It is called pounds per square inch because the water has a lot of pressure (PSI). 
Gallons per minute are used to measure the flow rate of the machine, and it is shown in this way: (GPM).
There are two things that work together to make the water flow and the pressure needed to clean surfaces. 
The source of the water is another thing to think about. It needs to be able to keep up with the flow rate of the pressure washer.
Other Things to Consider While Buying Pressure Washer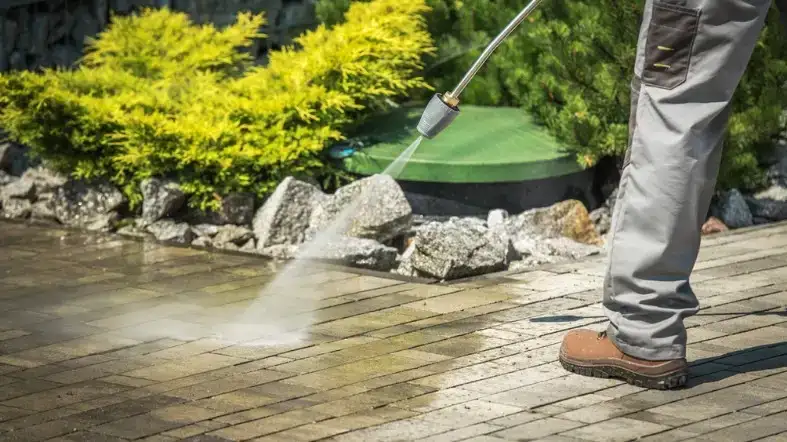 Flow rate and the type of nozzle 
Once the water pressure is sufficient, flow rate determines how quickly contaminants are flushed from the surface, as well as how quickly the surface is cleaned.
Heavily soiled concrete needs more flow. 
Some contractors say that a power washer with a flow rate of 5 or 6 GPM is best. In order to clean vertical surfaces, higher flow rates aren't as important.
This is because gravity helps the dirt and debris move off the surface.
The speed of cleaning can also be sped up by using a rotary nozzle instead of a fan nozzle. 
In order to make a fan pattern, standard water nozzles bend the water in an angle, which slows the water down. 
Water that isn't thrown back by a nozzle is spun in a circle by a Rotary Nozzle, so the water leaves the nozzle faster.
Wheel-mounted cleaners VS standard power-washing wands.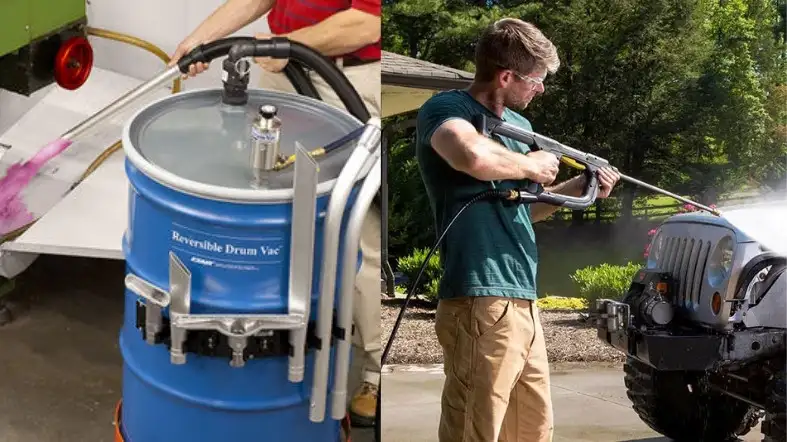 If you need to clean a lot of flatwork quickly, try a power washer that looks like a lawn mower.  Inside the metal case are nozzles that are mounted on spinning bars. 
When you use a standard power-washing wand, it takes a long time and is very tiring. It's better to use a walk-behind washer because it's faster and easier on your body.
Hot VS Cold Water Machines
Cold-water power washers are cheaper, lighter, and easier to use than hot-water units, which need a large heating coil and burner system to heat the water.
They also don't have as many parts.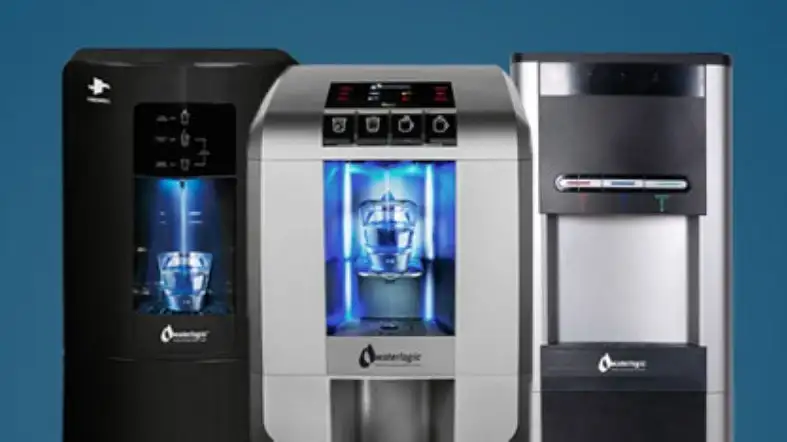 Cold-water units may cost $2,000 and weigh 200 pounds, but a hot-water unit may cost more than $3,000 and weigh 400 pounds.
However, hot water cleans faster than cold water, and this is true for power washing as well.  
Despite the fact that cold-water units are good for removing dirt and can often be used for small, residential jobs, most commercial power-washing contractors think that using hot water is worth the extra money.
When you need to clean oil and grease, the benefits of hot water are clear.
>> What power washer size for 2 story house?
How To Use A Pressure Washer To Clean Concrete
Most brick and concrete surfaces should be cleaned with hot water.
For concrete driveways, patios, pools, and other hard-surface areas, the 25-degree nozzle is usually the best, but some people like to use a 40-inch nozzle instead.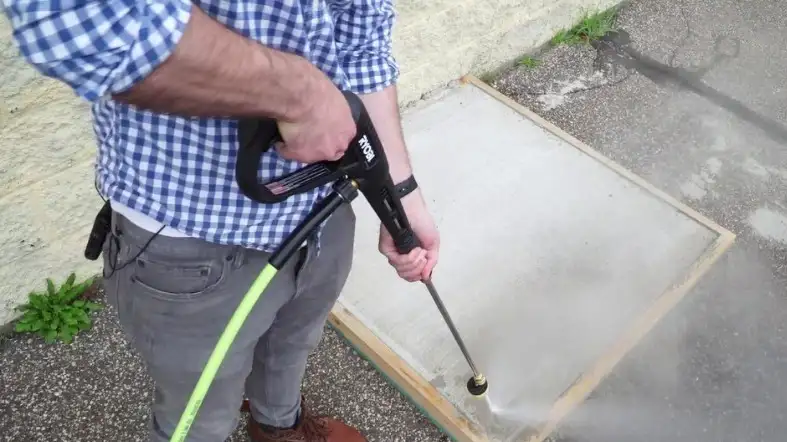 Play around until you find the best one for you. It's best to start about 12 inches from the surface and spray with an even sweeping motion, like this:
A lot of force will be thrown back at you if you don't keep your nozzle at a right angle.
Try to make all of the dirt and debris run off to a single place, and use a wide spray tip to clean up any loose debris.
When you need to clean concrete, it's best to first use a good degreaser.
Use a wire brush to scrub the product into the concrete, or you can use the attachment that comes with your high-pressure washer to do it. 
Many high-powered pressure cleaners come with degreasing attachments that are designed to clean hard-to-reach places.
If you're looking for a natural way to get rid of grease, try vinegar. 
You can either use it as-is in the detergent tank, or you can mix it with 50/50 water first.
If you don't have an attachment, it's best to clean the concrete with a broom. Full-strength vinegar is good at getting rid of stains that are very dirty.
In order to clean concrete with your hands, you should make a mixture of 12 cups of baking soda and a gallon of water. Then, scrub the concrete clean. 
We don't think it's a good idea to put baking soda in your tank, though, because it can quickly damage your pressure washer's pump.
>> What size pressure washer do I require?
Precautions For Using A Pressure Washer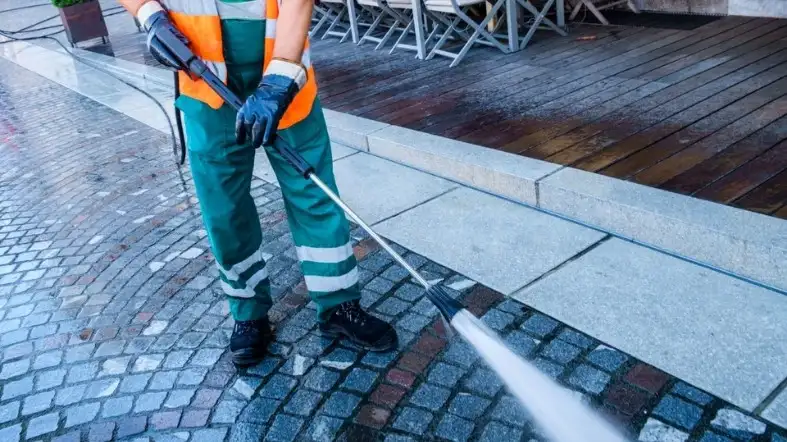 People who study concrete say that a stream of water at 2500 PSI can break up concrete in the right circumstances. 
The surface will be ripped up if you hold a single stream of water with 2500 PSI of pressure an inch above the ground. 
You should start at least a safe distance away and be careful near old brickwork and anything else that could fall down. 
When you're working near asphalt or gravel, only use a small amount of water to clean your hands and clothes. 
Make mistakes and you'll have to start over when you finish a project.
Stenciled or imprinted concrete should be avoided most of the time. 
Pressure washing can quickly damage the design if you aren't very careful. In this case, it's not like measuring the size of a 220-gallon fish tank! 
It's also not a good idea to try to remove any coatings or sealers, because you'll most likely blast a piece off the top layer of concrete before you can get the compound off of it.
>> What is the best impact wrench for auto work?
FAQs About Pressure Washers To Clean Concrete
Should I Seal My Concrete Before Washing With 3000 PSI Pressure Washer?
Concrete is frequently sealed using a sealer from a hardware store or online. Sealer is applied to the surface with a paint roller or brush and left to dry for a few hours.
Painting a seal on a warm day before dawn allows the sealant to dry before the sun rises. With a sealant, you provide a strong coating between your concrete and the elements.
This will help protect your concrete and prevent further damage from your pressure washer.
Can A Pressure Washer With 3000 PSI Clean Concrete?
Most electric pressure washers produce 1300-1700 PSI with a water flow of 1.5 gallons per minute (GPM), however expert contractors recommend between 2000 and 3000 PSI and a flow of at least 2.5 GPM to efficiently clean dirty concrete.
Will A High-Powered 3000 PSI Pressure Washer Remove Sealant From Concrete?
A water-based sealer can be taken off with a chemical etch, a high-pressure wash, or by cutting it off. You can use the water-based sealant after it has dried. Keep in mind that Xylene can damage or change the color of concrete that was stained or dyed with it.
Final Thoughts
Hopefully, you have got the answer to the question, " what size pressure washer do I need to clean concrete?" The size and type of pressure washer that is right for the job will depend on what the job is. 
The danger of buying a cheaper model with less PSI and GPM is either double the time it takes to finish a job or not having enough power to finish the job. So, be aware of the right size and type of your pressure washer.