What Size Rug For Bedroom With Hardwood Floors?
We may earn affiliate fees for purchases using our links (at no additional cost to you).
Rugs are a great way to add some color and personality to your bedroom.
But what size rug for bedroom with hardwood floors? In this article, we'll help you figure out the right size and type of rug for your bedroom.
What Size Rug For Bedroom With Hardwood Floors?
It depends on how much space you want the rug to take up. For a small space, go with a 4×6 or 5×7 carpet.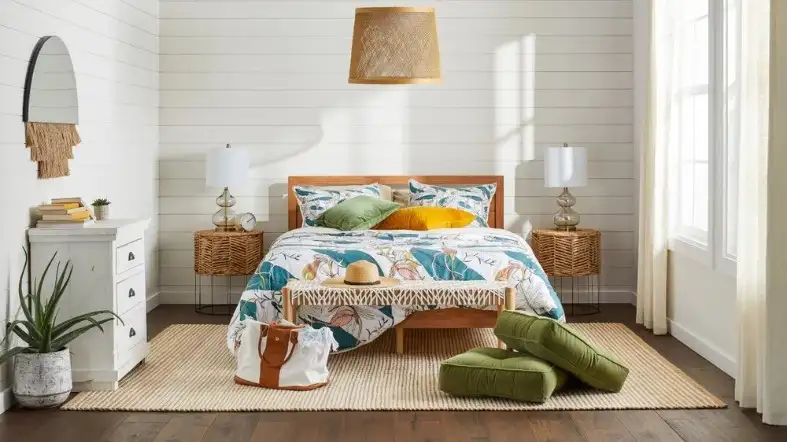 If you want the rug to take up more space, choose an 8×10 or even bigger one. 
Make sure that the rug is big enough so that all your feet can touch it while lying in bed.
Regarding specific dimensions, a good rule of thumb is to leave about 18 inches of space around the rug's perimeter. 
This will ensure that the rug doesn't look too small or too large in relation to the rest of the room. Check out the below table for more specific sizing recommendations.
| Room Size | Rug Size |
| --- | --- |
| 5 x 7 feet | 3 x 5 feet |
| 7 x 10 feet | 5 x 8 feet |
| 10 x 12 feet | 8 x 10 feet |
| 11 x 14 feet | 9 x 12 feet |
| 14 x 17 feet | 12 x 15 feet |
As you can see in the above table, the larger the room, the bigger the rug can be. But don't go too crazy with size.
You don't want the rug to overwhelm the space. So, when in doubt, err on the side of a smaller rug.
What Kind Of Rug Is Best For A Bedroom With Hardwood Floors?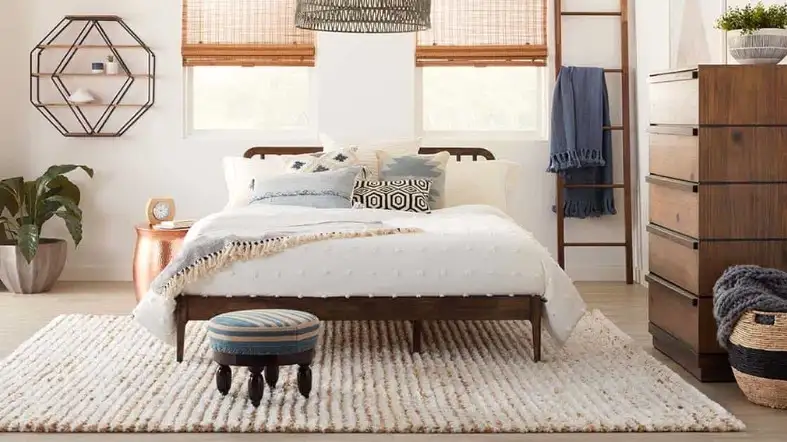 Homeowners often view hardwood floors as a status symbol and can also be used with rugs.
Rugs can help protect your hardwood floors and also add a personal touch to your home. 
Although nearly any type of rug can work with a hardwood floor, some pairings are better than others. The following rugs are ideal for hardwood floors:
Persian Carpets
Cotton Carpets
Woven Wool
Plant Fiber Rugs
Cowhide
Persian Carpets
Persian carpets are one of the most popular types of rugs for hardwood floors. They're durable and elegant and come in various colors and patterns. 
It's made from a combination of wool, silk, polyester, and cotton.
The intriguing patterns of a classic rug style can make your room look more exotic and give it a touch of sophistication.
Traditional rugs are beautiful, durable, and inexpensive.
One of the primary reasons individuals choose to install carpets is that they're available in almost any color and can be utilized in nearly every room style.
These work best in bedrooms and living rooms. A Persian carpet is an excellent option if you're looking for a luxurious rug that will make a statement.
Cotton Carpets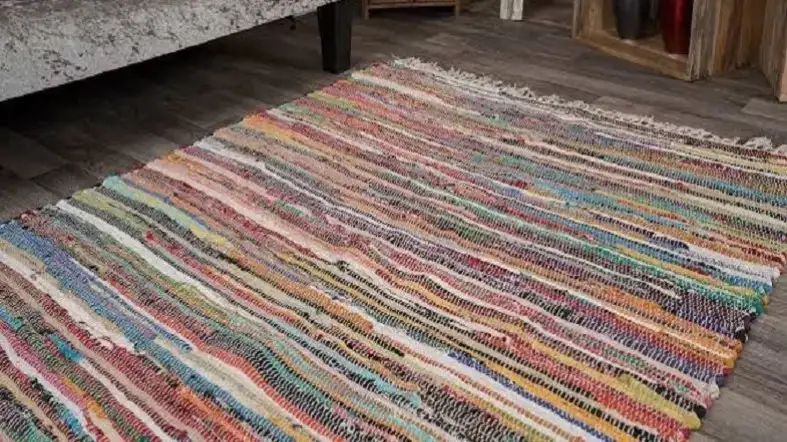 Cotton is a natural fiber that's often used in rugs. It's durable, soft, and easy to clean. Cotton carpets are available in various colors, patterns, and styles. 
When we say this sort of rug, many people think about the cotton-based "area rug" design of carpeting typically seen in contemporary, modern, and industrial rooms. 
The most typical carpeting is the hardwood floor-friendly wool rug.
They're fantastic with hardwood floors and are generally single-colored. So, they tend to go with anything.
Woven Wool
Are you looking for a rustic feel in your home? Woven wool rugs are an excellent choice for hardwood floors.
They're made of natural fibers, so they're environmentally friendly. 
Wool is also durable and easy to clean. These rugs are available in a variety of colors and styles. If you want a rug that will last for years, choose a wool rug. 
Most woven wool rugs are grey, white, beige, or tan, resembling thin, flat, and somewhat rustic carpets.
Did you know that wool rugs don't always have to be one solid color? 
You can find socks in all sorts of patterns, including geometric designs. If you want a modern carpet with a touch of the "wild west," this is it. 
Plant Fiber Rugs
With so much attention on going green these days, it's no surprise that people are becoming more interested in plant-based carpets and rugs. 
This term generally refers to rugs made from cotton.
However, we'll concentrate on some of the newest rug materials that are gaining popularity, such as jute, bamboo, and straw. 
If you're interested in an environmentally friendly and natural fiber rug, this is your category.
These rugs are usually made from renewable resources and are biodegradable. 
They're also often inexpensive. Moreover, they're made from plants and tend to be quite durable.
If you're looking for a natural fiber rug that will make a statement, then go for one made from bamboo or jute.
Cowhide
Cowhide is a popular choice for hardwood floors. It's durable, easy to clean, and has a natural look that goes well with many different types of flooring. 
Do you enjoy the rustic farmhouse style? Perhaps you have a log cabin in the woods that you'd want to turn into a log cabin of legend. 
If you don't have any objections to using a rug made from animals, this might be the one for you.
These rugs usually become conversation starters and look best in living rooms or bedrooms. 
You can find them in various colors, but black, brown, and white are the most common.
Choose a cowhide rug if you want something that's both stylish and practical.
As you can see, there are many different types of rugs that you can choose from for hardwood floors.
Consider the style of home, the amount of foot traffic in each room, and budget when making your decision.
With so many options available, you're sure to find the perfect rug for your needs.
How To Measure And Place An Area Rug For Bedroom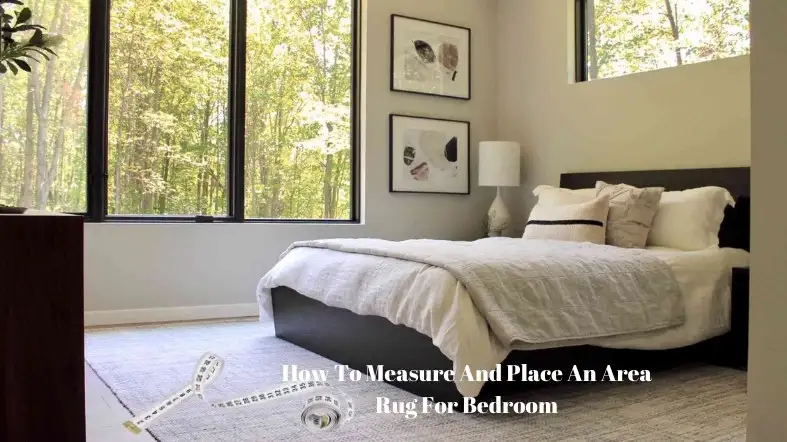 When it comes to choosing an area rug, size does matter. Not only do you need to make sure the carpet is large enough to fit the space. 
But you also want to ensure enough flooring around the rug's perimeter. So, it doesn't look out of proportion. 
Here are a few tips on measuring and placing an area rug in a bedroom:
Employ masking tape to create a floor border. Measure the length and width of the room. This will give you a good idea of what size rug you need.
Decide where you want the rug to be placed. In most cases, it's best to center the rug in the room. But you may also want to put it under a piece of furniture, such as a bed or dresser.
Keep 18 inches or more of space around the room's perimeter to help define its layout and establish walking areas.
If the room is smaller, leave 8 inches of space.
To avoid picking the incorrect area rug size, give yourself a 2-inch margin of error.
Once you've found the ideal position for the tape, make a note of those measurements. They may be utilized to assist you in selecting from the typical rug sizes indicated in the table above.
Make sure there's enough flooring around the perimeter of the rug. You don't want it to look too small or out of proportion.
Once you've found the perfect spot for the rug, measure the area again to be sure it's the right size.
Place the rug in the room and enjoy the new look!
So, those are a few tips on measuring and placing an area rug in a bedroom. Rug size really does matter when it comes to choosing the right one for the space. 
But with some planning and measuring, you can find the perfect rug that will make your bedroom look great.
Tips For Using An Area Rug On Hardwood Floors
Area rugs are a great way to add color, pattern, and texture to a room. They can also help protect the hardwood floors from scratches, dirt, and daily wear and tear. 
But when you have hardwood floors, there are a few things you need to keep in mind when choosing and using an area rug. Here are a few tips:
Before laying the rug, clean the space with care. To prepare the floor, first, sweep and mop the entire area.
The rug should be cleaned and vacuumed regularly.
Choose the proper rug size because an enormous rug is not only unsightly. But it also takes away from the design.
Place a non-slip rug pad under the rug to prevent it from sliding.
Create a sense of balance with the color and style of your space. Matching the rug's tone to the wood floor's hue and existing furnishings and fixtures is essential.
With these tips in mind, you can confidently choose and use an area rug on your hardwood floors. So, go ahead and add one to your space today!
Final Thoughts
A rug on the floor beside furniture is ideal for a living room, bedroom, or dining area.
However, the hardwood floor covered by a rug will retain its color and shine better than the exposed floor surrounding it. 
So, make sure to choose the right size rug for your needs. We hope this article helped you learn more about what size rug is for bedrooms with hardwood floors.