What Size Rug For Living Room With Sectional?
We may earn affiliate fees for purchases using our links (at no additional cost to you).
Are you looking for the perfect rug to complete your living room with sectional?
With so many options available, it can be difficult to know what size rug will fit your space the best.
In this blog post, we'll explore the different sizes and shapes of rugs that work best with a sectional and provide tips for finding the perfect rug for your living room.
From the size of the sectional to the size of the room, we'll provide the information you need to make the right decision.
What Size Rug For Living Room With Sectional?
It's totally depends on the size of your sectional and the dimension. Here is a table for you to measure the size of your rug according to your couch,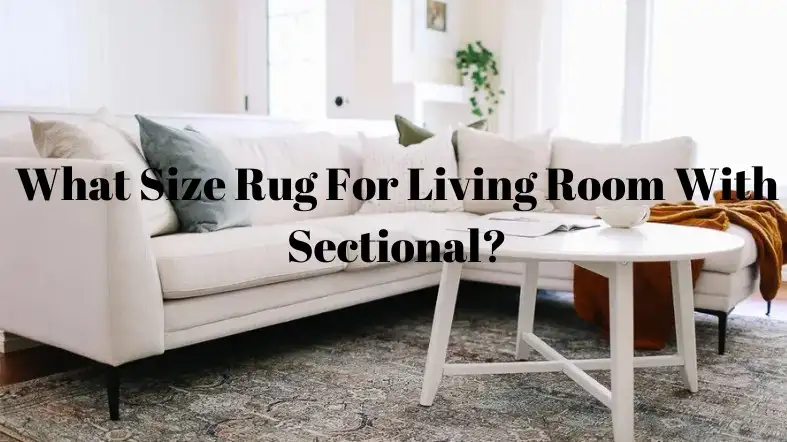 | Size of Sectional | Sectional Type  | Rug Size |
| --- | --- | --- |
| 75″ (6.25′) | small | 6′ x 9′ |
| 91″ x 91″ (7.5′ x 7.5′) | medium | 8′ x 10′ |
| 108″ x 144″ (9′ x 12′)  | large | 10′ x 14′ |
| 120″ x 120″ (10′ x 10′) | Extra Large | 12′ x 15′. |
Where And How Big Should I Put My Rug On My L-Shaped Sectional Sofa ?
Think about where you plan to put your corner couch, chaise sofa, or L-shaped sectional before you buy a rug in the appropriate size for it.
Either put the sectional's rear legs on the rug or only the front ones for a more casual look.
If you only put the front legs on the rug, rather than all four, you can save money by buying a smaller rug.
Even with the sofa's legs off the floor, an extra foot or so of carpeting around the perimeter is recommended for tying the room together.
 If you want a more cushy seating area, you can extend the rug two to four feet past the sofa's legs.
A smaller area rug, perhaps a 5′ by 8′, will do if only the front legs are on it. When placing an L-shaped sectional, a 12 "bare boarder or edge around a rug.
And if you're wondering what size rug to get for an L-shaped sofa or chaise, just get one that's a hair longer.
By doing so, you can rest assured that your rug will be spacious enough for a number of uses.
How Big A Rug Be For A 3- Seated (U-SHAPED) Sofa?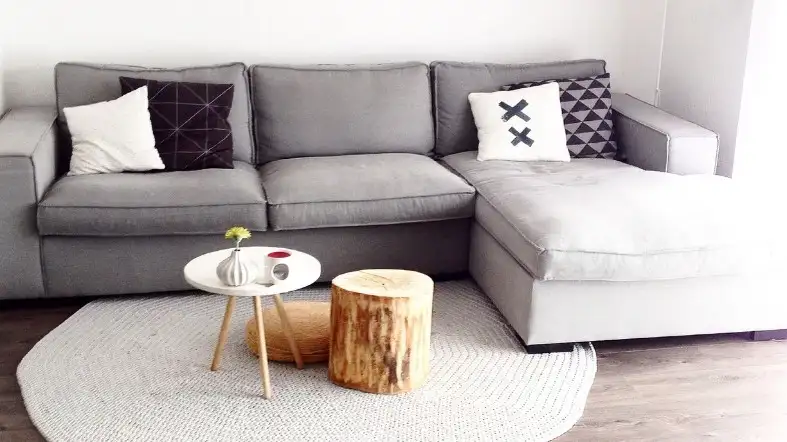 There are two rug sizes to choose from for a three-piece sectional, often known as a U-shaped sectional.
Depending on the size of your living room, you can either go with a large rug to go under the entire sectional, which is perfect for more open layouts, or you can go with a small area rug to fit within the U-shape in the middle.
It's not necessary to stress over which rug size to pick because both will work well with a U-shaped sectional.
As long as you choose a rug size that works with the room's sectional, you should be good to go.
For A Small Sectional, What Size Rug Do You Recommend?
When space is at a premium, such as in an apartment living room, or when you want to complement other pieces of furniture, such soft chairs, a small sectional is a great choice.
Those 75 are on the diminutive side "With either the back legs or the front legs on the rug, a 6′ x 9′ sectional would look great.
If you're short on space or cash, a 5′ x 8′ or 4′ by 6′ rug will do the trick.
Adhere to a 12 foot radius around the furniture when placing a tiny rug on a sectional "a deliberate demarcation between the rug and the couch, created by a narrow band of bare floor around its perimeter.
How Big Should I Make My Sectional With Rounded Corner?
A whimsical touch can be added to a space by using a sectional with rounded corners.
The same rug requirements that apply to a regular L-shaped or U-shaped sofa also apply to a sectional that is only slightly rounded
(depending on the shape of your rounded sectional).
Rounded corner sectionals, especially those with a more pronounced curve, look great on both small and large carpets.
If your living room is spacious enough for an 8′ x 10′ or 9′ x 12′ area rug, try putting it in the middle of the room and setting your sectional on top of it.
Round area rugs can be used effectively as tiny rugs when put 12 "before to the sofa sectional.
As an alternative, place a faux cowhide rug in front of the sectional to add some style.
How Should A Large Round Rug Be Located Under A Sectional Sofa?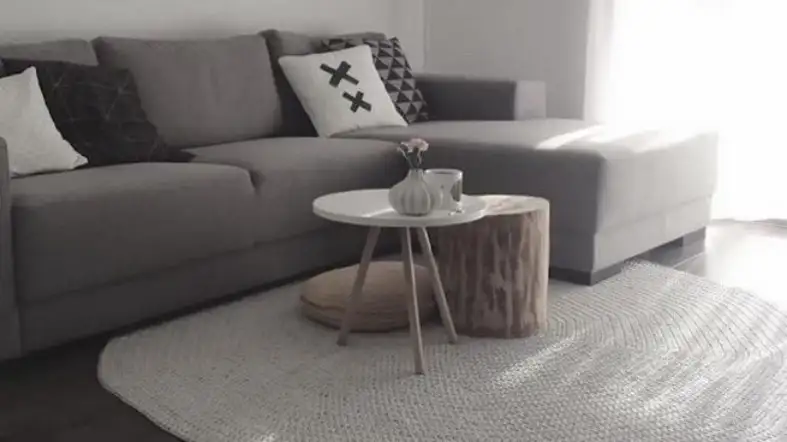 Most L-shaped and U-shaped sectionals look great on a large round rug (at least 9′ or 10′ in diameter).
It will also function nicely with a symmetrical arrangement of two sofas facing each other.
Place your sofa on the perimeter of the round area rug or a few feet away from the middle, based on its size.
The front legs of two (2) symmetrical sofas should touch the edge of the rug, thus it's ideal to choose a rug as big as your room would allow.
How To Put A Rug Under A Sectional Sofa
The size of the sectional and the size of the rug are the first things to think about when putting a rug under a living room sectional.
If the rug is bigger than all the legs of the sectional sofa, the sofa should go on the rug.
On most medium-sized rugs, you can put half of the sectional on the rug and half of it off the rug.
If you want to use a smaller rug, you should move it away from the sectional so that you can only put the coffee table on it.
Putting a rug under as many of the sectional's legs as possible can protect the floor and even make it easier to move the sectional if you need to.
By drawing attention away from the sectional and coffee table area and toward the rest of the room, an end table can help open up the space.
Placement Ideas For Sections
Putting a sectional in the right spot can be hard, but there are many ways to do it. As a rule, a sectional should always be put where there is at least 36″ of space around it.
This is actually the bare minimum. If you can get 42″ to 48″, you'll feel a lot better. Using this rule as a guide, the rest of the choices are pretty up to each person's style.
It can be important to think about how the room is set up. For example, if your living room has a more open floor plan, the sectional can be used to divide the rooms. 
On the other hand, it could also be used to connect different rooms, depending on how the sectional sofa is set up and what the room's focal point is.
FAQs
Where To Put An L-Shaped Sectional Rug?
First, you can put a larger rug, which is usually the more expensive option, under the sectional's inside corners.
Each side of the sectional should be about 18″ longer than the rug. Based on the depth, the rug should be placed about halfway under the sectional.
You could also put the rug in the middle of the L of the sectional. Since none of the rug is under the sectional, it needs to be smaller. The rug is about the same length and width as the sectional. It is about 6″ away from the inside edge of the sectional.
Another way to decide how big a rug like this should be is to square it off with the sectional so it doesn't hang past the edges of the sectional. Both of these sizes work well because all the edges of the sectional are at the same height and they don't need a rug that is too big.
Can A Room's Rug For Sectional Be Too Big?
Don't buy a rug that is too big for your room. Be careful if the room isn't open or has only a few pieces of furniture.When your rug is too big:
More than one wall is touched.
Makes your room look empty
The original floor is hard to see in the room.
Can A Room's Rug For Sectional Be Too Small?
If you buy a rug that is too small for your space, your furniture will look out of place. As well as,
Too much of the original flooring remains.
Your furniture looks jumbled
You can't tell which room is the living room and which is another.
How Should A Rug Be Placed Under A Sectional?
You can put the front legs on the rug, leave a few inches of space around the rug, or do both. For rooms that are medium to large, put a large rug under all of your furniture or under the legs of the furniture in the front. This makes a complete area for the living room.
Final Thoughts
We have tried to answer the question, " What size rug for living room under sectional?"
We have also discussed  how to determine the appropriate dimensions for your rug to go with your sectional sofa.
You now know that the size of your rug should also be determined by the dimensions of your living room as well as whether or not you want to place all of your furniture on top of it or just a select few pieces.
Using these useful guidelines, you should now proceed to decorate your living room.