Placing a rug for a twin bed helps to make it a cozy space. But you don't want a too big or too small rug. So what size rug for twin bed?
The wrong-sized rug will look floating in the room. A too-big rug will overpower the bedroom and make it smaller.
Too small creates a bad impression. So you should choose the right size of rug for your twin bed.
Let's dive into the article to find the right size rugs and avoid common mistakes.
What Size Rug For Twin Bed?
For a twin bed, a 5′ x 8′ or 4′ x 6′ area rug is recommended. A 5′ x 8′ rug centers under the bed with 12-18 inches showing on both sides and at the foot of the bed frame. A 4′ x 6′ rug can be placed with the bed' head on the rug's top. For kids' rooms, a 3′ x 5′ runner rug is perfect.
Twin Bed Rug Size Chart:
| Rug Size | Recommended Dimensions (ft) |
| --- | --- |
| 5′ x 8′ | 3′ x 5′ twin bed |
| 6′ x 9′ | 3′ x 6′ twin bed |
| 8′ x 10′ | 3′ x 7′ or 3.5′ x 8′ twin bed |
| 9′ x 12′ | 4′ x 8′ twin bed |
How To Pick The Right Size Rug For Twin Beds?
Twin beds are typically 38 inches wide and 75 inches long.
A 5′ by 8′ rug is a standard size for twin beds, but other factors such as room size and furniture should be considered when selecting a rug.
Room Size
If your room is bigger than standard bedroom sizes, you need to place a bigger rug.
Mostly 8′ by 10′ rug is a safer option for a big bedroom, especially when other pieces of furniture are placed on the sizable side.
However, if your room is bigger and leaves much empty area, it is ideal to go for extra big rugs. It helps you to make an excellent visual impact.
Where To Place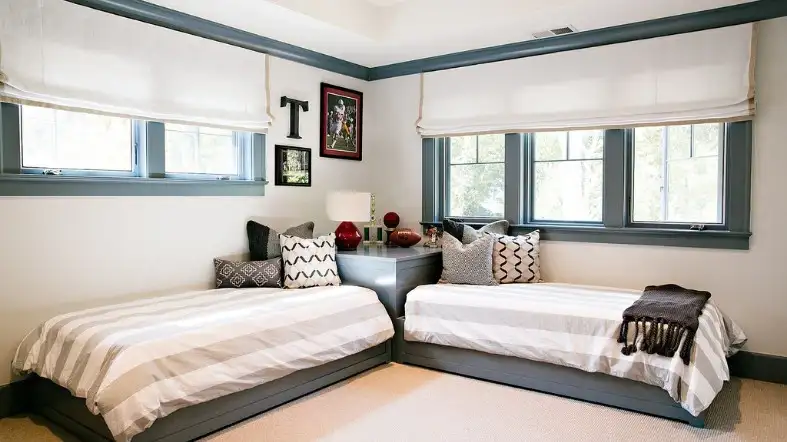 The rug size also varies depending on the placement positions. You should place the rug centered under the twin bed.
You need to balance and symmetry with the rug to derive visual calmness. You should put a rug that can cover the bed area comfortably.
You don't need to panic about floor spaces. Just make sure the rug is capable of giving you enough space to land on the floor comfortably.
>> What rug size to layer over 8×10?
Twin Bed
Expert designers suggest keeping enough space all around the bed. So you can place two small rugs on each side of the twin bed.
A 3'*5′ rug will be great for the twin bed's side placement, especially if you have a small room.
But in case you want to place it underneath the twin beds, then obviously 5'×8′ is the best pick.
Also, you can try 6'*9', 8'*10', and 10'*13' sizes of rugs for twin beds. Depending on bed position and sizes, these ranges of the rack will be fitted.
Does A Bedroom Need A Rug?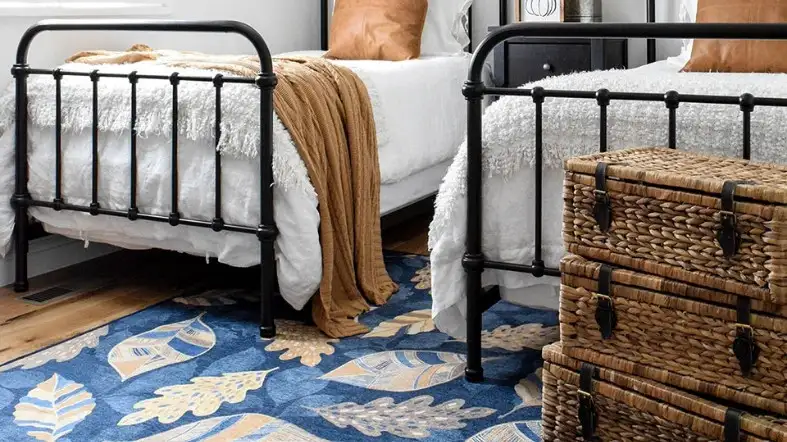 Yes, a rug can be a great addition to a bedroom for several reasons:
Comfort: A rug can add a cozy and comfortable feel to a bedroom by providing a soft surface to walk on.
Style: A rug can enhance the aesthetic appeal of a bedroom by adding color, texture, and pattern.
Sound insulation: A rug can help to reduce noise in a bedroom by absorbing sound and preventing echoes.
Warmth: A rug can provide insulation, keeping your feet warm in colder months.
Protection: A rug can protect your flooring from wear and tear, spills, and stains
>> What size rug for sectional in living room?
Tips For Choosing The Right Rug For Your Twin Beds
Despite rug size, there are some other features that you should consider to buy the best bedroom rug.
Types Of Rugs
Area Rugs
It is the most used type of rug for twin beds. You can easily cover a wide space in your bedroom. This type of area rug is ideal for twin beds.
Runners Rugs
Runner basically places at the side of twin bed or next to dresser or desk.
As it comes in a rectangular shape, it fails to cover wide space in the bedroom. So if you have compact space, then place runners next to the twin bed.
Pattern Rugs
If you want to enhance your bedroom's beauty, then patterned rugs are the best. As it offers plenty of design, you can easily maximize your bedroom decorations.
You need to find a perfect combination of texture, design, and style that match your twin beds.
It helps to add a massive value to decorations. Even some area rugs come in different patterns to enhance your room's beauty.
Shaps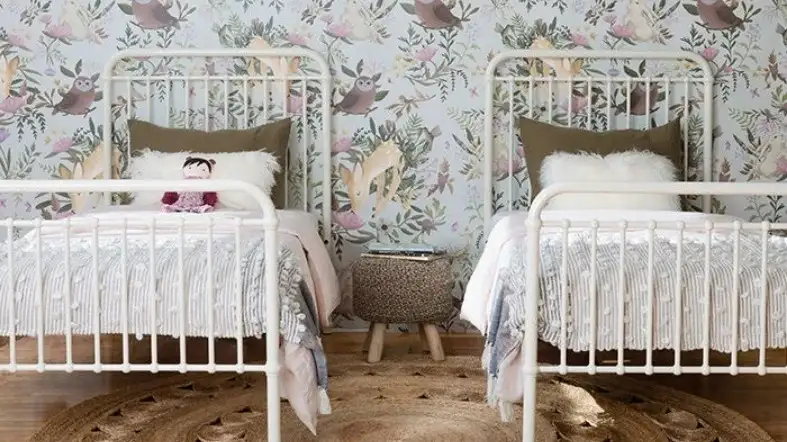 Round Shape
A round shape rug is a trendy and modern choice. You can pair up round shape rug with an area rug to make your bedroom classy.
But a round rack is not ideal for placing underneath the twin beds.  
It is only recommended if you have an extra big bedroom. To cover a large room, you can place a round shape rug beside the dresser or door.
>> What area rug size for open plan living room?
Square
When you have the plan to place the rug underneath the twin bed square shape rug is great.
A square rug is best for centralized bed layouts, and it can easily fit in large spaces.
Square rugs give a better outlook when you place them under a twin bed. It is also fitted next to the bed in your bedroom.
Rectangle
The rectangle shape is another common shape of a rug. You will get different rectangle sizes to decorate your bedroom.
This type of rug is suitable for almost any area.
So, according to your bedroom theme and bed position, place it anywhere.
Fluffy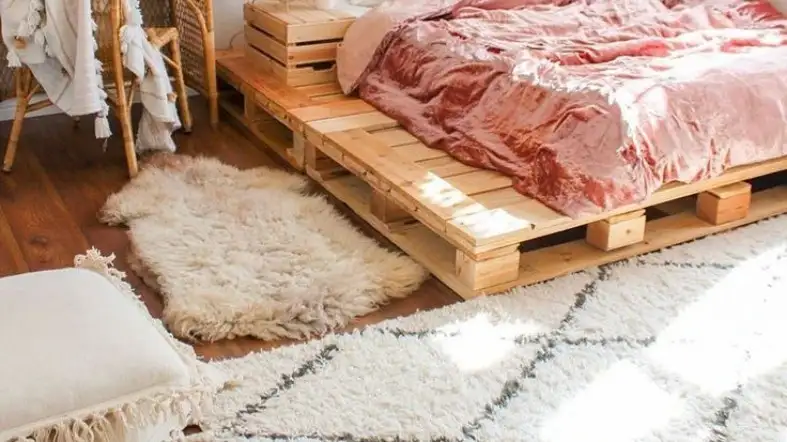 To give your bedrooms a cozy and aesthetic look, fluffy rugs are best. It is affordable, classy, and offers a wide range of colors.
So depending on your bedroom theme, pick the color, design, and size. It will help you to achieve a premier look.
Where To Place A Rug For A Twin Bed?
The beauty of your bedroom depends on where you place the rug. So it is important to put the rug in perfect positions to maximize the decorations.
Underneath The Twin Bed
The best idea is to place a rug underneath your twin bed. It helps to cover a large area that gives your feet a warm and cozy feeling after walking up.
Even it is a great trick to cover large spaces.
You should cover the bed with rugs so that you can only see the sides. So pick the appropriate sizes.
Next To Bed
If you choose a rectangular or round shape rug, it is better to place it next to your twin bed.
You can use two small rugs to place on both sides of your beds if you place their center position.
This is a good idea for the smaller bedroom.
Near The Foot Of The Bed
If you place the twin bed in the center position, then you can place the rugs near the foot of the bed. As a result, all the corners of your bedroom will be visible.
Alternative To Twin Beds
If you don't want to place the rugs beside twin beds, you can follow the below tips.
Under Dresser
Every bedroom contains a dresser, right? You can also place your rug under the dresser or just before the dresser.
If you place a circle rug under the dresser, it will give a classy look. For compact space, you can try it.
FAQs About Rug Size For Twin Bed
How big a rug should you place under a twin bed?
Typically you should place a 5′ by 8′ rug under a twin bed.
Yet depending on room size and bed positions, the rug size can also vary.
How do you place a rug on a twin bed?
There is no fixed formula for placing the rug on a twin bed. It depends on your personal preferences.
The most common rule is placing the rug by covering the bed so that feet can land on it.
How do I know what size rug is suitable for me?
Measure your bed size or room size to know what size rug is suitable for you.
Suppose a king-size bed needs 8'×10′ to 9'×12′ rugs while a twin beds need 5'×8′ to 6'×9′. 
Bottom Line
Placing a rug in the bedroom can change the overall outlook of your room. But you need to pick the right size rug to enhance the majesty of your bedroom.
So what size rug for the twin bed is a common question? I try to give detailed answers to this question.
Hopefully, now you can buy the right size and best type of rug for your twin bed.