Knowing the right size breaker for your dishwasher and disposal is crucial to ensure their safe and efficient operation. A wrong breaker size can lead to electrical overloads, short circuits, and even house fires.
In this article, we'll cover the types of breakers for dishwashers and disposals, determining process and discuss the factors that influence the breaker size. We'll also discuss the maintenance tips to keep your appliances running smoothly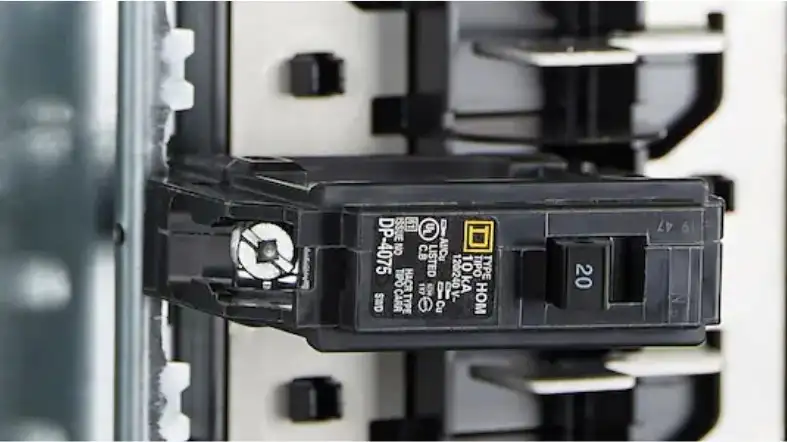 What Size Breaker Do You Need For Your Dishwasher And Disposal?
For dishwasher and disposal, use a 20-amp circuit breaker to connect a dishwasher and garbage disposal in one electrical line. You should also ensure that the disposal unit and dishwasher amp draw doesn't exceed 80% of the circuit's maximum amperage rating to prevent overloads and short circuits.
Dishwasher and Disposal Breaker Size Chart:
| Breaker Size | Wire Size |
| --- | --- |
| 15 amp | 14/2 NM |
| 20 amp | 12/2 NM |
Different Types of Breakers Suitable for Dishwashers and Disposals
Standard Circuit Breakers
A standard circuit breaker is a type of electrical switch that automatically interrupts the flow of current when it exceeds a certain level.
These breakers are commonly used in residential and commercial buildings to protect electrical circuits from overloading or short circuits.
Standard circuit breakers are suitable for use with dishwashers and disposals that have a low amperage rating.
Ground Fault Circuit Interrupters (GFCIs)
A ground fault circuit interrupter (GFCI) is a type of circuit breaker that is designed to protect against electrical shock.
GFCIs work by monitoring the flow of current in a circuit and shutting off the power if they detect a ground fault or leakage current. GFCIs are required by code in certain areas of the home, such as bathrooms, kitchens, and outdoor areas.
GFCIs are suitable for use with dishwashers and disposals that are located in areas where water is present.
Arc Fault Circuit Interrupters (AFCIs)
An arc fault circuit interrupter (AFCI) is a type of circuit breaker that is designed to protect against electrical fires caused by arcing faults.
AFCIs work by detecting the unique waveform pattern of an arc fault and shutting off the power before a fire can start.
AFCIs are required by code in certain areas of the home, such as bedrooms, living rooms, and dining rooms. AFCIs are suitable for use with dishwashers and disposals that are located in areas where there is a risk of fire.
Why Do Dishwashers And Disposal Require The Right Size Breaker?
Dishwashers and disposals are electrical appliances that require the right size breaker to operate safely and effectively. Here are a few reasons why:
Electrical Safety
Using the right size breaker ensures that the electrical circuit is properly rated to handle the load of the dishwasher and disposal, minimizing the risk of electrical hazards such as shorts, fires, and shocks.
>> What size circuit breaker for a refrigerator?
Proper Functioning
A breaker that is too small may trip frequently, disrupting the operation of the dishwasher and disposal, and potentially causing damage to the appliances.
Manufacturer Requirements
Dishwashers and disposals often come with manufacturer recommendations for the appropriate breaker size, which should be followed to ensure warranty compliance and avoid potential issues with repairs or replacements.
Local Building Codes
Building codes may also specify the required breaker size for dishwashers and disposals, so it is important to check these regulations to ensure compliance and avoid potential fines or penalties.
>> What size breaker for water pump?
How Do You Determine Which Circuit Breaker Is For Which Device?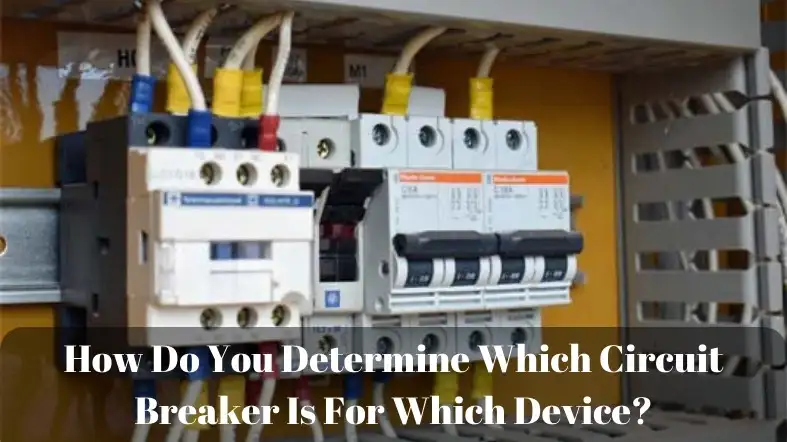 Here are the steps you can follow to determine which circuit breaker is for which device:
Turn off all the devices
To start, turn off all the devices in your home that use electricity. This includes appliances, lights, and electronics.
Find your breaker panel
The breaker panel is usually located in a utility room or basement. It contains a series of circuit breakers, each with a switch that can be turned on or off.
>> What size breaker for electric stove?
Identify the breaker switch
Go to the breaker panel and identify the switch that corresponds to the circuit you want to identify.
Look for labels or markings on the panel that may indicate which circuit is which.
Turn on the device
Turn on the device you want to identify. This will help you confirm which circuit it is connected to.
>> What amp breaker for hot water heater?
Flip the breaker switch
While the device is turned on, flip the breaker switch that you think corresponds to the circuit.
If the device turns off, then you have found the correct circuit.
Label the breaker switch
Once you have identified the correct circuit, label the breaker switch with the name or description of the device it controls.
This will make it easier to identify in the future.
>> What size breaker for 5.5kW water heater?
Is A Dishwasher Hardwired Better Than A Plug-In While Using The Right Size Circuit?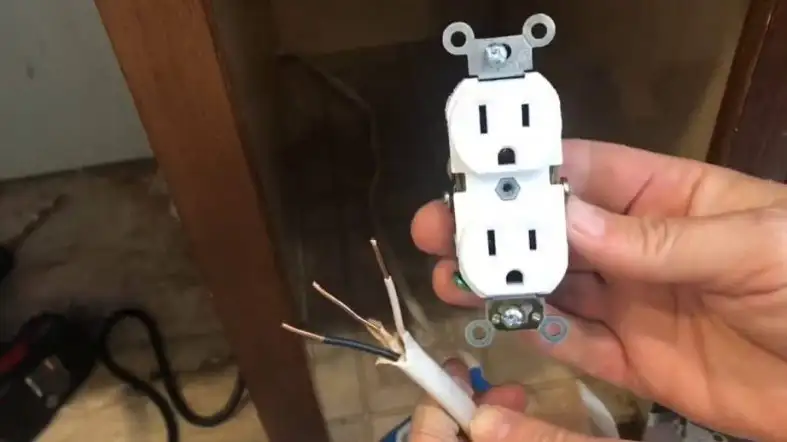 Sometimes, a plug-in connection could also be preferable to hardwiring a dishwasher.
In other cases, the reverse could also be true. You can find out the benefits and drawbacks of each option.
Installing A Dishwasher
A dishwasher is hardwired when it's connected to a circuit breaker without the requirement for an extra outlet.
This configuration typically necessitates the utilization of a GFCI dishwasher circuit breaker.
The dishwasher should be connected to a safer connection rather than be plugged into a power socket.
>> What size circuit breaker for a dryer?
Connecting A Dishwasher
Wirelessly plugging in a dishwasher to an outlet or extension cable, often known as pig-tailing, may not necessitate using a GFCI circuit breaker.
The wire placement might be difficult, especially if the kitchen is a high-traffic area.
The risk may become more evident if the plug requires drilling a cabinet hole.
Instead of hardwiring techniques, this method may be suitable for folks who desire a portable arrangement for their dishwashers.
>> What breaker size for hot tub?
FAQs About The Right Size Breaker For Dishwasher And Disposal
Should I Replace A 15-Amp Breaker With A 20-Amp Breaker For My Dishwasher And Disposal?
Improper usage of the inappropriate circuit breaker can have significant repercussions, such as home fires.
It's because the wiring for a standard 15-amp breaker typically has a safe power draw rating of up to that value.
So, if you abruptly switch to a 20A breaker and the wire collects more current than it can manage, an overloaded circuit might ensue.
What Is The Power Output Of A Dishwasher And Disposal On A Dedicated Circuit?
Dishwashers typically run on 120V or 115V electricity.
The quantity of power consumed varies greatly depending on the dishwasher's cycle and design.
A dishwashing machine uses 1.5kWh on average for a single load of dishes.
Other factors include soil level, water pressure, water volume, and dishware type.
Dishwashers typically require 1200 to 2400 watts, with the average dishwasher consuming 1800 watts.
Is A Dedicated Circuit Required For A Dishwasher And Garbage Disposal?
According to the electrical regulations, the dishwasher should be on its circuit.
The dedicated dishwashing circuit cannot power other appliances, lights, fixtures, or outlets.
Furthermore, the course that serves the dishwasher must have a circuit breaker with at least 15 amps. 
Trash disposals, like a refrigerator, microwave, or other significant electric devices, requires a dedicated line to operate.
Garbage disposals, while not as massive as your refrigerator, have an engine that consumes much electricity, much like a refrigerator.
How Do I Know If My Circuit Is Overloaded While Using A Dishwasher And Garbage Disposal?
A circuit overload can cause flickering or fading lights.
If there's an overload, the breaker will stop electricity to a specified area of your home because smoke coming from the breaker is the most severe warning; close up the main power supply.
Buzzing noises and burning odors are other warning signs.
The Bottom Lines
A dishwasher consumes more energy than the majority of household equipment.
Purchase a dedicated circuit breaker to keep your dishwasher and disposal from overheating and tripping your electrical system.
Ensure you get the correct size breaker for your dishwasher and disposal to avoid electrical shock and injury.
Use the correct plugs that fit correctly, and keep loose wires away from the device.