Where Can I Take An Area Rug To Be Cleaned?
We may earn affiliate fees for purchases using our links (at no additional cost to you).
Whether or not rugs need to be cleaned depends on the sort of rug you have, how you use it, and the environment in which it is kept. 
When you decide to clean it, the next question that you ask is "where can I take an area rug to be cleaned?".
In fact, the most important consideration here is how to clean it or where to clean it.
Where Can I Take An Area Rug To Be Cleaned?
To clean an area rug isn't a job that requires any serious consideration.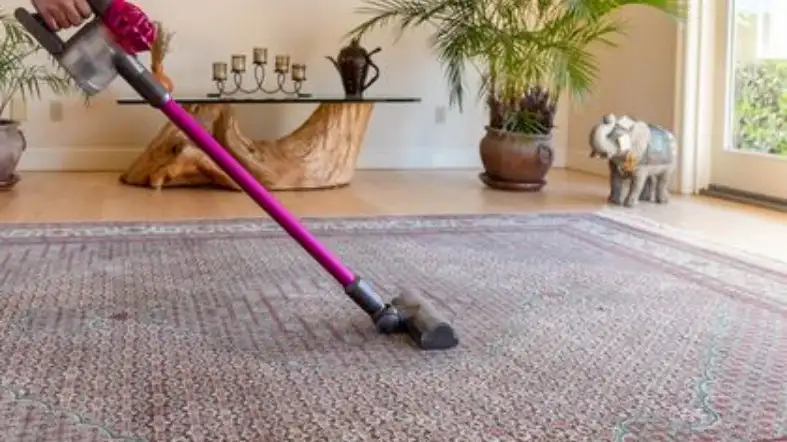 All you need is an outdoor station. A sunny day with clear weather is a perfect day for such a station.
Then you can go for the regular tips and tricks to clean it. The whole process is discussed below in a step-by-step method.
Pick Up The Materials:
Cotton Towels (White): 
To remove spills, use these white cotton towels. To prevent discoloration, use only white towels.
A Vacuum Cleaner:
Before you wet your rug, it's necessary to get rid of as much of the dust and dirt as possible.
Brush:
If you want to get detergent or cleaning solution into hard-to-reach places, you'll need a brush.
You need a brush with soft bristles, such as an old toothbrush, carpet brush, etc.
Diluted Mild Dish Soap: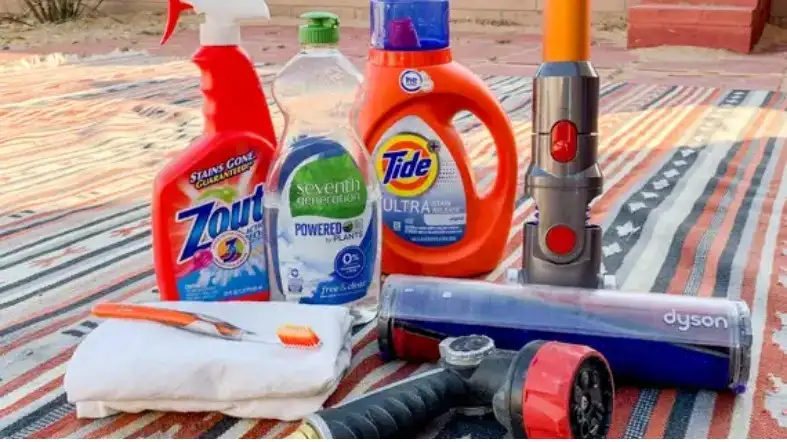 Stains may be safely removed from rugs using dish soap (preferably dye-free). Too much soap for cleaning is not ideal.
Remover For Stains: 
This is essential for removing those pesky stains; such as Resolve or Zout.
Fresh Water:
Water: Dilute soap with water, wash, then rinse with water.
Carpet Hose: 
Washing and rinsing huge carpets need a garden hose (buckets of water can suffice in a pinch).
A Mobile Carpet And Upholstery Cleaner: 
A carpet and upholstery cleaner that is lightweight and portable: This is a powerful method for eliminating tough stains that have been there for a long time.
Arrange An Outdoor Location: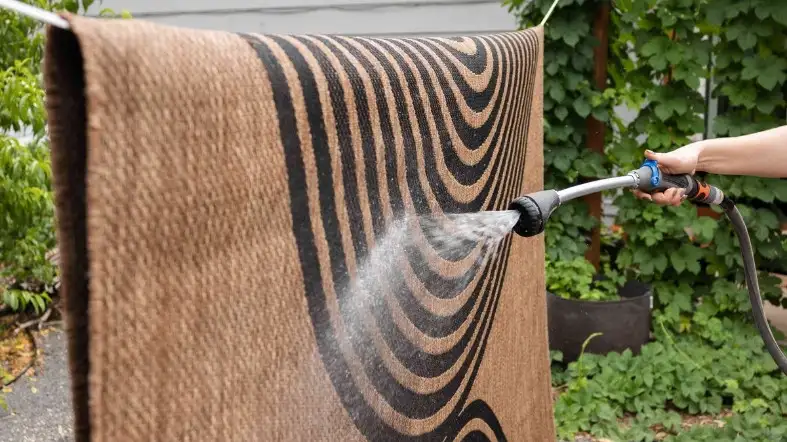 To clean your rugs, choose a day when the weather report calls for clear skies and sunshine (ideally for the following several days).
Then establish a cleaning station immediately. Better if the place is a few inches above the ground.
It's best to wash your area rug in the summer when the weather is nice so you can do it outside.
You should make every effort to avoid setting it up over the grass, as you do not want any of the cleaning solutions to seep into the ground.
Because carpets are typically rather weighty, the support system that you select will need to be somewhat more robust than a clothesline.
If you have access to two trees, you may construct a bridge between them using bungee cords or a strong rope.
Benches and strong walls of any kind can also serve this purpose.
Completely Vacuum Both Sides:
First, vacuum the elastic fibers, and then, after turning the rug over, vacuum the reverse side to eliminate any dust that may still be there.
First, vacuum the elastic fibers, and then, after turning the rug over, vacuum the reverse side to eliminate any dust that may still be there.
At the station, position it so that the correct side is facing you.
To remove any remaining dust, beat the rug with the handle of a broom or some similar item.
Don't beat the rug up severely. But if you want to test whether dust clouds come out, a few light whacks should do it. 
Use Regular Vacuuming: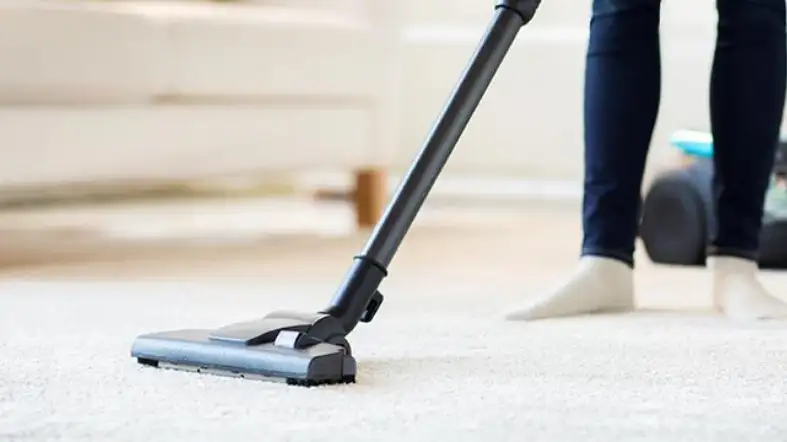 Practically, vacuuming the top and bottom of a rug on a regular basis is just as important as doing emergency stain removal.
This is due to the fact that dirt and dust can become embedded in the rug if allowed to settle on its surface.
Do not overlook the rug's underside; once a month, give it a good vacuuming to get rid of any dust, grime, allergies, or germs that may have been lodged there.
This also helps with regular cleaning. If the weather is nice, you can just take the rug outdoors and beat or shake it there.
This technique may also be used to clean rugs more thoroughly.
A daily cleaning entails shaking the rug to loosen any dust or debris on the surface, and then sucking it up with the vacuum cleaner.
The Color Test (Test Shampoo For Area Rug):
The best way to clean your rug regularly or in an emergency is with a shampoo made just for rugs.
It is even better if the shampoo is made from the same material as your rug.
It is critical to ensure that you follow the instructions that come with everything you purchase strictly. 
It is always a good idea, in our opinion, to start by trying shampoo on a discrete area of your hair, preferably a corner.
Apply a little amount to a discrete area, such as a corner or patch, and then mix with some water before allowing it to sit for a few hours.
You need to return there and wash off that stain.
Conduct a thorough inspection to see whether the color or the fibers have been damaged in any way.
Here's a pro tip: while buying a carpet cleaner, make sure to consider the fibers used in the construction of your rug.
Do not attempt to clean your rug with a homemade solution or any other product that was not designed for use on carpets and rugs.
Apply The Carpet Cleaner:
Now that you've selected a rug-friendly shampoo, you may safely rinse it off with the outdoor hose.
Don't be afraid to soak it thoroughly; doing so is essential for a successful shampoo application.
Use a brush with a thick handle to really get the shampoo into the carpet fibers.
Take note that this process requires a lot of washing and soapy foam. Wear the right clothes, soak the carpeting thoroughly, and pay close attention to any stains.
Rinse the rug along with the bolt:
Like hair shampoo, rug shampoo must be rinsed out of the fibers for the rug to be fully clean.
If the soap is not properly rinsed away, the rug may get sticky and eventually collect more dirt.
The first step in our time-tested method is to use kitchen towels.  wipe as much shampoo from the carpeting as you can using kitchen towels. 
You can use the heels of your hands to press down the rug. Or, you can even do it by walking all over the rug with bare feet or clean shoes.
Once that's done, grab a clean, warm sponge and some soap-free water to get the job done.
To get the best results from washing a rug, you should blot it dry in between rinses and change the water often to keep the rug from being too soiled.
Allow The Rug To Air Dry:
Once the rug has been as thoroughly blotted as possible, all that's left to do is make sure the nap is as tidy as possible. Then set it for drying completely. 
Lay the rug flat for this step. Preferably off the ground or floor if at all feasible.
Additionally, at some time, you'll want to rotate it so that both sides can dry completely.
In an ideal situation, the rug should be dried outside. However, if this is not possible, using a fan or dehumidifier may speed up the drying process indoors.
Nonetheless, you should avoid using heat since it can cause carpets to shrink and warp.
There are certain carpets made of cotton that may be dried in a tumble dryer. But before you do this, verify the cleaning instructions provided by the manufacturer.
Last-Minute Vacuuming:
When the rug is completely dry, give it one more complete vacuuming through with the vacuum. 
After being washed, the fibers in the carpet will most likely be flattened and will have a strange appearance.
The look of your rug may be brought back to its original state by giving it good vacuuming. 
You may now relax on your spotless carpet. Most importantly, now you are capable of giving your area rug a thorough cleaning on your own time. 
FAQs about where can I take an area rug to be cleaned?
How Often Should You Clean A Rug?
The standard recommendation is to have your rug professionally cleaned every 12 to 18 months. But there are a number of circumstances in which you may want to schedule a cleaning more frequently or less frequently.
Can You Use Carpet Shampoo On An Area Rug?
Yes, you can use a carpet cleaner to restore area rugs that have been stained by pets, spilled on, or painted over. Area rugs made entirely of synthetic materials may be cleaned using regular carpet cleaning products.
Can You Use A Bissell Carpet Cleaner On An Area Rug?
You may thoroughly clean your area rugs by using the cleaning equipment from BISSELL Big Green. Before you clean an oriental or area rug, check to see that it has good backing.
Can I Use Anti-Bacterial Powder On The Area Rug?
If a rug still has an unpleasant odor after being vacuumed, it may have a bacterial infestation. So, instead of washing the rug, you can just use rug powder to give it a new lease of life and get rid of any lingering odors.
What Is The Average Cost To Clean An Area Rug?
For a standard rug of 8 by 10 feet, expect to pay between $150 and $600 to have it professionally cleaned. On the other hand, a smaller rug than that would cost between $60 and $300. At a standard rate, hand washing costs between $3 and $8 per square foot, and cleaning costs between $2 and $5 per square foot.
Final Words:
So, to finally answer your "where can I take an area rug to be cleaned?", we can conclude that you can just take it to your outside cleaning station.
Any summer day is a good pick. With the use of a handy carpet cleaner and following the instructions enumerated above, you can have a shining area rug.
As a safety tip, don't forget to give your area rug regular vacuuming.